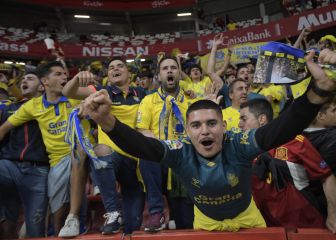 After the victory and qualification for the playoff, the Pius XII entity has already been activated. From 10:00 am today, Monday, he has put out the tickets for the second leg of the promotion semifinals next Saturday against CD Tenerife.
Subscribers will not have to pay for its locality, however, yes You will need to pick up your seat in advance. to access the stadium on Saturday. To do this, they will have deadline on Wednesday at 20:00both at the Gran Canaria ticket offices and through the Virtual Subscriber Office.
Those fans who want to buy tickets can purchase them on the club's website, in addition to ticket offices 6, 7 and 8 Gran Canaria Stadium and the Fenamix points of sale. Likewise, the club informs that there will be limitation of four tickets per person. The ticket offices will be open from 10:00 a.m. to 8:00 p.m., until the day of the match and in case tickets are not sold out, as happened against Tenerife.
Knowing about the box office openings, there were already yellow fans who spent the night at the gates of the Stadium to be able to get their tickets from the first hours. Likewise, the shipping company Fred Olsen enabled the sale of tickets for those who are going to travel to Tenerife to watch the game on Wednesday.
The fans have responded enthusiastically to the team's streak by going to the airport to meet the expedition that returned to Gran Canaria from Gijón at dawn.
[