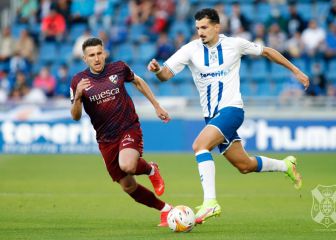 IS Tenerife and the Huesca advantages were not known. He was a game with few chances and a lot of respect, in which at the end the tie ended up being fair.
Two innovations introduced by Ramis in their starting eleven (Corredera and Elady), while Xisco only made one change (Gerard Valentin for Joaquin). That's the way it is, the game started very even with alternating domain, good touch of the ball by both, but without finding depth.
In this way the first 25 minutes were consumed. None wanted to give anything away. Everything seemed well studied until Corredera was encouraged from the front, but his shot went wide, raising the first timid 'Uhhh' of the afternoon-night.
Averaging half an hour, the Blue and Whites began to send, accelerating the pace of the game a little more, but Huesca defended with great order and repelled the domain with distant shots from Timor. That woke up a little to his people who returned to the level of history. Marc Mateu, from outside, tried again, but came out high. The Aragonese finished the first half better.
As soon as he left after the break, the recently admitted Pulido committed a dangerous foul on the edge of the area that goalkeeper Andrés repelled with a shot from Corredera. The Islanders took a step forward, pressing a little better, but kept missing on the last pass.
At set pieces he tried to disturb Tenerife: first Sergio had it but the goalkeeper cleared it well and then José León had it, but with no luck. Sergio had it again and Andrés's hands appeared again, very firm, to avoid the 1-0.
The coaches began to move their bench in search of solutions, although the goals still did not appear. Mario was able to finish him off in the final stretch but his ideas were clouded and he couldn't solve it.
Changes
orchards (45′, Alex Munoz), Polished (45′, Insua), Adolfo Gaich (63′, Dani Escriche), Joaquin Munoz (63′, Gerard Valentin), Mikel Rico (73′, Mosquera), mario gonzalez (75′, Alex Bermejo), Andres Martin (75′, Elady), Paul Martinez (85′, Mateu), Michel (88′, Alex Corredera), Shaq Moore (88′, Jeremy Mellot)
cards
Referee: Victor Garcia Verdura
VAR Referee: Victor Areces Franco
Polished (45′, Yellow) Aitor Sanz (64′, Yellow) Mateu (76′, Yellow) Andrei Ratius (81′, Yellow) Victor Mollejo (87′, Yellow) Michael (89′, Yellow) Florian Miguel (92′, Yellow) orchards (93′, Yellow
[