Tor now is not just about privacy, it is also design. The onion project has completely changed the look of your web browser, delivering a fresher and more minimal interface. The changes also include, finally, the depreciation of compatibility with onion v2 addresses, which had been in use since 2004.
The ad of the makeover was posted by the official blog of the Tor project. Giving a complete list of all the changes and errors corrected in this new and renewed version of Tor Browser 11.
The new interface is the highlight of this version. It is based on Firefox ESR 91, the business version of the popular Mozilla Firefox open source browser. In this case using the typical Tor color palette.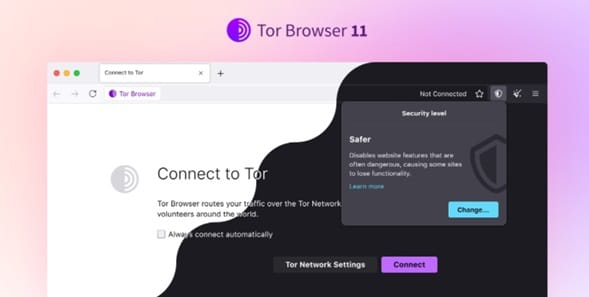 With the interface revamp, Tor's onion logos and icons were also revamped. Now you can see the transition from a conservative logo to a simpler and more modern one.
End of onion addresses v2
As reported by CriptoNoticias last April, the Tor project announced what would be the end of the onion v2 addresses by mid-October, giving way to v3, with better cryptography, security and privacy. The old versions were operational since 2004, being valid for more than 16 years.
Although the nodes of the Tor network had already been updating their software with versions that left behind the compatibility with onion v2 addresses, the arrival of this update to the web browser marks the end of its life.
Even the new versions of Bitcoin Core, which include support for Tor networks, specifically version 22.0, published that it would not have support for onion v2 addresses.
Regarding the experience of what the user will live, the Tor blog comments that accessing a website that still makes use of the old addresses, A message will appear on the screen indicating that they are accessing an invalid onion address.
To find out if an onion address corresponds to version v2 or v3, users can identify according to the number of characters. For old versions the addresses are comprised of a total of 16 characters, while in the new versions they are comprised of 56 characters.