A trademark is a trademark that has been registered with a public body. The holder who registers his trademark obtains the monopoly of its use for a period of 10 years renewable in perpetuity. This is a real commercial advantage for any company wishing to develop its activities.
What is a registered trademark?
A trademark is a single word or symbol used to represent a companyits products or services.
When it has been filed with a public body, it is referred to as trademark. This deposit protects it from any other use that would be inconsistent with the wishes of its creator.
Thus, once registered, the same series of words or the trademark symbol cannot be used by another company, forever. The latter remains the sole ownership of its creator as long as it remains in use, taxes are paid and protection is renewed.
It is thus distinguished from patent whose lifespan is limited to 20 years.
In France, companies must apply to theNational Institute of Industrial Property (INPI) and receive confirmation of ownership. Once the trademark is registered, the company benefits from protection against counterfeiting and plagiarism.
How to check if a trademark is registered or already exists?
The method for find out if a brand already exists varies depending on whether it is a word mark or a figurative mark.
For word marks
When the trademark is a single word, name, slogan or letters, it is referred to as word mark.
The verification procedure in this case is quite simple. All you have to do first is go to the INPI website and search for brand name in the search engine integrated into the site.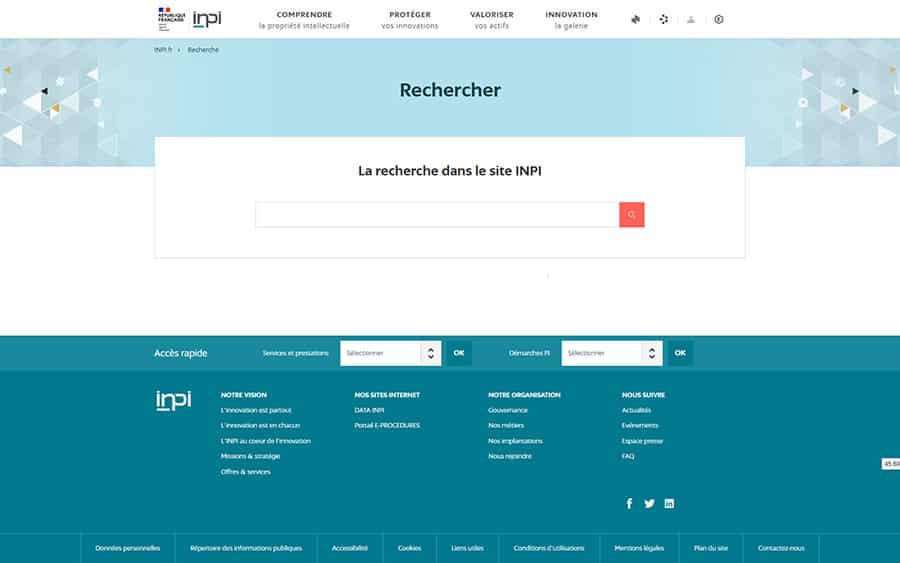 The advantage here is that this database contains both the european brands and international. If the trademark already exists, this means that you can no longer use it without the prior consent of its creator.
For specific or figurative marks
For the exclusively figurative marks like a design or a logo, the procedure is a little more complex.
The first option is to use the INPI search tool inspired by the Vienna classification.
This is a list of codes corresponding to different figurative elements (animals, plants, objects, etc.) that can be represented on the mark sought. You will then need look for the mark among the registered trademarks comprising the identified figure.
This method is not 100% secure since a mark may be represented by shapes that are difficult to identify. Some brands still are multidimensional (color mark, sound mark, multimedia mark), which does not at all facilitate the task.
Not finding a trademark does not therefore guarantee that it is not registered. If you face such a case, the ideal would be to call on a professional to help you with your checks.
Why and when to check if a trademark is registered?
As a business, trademark anticipation can be useful to you for several reasons.
1. If you plan to register a trademark
You should check if a brand already exists before you start using it. This is even more important if you plan toregister your brand. Indeed, the filing of a trademark protects its holder against the use:
of the same brand,
of an almost identical brand,
or a similar brand.
On the other hand, the fact that a mark is not registered does not guarantee its availability.
According to'article L.711-3 of the intellectual property codethe search for anteriority must include all the signs that can be considered as a earlier right. If a company already uses a domain name, a corporate name or a commercial name to promote its activity or its products on the French market, trying to register this name as a trademark is a risky bet.
2. After receiving a request to cease using a logo or sign
When you receive a letter of formal notice due to trademark infringement, or an email from a person claiming trademark ownershipyou should legitimately ask yourself whether you are using an already registered trademark.
In either of these cases, the best course of action is to do a prior art search. The result of your research will determine your future actions to be implemented.
Why register your trademark?
Having a registered trademark has several advantages. Concretely, it is interesting toregister your trademark for :
1. Exclusive use of the brand
L'trademark registration guarantees the monopoly of its use to its owner.
Indeed, you become the holder of a industrial property title valued in money. For example, if you have a car brand registered under the name "Bency", you will be the only one who can put this name on vehicles. Any other use not in accordance with your wishes would be prohibited. Take the opportunity to work on your branding.
2. To distinguish yourself from your competitors
A registered trademark concentrates several advantages, particularly in terms of commercial relations.
It helps you create a brand identity strong and unique. This identity spans your services and activities, making them easily recognizable by your customers.
This is a real opportunity to enhance your assets as well as the added value you offer compared to your competitors. Also, if you ever decide to sell your business, your brand value will weigh in the balance.
3. To sustainably exploit your brand
The trademark registered with the INPI may remain the exclusive property of its creator in perpetuity.
All you have to do is make a renewal request every 10 years. This guarantees you to use your brand and enjoy its benefits in a sustainable way.
How to register your trademark at the INPI?
Before embarking on any process to register your trademarkyou need to do two things:
Choose your brand classes;
Do a prior art search to check that you can register this trademark for the chosen sectors of activity.
For example, AntheDesign® is a registered trademark on class 35, this class includes:
SEE THE INPI DOCUMENT
If the trademark is available, you will need to follow the 4 steps of trademark registration:
Fill in the form to apply for the registration of your trademark at the INPI;
Wait for the publication of your filing at Official Bulletin of Intellectual Property (BOPI) by the INPI. You will receive a notice of publication within 6 months leaving 2 months for the third party to oppose the filing of the trademark;
The examination of the application for filing by the INPI;
The registration of the mark if no opposition is formulated or validated. You will receive a trademark registration certificate after a minimum of 5 months.
Trademark registration, mistakes to avoid
We are talking about incorrectly registered trademark when the holder has committed one of the following cumulative errors:
1. Choose a non-distinctive mark
A brand is not distinctive when it is not sufficiently arbitrary.
That is to say, it can lead to confusion with a competitor. Such an error usually leads to a rejection of the application for registration. If it is registered, then it enjoys minimal protection.
2. Choose an unavailable brand
A brand is not available when it has already been registered by a third party.
The use of a registered trademark or closely related trademark may have significant financial consequences. It goes from simple destruction of products and communication media to the loss of investments made in the brand.
3. Poorly written wording
If the list of goods/services covered by the mark is poorly drafted or if the classes are poorly chosen, the registered trademark becomes useless since it does not benefit from the expected protection.
What is the cost of a trademark registration?
the cost of filing a trademark with the INPI amounts to 190 €uros.
This is the initial cost of deposit to which will be added an amount of 40 €uros for each new additional class. The cost of renewing a registered trademark amounts to 290 €uros for a class. An amount of 40 €uros will be added for each additional class.
How long does a trademark last?
The term of protection of a trademark is 10 years from the date of publication in the BOPI.
This term of protection can be perpetual if you renew it every 10 years. All you have to do is make a renewal request to the INPI by email or online.
What trademark can be registered?
A trademark can take the form of a name, a series of words, a color, a design, a sound, etc.
A distinction is thus made between the word mark, the figurative mark, the color mark, the sound mark, the shape mark, the position mark, the hologram mark, the pattern mark, the movement mark and the multimedia mark.