With 12.8 million active members in France, Twitter is one of the most popular social networks. This platform makes it possible to post short information (maximum 280 characters) on different themes, thanks to hashtags, and to exchange and debate with other users. For companies, Twitter is an opportunity to share their expertise with their audience and strengthen their credibility. To take advantage of the social network, "trends" are to be followed closely.
> Download: The Twitter Marketing Guide " align="middle"/>
What are Twitter trends?
Also called Trending Topics (TT), trends correspond to topics that make the headlines on the social network. They are in permanent and continuous evolution: it is the users themselves who set the trends.
To start a new trend, the Twitter algorithm determines popularity based on several criteria such as comments, likes, number of retweets or hashtags. When this popularity rate increases, the topic climbs and can then appear in trends. These are also personalized according to the accounts. In this case, the algorithm takes into account interactions with other users and history. Location and language also come into play.
Trends are bound to vary greatly depending on current events. A topic's retweet speed is also taken into account to determine a Twitter trend. In summary, the hotter a theme is, the more popular and viral it is likely to become.
What are the different types of trends on Twitter?
Miscellaneous facts, the release of a film or a video game or even news related to a celebrity: the trends can be very varied on Twitter.
News
Twitter is the social network par excellence for exchanging and discussing current events. This category is very often present in trends, through football, politics, TV shows or major sporting or cultural events.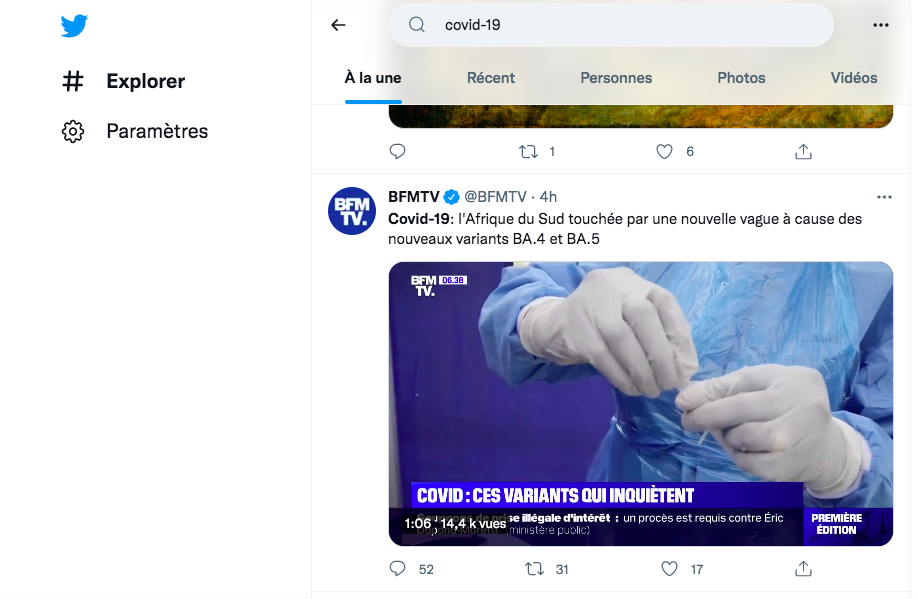 In 2021, for example, Covid-19 was one of the most discussed topics on the platform. 6.5 million tweets were recorded on the hashtag #Covid19 and 2.9 million on #PassSanitaire. Politics was also at the heart of the debates that year, with 2.8 million tweets on the hashtag #Macron.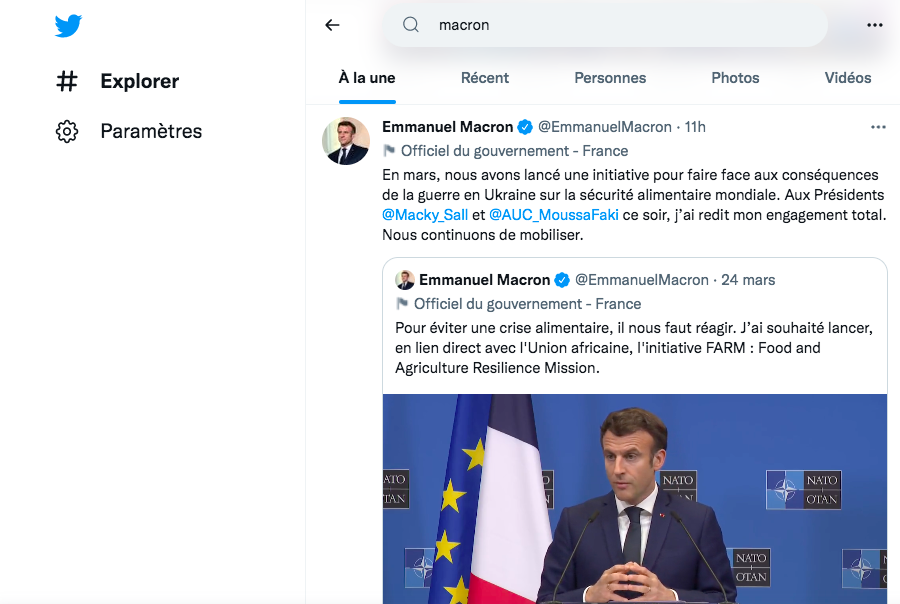 Among the trends, the big TV shows very often occupy a prominent place. In particular, they are commented on live by users, which allows them to find themselves in Twitter trends when they are broadcast. Among the most popular are Koh-Lanta, Beijing Express, The Voice and Dance with the Stars.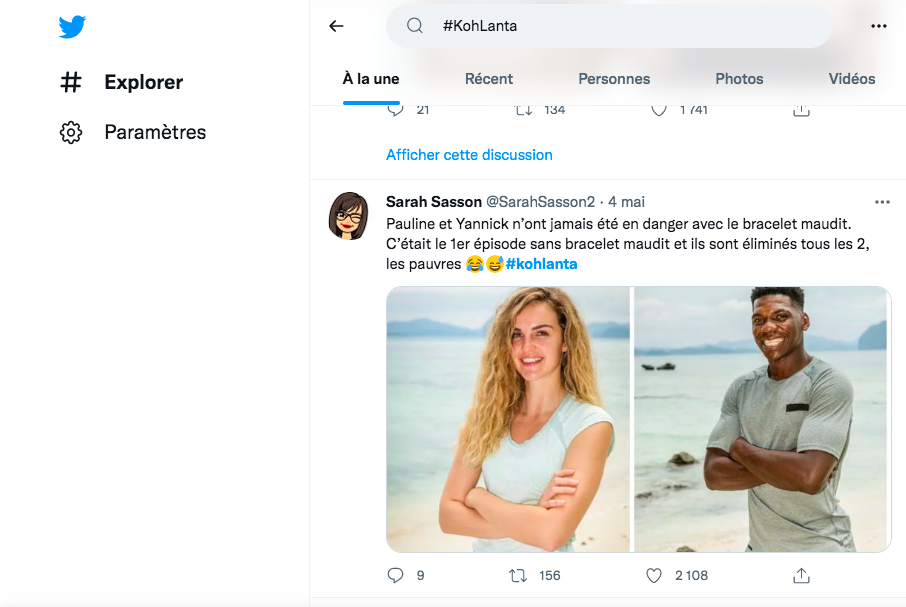 Finally, sport is also very present in Twitter trends. In 2020, the Tokyo Olympics was the most commented event on the social network. Some sports news also made headlines in 2021, such as the arrival of Lionel Messi at PSG or the return of Karim Benzema to the France team.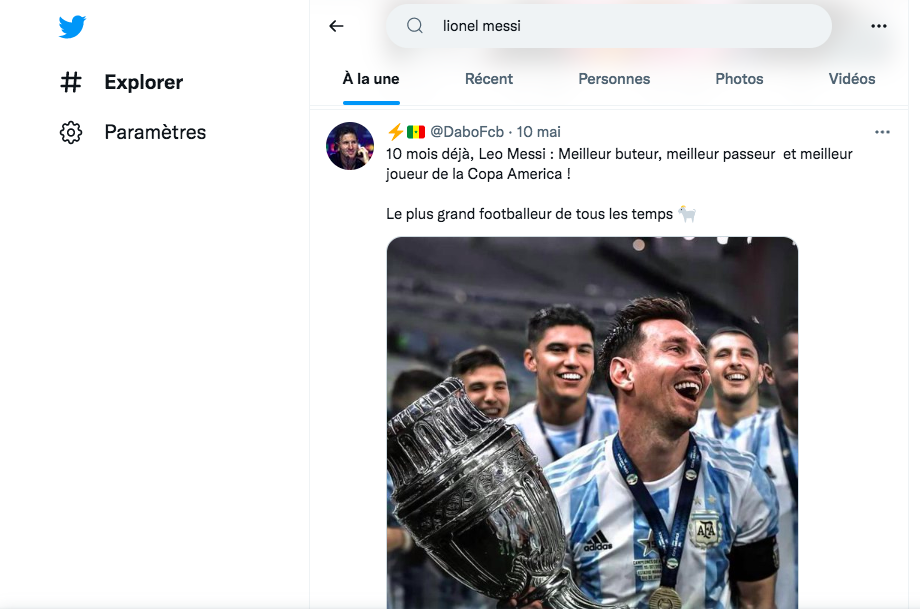 pop culture
Conversations about pop culture topics are very popular on Twitter and often trend in Twitter. In France, more than one tweet is published every second on gaming. Users particularly like to talk about Twitch: discussions on this topic have increased by 70% between 2019 and 2020. Every month, more than 400,000 links to Twitch are posted on Twitter.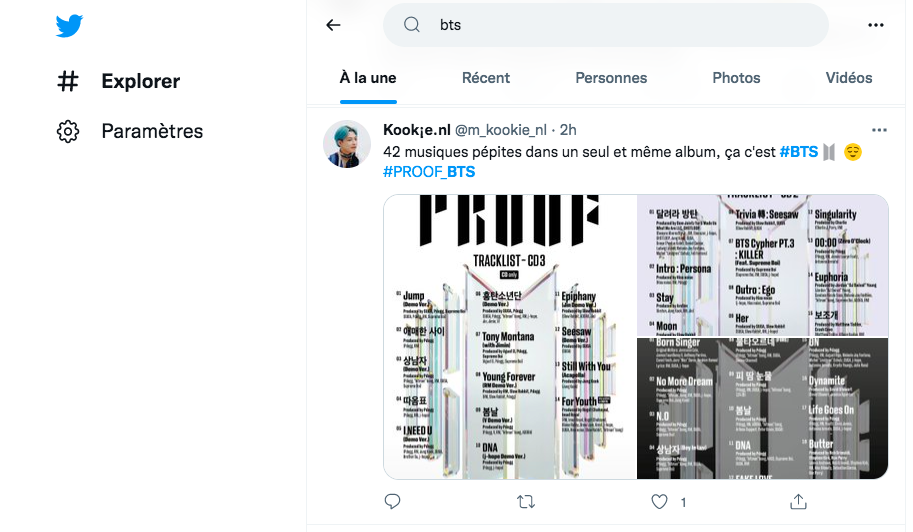 We are also witnessing a global explosion of tweets related to K-Pop (Korean culture). In France alone, 12 million tweets were recorded between 1er January and the 1er September 2021 on K-Culture. The BTS group is among the top 10 most used hashtags.
Weekly challenges and trends
Each week, it is also possible to find challenges or challenges in the Trending Topics, which invite the user to post a photo or an inspiring message on a specific day. In particular, the hashtags #ThrowbackThursday #FeelGoodFriday or even #MondayMotivation are regularly among the trends each week.
The same
The meme (or meme in its French version) is a viral image that allows a message to be transmitted. It is very ingrained in modern web culture. Most often, it is a news image that is hijacked a few days after being shared.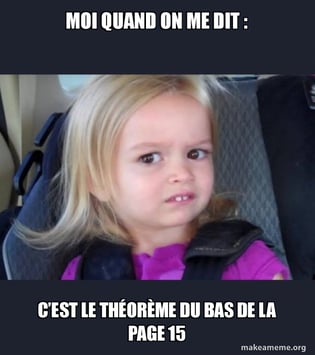 He always respects certain codes. Indeed, the meme must be a funny image, with a word or a group of words written in a large, white font. Quick to read and understand, it is made to make a lasting impression. Its advantage is that it is easy to create and can quickly go viral.
To find the same trends of the moment, different sites exist like Know Your Meme for example.
How to stay on top of Twitter trends?
Trends can be viewed directly on Twitter.
On the mobile application, they are located in the "Explore" tab, directly below the search bar. Here, the "Trends for you" are displayed with several categories (gaming, politics or music for example). By scrolling "See more" the user can view more trending and then click on the linked hashtag to view all tweets on that topic.
On the Twitter site, trends are distributed in several places. They are present in the news feed, in notifications or in search results.
Under certain Twitter trends are sometimes listed the number of related tweets and the accounts in one's own network who have tweeted about it. A category can also be automatically allocated to the trend.
Finally, there is also the possibility of consulting monitoring sites like Trends24 to check all Twitter trends by country, time and date.
How to adapt to Twitter trends?
For a company, Twitter trends represent a real godsend to animate its account on Twitter. It is therefore interesting to include them in a marketing strategy. To participate in a trend, all you have to do is post a tweet on the subject, which uses the Twitter trending word or expression, with the associated hashtag if present.
There are different ways to react to a trend:
Some Twitter trends can be anticipated, especially for recurring events such as Christmas, sales or Fashion Week. In this case, companies can then prepare and schedule the tweets in advance to hope to surf on the buzz.
It is also possible to give your opinion and position yourself on a trending subject, while remaining in agreement with its editorial line. This requires real monitoring work and it is essential to adapt the message to your audience.
Twitter trends are also an opportunity for a brand to support causes that are in line with its values ​​and its mission.
With the Trending Topics on Twitter, a company can also take the opportunity to make the link between a trend and one of its products or services. For example, a bicycle brand could ride the trend around the Tour du France to highlight its items.
When the brand does not want to speak, it can also simply retweet a tweet related to the trend, which corresponds to its ideas and values.
The humorous tone is also interesting to react to a Twitter trend. A brand could, for example, tweet a funny phrase or a meme related to the popular topic.
By using trends on Twitter, a brand can boost its communication and reach its audience. Trending Topics offer many opportunities for companies to communicate on the social network and strengthen their proximity to the audience. However, you should not want to create buzz at all costs, to the detriment of your brand image. Some topics can be sensitive. For example, it is quite delicate for a company to give a political opinion: it is not on this ground that consumers expect a brand.
To go further, download this free guide and learn how to develop your brand, increase your awareness and attract new customers using Twitter.