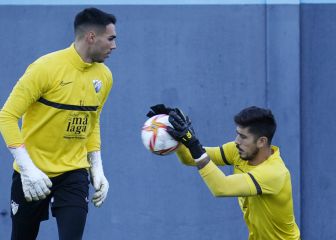 Next Saturday Málaga will play the last game of a season to forget at the Anxo Carro de Lugo. The sad way in which the team obtained mathematical permanence in the absence of a day has anticipated the period of reflection that should give way to planning.
There are many aspects that the sports management of Málaga, led by Manolo Gaspar must assess to avoid repeating such a disappointing campaign. Among all of them we are going to focus on the goal.
Dani Martín and Dani Barrio end their contract. The first will return to Betis who has watched with tremendous satisfaction the spectacular way in which the season has ended. In Malaga they would be delighted if it continued for at least another year. It seems complicated. The man from Gijón has played 28 games, conceded 40 goals and made 79 saves at an average of 2.82 per game. His final stretch has been spectacular. For his part, Dani Barrio also ends his relationship and the club has not told him that they want to renew him so on June 30 he will be free. He has played 13 games, conceded 16 goals and made 25 saves.
For the moment, the return of Manolo Reina can be made official in the course of the next few days. The one from Villanueva del Trabuco, forged in the blue and white academy, only played one game with Málaga in the First Division. It was on 5-3-2006 against the Valencia de Canizares, Albelda, Villa, Albiol and company because Arnau and Iñaki Goitia were injured. That day he left nervous. The Valencian team, which dominated from start to finish, crashed up to three balls into the wood. After returning to the subsidiary team, Málaga B, he sought life away from home in Levante, Cartagena, Nàstic de Tarragona and Mallorca where he has lived the best years of his career with a promotion to Second, two to first and a prodigious stop at En Nesyri in the Sánchez Pizjuán who saved a fundamental point for the salvation of the vermilion. At 37 years old, he is doing very well.
Another who must return is Gonzalo Crettaz. The Argentine goalkeeper, also a Blue and White youth squad, was loaned to Badajoz and has ended up unseating a historic player, Limones, from the ownership. He has played 23 games and has only conceded 18 goals. Fundamental in the improvement of the Extremaduran team in a tremendous First RFEF group with the presence of historic teams such as Deportivo or Racing. If he returns to Malaga, he could compete with Reina as long as the club does not bet on bringing another goalkeeper or manages to convince Dani Martín, something that we cannot rule out.
[