What to do when our child says "no" to everything?
When he has fits of rage, that he behaves excessively incomprehensibly?
We feel so helpless.
We can repeat it, explain it to him, put ourselves at his level …
He continues to categorically refuse to put on his shoes, wash his hands, go to the bath, etc.
Until we finally raise our voices.
It ends in a battle of screams.
He puts his shoes on, washes his hands or goes to the bath …
But at what cost !
It was Isabelle Filliozat who finally explained to us why we were doing it wrong:
The excessive behavior of the child … it's like a pot of milk overflowing
Imagine a pot of milk on the fire.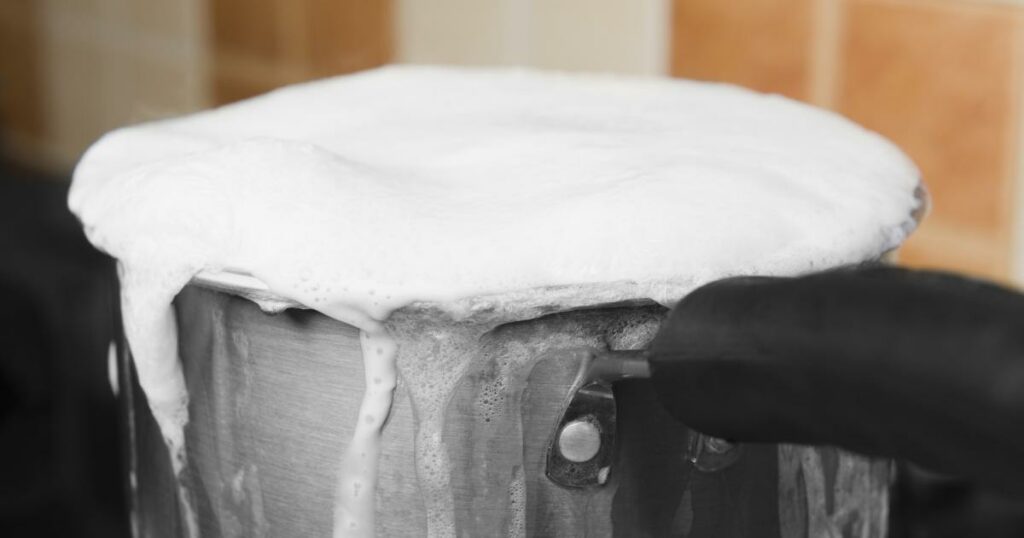 The gas is open …
The milk begins to boil.
He climbs.
You have 2 choices to limit the overflow:
> Reduce or turn off the gas;
> Put a lid on the saucepan.
And yes, our daughter Lou who doesn't want to put on her shoes or wash her hands, it's like a pot of milk overflowing.
Before, we tried to put limits overflow with a cover, instead of turning off the gas.
Concretely, if you feel powerless in the face of your child's behavior, it is likely that it is because you seek to stop the behavior, instead of addressing the "cause" of the behavior.
Putting a lid is doomed to failure.
And that's where this terrible feeling of helplessness comes from.
Excessive, "overflowing" behavior is not a problem … it is a symptom:
Our child does not test our limits.
If he hits his brother, it's not to bother us.
No.
He certainly just has a hidden need, which is not satisfied.
The problem ?
He doesn't know how to express it well.
It's up to us, parents, to investigate to discover the need hidden behind his "overflowing" behavior … to respond (and therefore turn off the gas).
And you will see, the children are awesome:
When you realize that "such overwhelming behavior" (he is violent with his big brother) is due to "such unmet need" (he needs attention from his big brother)… you will only have to direct him a little so that he finds, on his own, how to fill this need.
Today, we are always impressed when Lili tells us, straight in the eyes:
"I really wanted to play playmo with Lou… but she prefers to read her book!
I'm angry, and a little sad so I'm going to go and calm down for 5 minutes in my room and after that I would like to play a board game with you if you don't mind… "
Of course, Lili didn't get there on the first try!
Uncovering the "real causes" of overwhelming behavior takes a little practice.
And that requires "knowing" the most frequent causes of these overwhelming behaviors (it would be too easy if it was always an "unmet need" 😉 …
We will come back soon to the 7 main causes of overwhelming behavior in children, but first, the next time you find yourself feeling powerless in the face of excessive behavior, you may already start by asking yourself:
"OK, am I trying to put a cover on here?" (to stop the behavior),
Or to turn off the gas? " (look for and act on the cause of the behavior)
A week to stock up on Positive Parenting tools …
and bring calm and serenity home!
While waiting to discover soon the 7 main causes of overwhelming behavior in children, if you want to know more about Positive Parenting and these many tools …
We are happy to invite you to the (free) event we are organizing with Isabelle Filliozat from Monday 17 to Sunday 23 January :
>>> Click HERE to register <<<
Throughout this week, we will share with you tools, resulting from Positive Parenting and Isabelle Filliozat's approach, which in all simplicity, without having major methods to retain or material to provide, bring real changes in parent-child relationships!
We have selected these tools:
> Because they are among those who have had the most impact for us and our 3 children!
> Because we know how difficult it is to find "time" in our already overloaded daily life and that these tools are not "new things to do" but rather "new ways of seeing things".
We are indeed going to invite you to put on new glasses, to adopt a change in posture, a change of outlook on your parental attitude and on the behavior of your children.
Attend Isabelle Filliozat's "live" on Thursday, January 20!
This week of sharing will also be a week of exchanges: we will answer, with Isabelle Filliozat's team, all your questions, your feedback, your testimonials.
And especially, you will be able to exchange directly with Isabelle, during a live on Thursday January 20 at 8:45 p.m.!
This is one of the big surprises of the week! Isabelle Filliozat will talk to us about the difficulty of being a parent in the current atmosphere… And will answer your questions live.
>>> Click HERE to register for free! <<<
So if you want to embark on this great week of positivity, discover "new glasses" that bring more understanding, serenity, and simplify your family relationships … Do not wait to register !
As Isabelle Filliozat says, " Love is not a reward, but fuel … as much for our children as for us adults ". So let's take advantage of this week to fill up!
See you soon !