A study shows that immersing Bitcoin mining hardware in cooling oil, to help them maintain an optimal temperature, has a series of benefits that make this activity more efficient and profitable.
Liquid cooling is common in the field of computing and electronics and It consists of specially designed oils to dissipate heat from the hardware. These oils do not conduct electricity, which is surprising to those who see electronic equipment running at full capacity in huge tanks "submerged under water".
According to a Braiins signature analysis, investment in liquid immersion cooling equipment costs almost the same as air cooling (in fiat terms). But, in the first case, Bitcoin mining hardware has a longer lifespan and can mine more bitcoins.
This represents savings, since in the long term more bitcoins (BTC) are mined and the time to renew mining equipment or ASICs is postponed, having to buy new generation equipment, analysts say.
The infrastructure needed for liquid cooling of Bitcoin miners requires cooling towers, which include propellers to circulate the coolant, tanks, pipes, heat alternators, dielectric coolant, and sensors to control and monitor the cooling system, explains Braiins. .
All of this equipment can be used for years, unlike mining hardware that can eventually break down or become unprofitable when more powerful ones come along.
Advertising

On the other hand, they emphasize that liquid cooling, and the way of dissipating the temperature, allows to demand more from Bitcoin minerswith a technique known as overclockwhich is applied to microprocessors and electronic components in general to get more performance out of them.
Thus, they point out that applying this technique and taking the power of the mining equipment to 4,000 W is a perfect configuration to generate profitability both in terms of fiat and BTC, making the cost of mining 1 BTC the same despite mining with 750W more power than the default configuration of the equipment.
The following image shows the profitability and the total BTC earned by an applicable mining farm overclock using liquid immersion cooling (with Braiins software) at 4,000 watts of power, over 47 months (almost 4 years). The red line represents capital expenditures.
Braiins considers that, of all the cases studied, this is the most optimal way to mine Bitcoin with liquid cooling.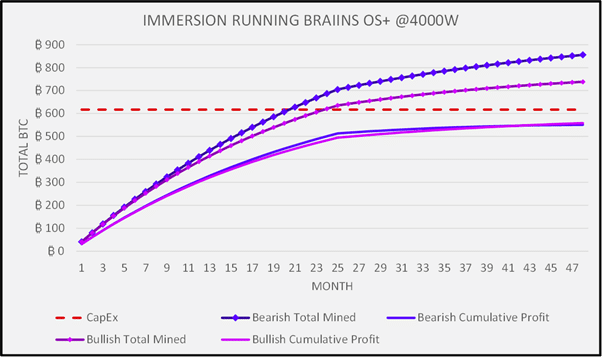 What are the benefits of liquid cooling for Bitcoin mining?
Braiins makes other considerations in his study in favor of the immersion cooling of Bitcoin miners, pointing out that even it is easier to take advantage of the heat generated to give it other uses.
"Immersion systems are more efficient (and quieter) at capturing heat from miners and transporting them elsewhere. Most of the time, that place is a cooling tower, but many times it can be a swimming pool, an eco-house, or even another place that can use the miners' heat.

If the miners can find a buyer for that heat (even if it is themselves), they would be lowering their electricity consumption costs by taking advantage of it twice."

Brains Systems.
According to Braiins, liquid immersion cooling helps to better dissipate the heat generated by Bitcoin mining equipmentwhich are high in energy consumption.
It also allows for better working conditions by preventing dust from accumulating on the mining hardware and its fans, reducing the need for cleaning and maintenance. Besides, greatly reduces the sound that is mainly generated by the fanswhich are removed and not needed once the hardware is submerged.
Brains also points out that the fans consume about 5% of the total energy that the miner uses, so by removing it these costs would be saved.
There is no going back in mining under liquid cooling
An important caveat made in Braiins is that once a mining rig is submerged, it can no longer be operated with ventilation cooling.
This could cause the emergence of a secondary market where Bitcoin miners who have worked with this method are bought and sold.
Those who buy mining equipment that has already worked like this, surely already have the necessary infrastructure for liquid cooling.
The positive side is that these equipment could be in better condition when entering the second-hand market, because liquid cooling preserves them and makes them more durable. However, "they could be difficult to sell in secondary markets when they are already more than 4 years old, since they would be old-generation hardware," they clarify.
However, there is no one constant for all mining operations in terms of viability or potential profitability. Each project must evaluate its conditions and make a balance of what suits it.
---
If you want to receive all the information about Bitcoin mining and other cryptocurrencies in your email, subscribe to Noti Hash, from CriptoNoticias.