Key facts:
Uruguay's electricity comes mostly from renewable sources, but it is expensive

Mining Bitcoin can be a very high investment, that's why there seems to be refuge in altcoins
State centralization in Uruguay threatens the profitability of Bitcoin (BTC) mining. The government's control over renewable energy sources in that country obscures the outlook for those who want to engage in the activity, since they must submit to high rates that greatly delay the growth and development of a mining company.
Uruguay, in South America, is rich in clean energy sources. Private companies are dedicated to the exploitation of these resources, with which they can keep the Charrúa nation operational. However, its production is bought, in large part, by UTE, which is the governmental National Administration of Power Plants and Electric Transmissions of Uruguay.
According to own information of the state company, 99% of the energy in Uruguay is renewable. In that country there is an average power of 1,294 MW, of which 832 MW are purchased from the Salto Grande dam, 227 MW from a series of companies that work with wind energy and some 171 MW acquired from companies dedicated to the production of energy. photovoltaic
Advertising

That causes energy to be expensive. In Uruguay, up to USD 250 could be paid for consuming a megawatt (MW) of electricity in a residence or up to USD 95 if it is in a company. It impacts the pocket, especially when compared to Argentina, its neighboring country, where USD 24 per MW is paid.
And while much of the profitability of Bitcoin mining has to do with its price, it is good to know that an average farm consumes close to 5 MW. In Uruguay, a plant of this caliber would have to pay just over USD 450 per month for electricity, without having the infrastructure and everything that is required to start mining.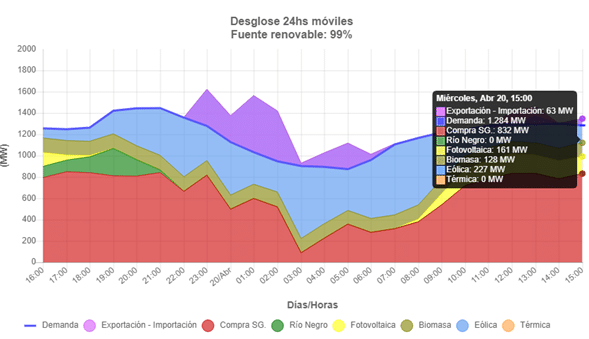 "Uruguay is a rather complicated country when it comes to choosing it to mine," Fabrizio Bianchi, who is the technology director of UyBit, a Uruguayan company dedicated to Bitcoin mining, said in a video call with CriptoNoticias. "The country is expensive, energetically speaking," he coined.
Advertising

He criticizes the fact that the State centralizes energy production and sees a profit from it, because "obviously they are not going to sell you the energy at the purchase price," he explained. "It must have a profit and there is the high cost, so you end up paying USD 250 per MW residentially," he specified.
The miner, although he recognizes that his country is not profitable to mine Bitcoin, defends that, reaching an agreement with the government, there can be understanding and you can operate.
He told us that for their mining operations they contracted an energy plan with the State, more precisely with the aforementioned UTE, which he described as "the monopoly in Uruguay." As he explained, this allows them to access energy generating companies, whose costs are lower.
Advertising

However, he revealed to us – with a laugh – that UyBit has to pay close to USD 80,000 per month just for the energy costs of his country, applied to his Bitcoin mining operations in Uruguay.
How much is earned mining Bitcoin in Uruguay?
Bitcoin mining maintains a similar profit margin in several Latin American countries, although of course, It depends a lot on the equipment used to perform it.
In the precise case of the Charrúas, if Bitcoin is mined with a Bitmain Antminer S19 Pro equipment, considered the latest generation, the monthly earnings could rise to USD 800, remaining as profit about $550.
But it should be noted that this device could be sold for over USD 14,000 in Uruguay, adding the costs of the taxes that exist in this country. An example is VAT, which is 22%.
"In Uruguay, what greatly influences when creating a product are the country's taxes. In total we have almost 44% taxes on the original value and that makes the team quite expensive. Taxes here are quite expensive and that implies a lot for the final customer. That makes mining in Uruguay quite complicated in the short term to be super profitable».

Fabrizio Bianchi, CTO of UyBit.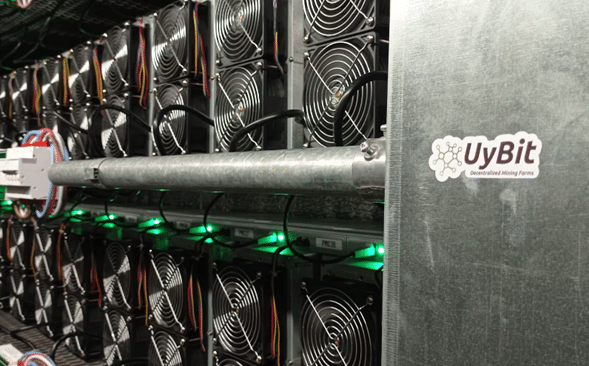 A plan ruled out by electricity
As a sign that Uruguay still has a long way to go to become a favorable place for Bitcoin mining to consolidate, CriptoNoticias also spoke with Francis Raquet. He is the director of Ventus, a Uruguayan company that generates wind power.
In 2018, this company had plans to set up a mining farm. Raquet himself spoke about this project in a interview to a Uruguayan medium. This undertaking was about the creation of a Bitcoin mining farm with an energy consumption of 10 MW. The intention, as he explained, was to connect all the miners in a plant that had the power available to operate at that capacity and that would be sustained by what was generated by Ventus.
But the plans were scrapped. The reason? Punctual: electricity prices and the fall of a sponsor or sponsor. This is how he commented in a series of messages via email with this newspaper.
"Energy is expensive and, furthermore, Bitcoin miners do not have sufficient guarantees for a renewable energy company to settle. Therefore, it is not profitable to mine Bitcoin in Uruguay.

Francis Raquet, director of Ventus.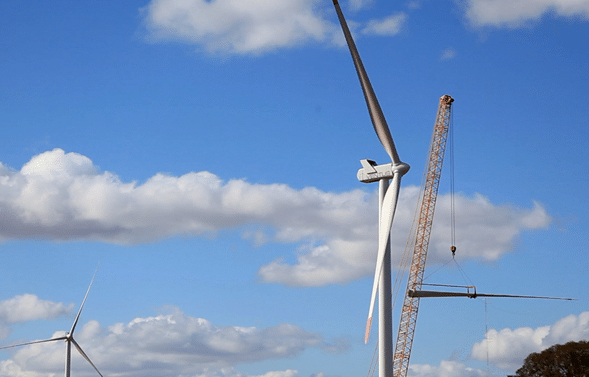 Altcoin mining, an opportunity?
As has been seen, Uruguay's electricity rates affect the profitability of Bitcoin mining, an activity that deserves a large investment in itself. But the cryptocurrency mining alternatives might have a chance.
In MercadoLibre Uruguay, one of the most relevant e-commerce sites in that country, an entire informal community of people eager to delve into altcoin mining has been formed.
On the page mining rigs are offered for the order of USD 7,300 and up to USD 15,000with which monthly profits of up to USD 400 can be obtained, depending on the cryptocurrency that is mined.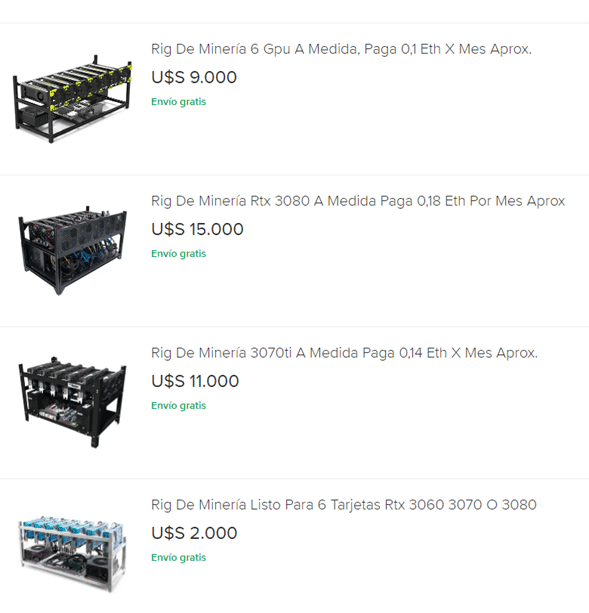 This according to the seller of the product, a person whose identity cannot be known on the platform, who even opened post sale in MercadoLibre, where he is dedicated to answering the questions of aspiring miners.
The specialist, who exempts himself from being an investment advisor, points out that with a mining rig about 0.12 ETH is generated per month, or what is equivalent to about USD 350, calculated at the price of the cryptocurrency on April 20, 2022.
"In the future, profitability is going to depend on other cryptocurrencies. Some will go down and some will go up. I am not a financial advisor and I am not trying to convince anyone to enter this world, I only mention some of the reasons why I invested in my own equipment.
Seller of Ethereum mining rigs in MercadoLibre.
Much remains to be done to industrialize mining in Uruguay
However, despite the fact that there are cryptocurrency miners other than bitcoin operating from Uruguay, there is still a long way to go before the activity itself, product of the Proof of Work consensus, is industrialized in the country.
Fabrizio Bianchi says so. He explains that because UyBit is the only Bitcoin mining company in Uruguay "we do not see the activity industrializing on a large scale."
For that to happen, he established two conditions. The first is that lowers the cost of electricity "abysmally", to about $40 or $50 for each megawatt consumed, "which I don't think will happen in the short term."
The second is that there is also a drop in the tax and tariff rates of the Uruguayan State, which instead of promoting the expansion of the activity in that country, rather make it go to other latitudes, as in essence UyBit has planned, according to us. Bianchi was able to overtake.
Thus, and while these conditions are still far from materializing, Uruguay is emerging as a country where government centralization curtails the development of an activity that has great potential, while demonstrating the unbeatability of Bitcoin, as an ecosystem capable of flourishing in the most arid lands.