A group of 14 US senators and representatives, led by bitcoiner senator Cynthia Lummis, delivered a document to the Environmental Protection Agency, in favor of mining cryptocurrencies based on proof of work (proof of work or PoW) like that of Bitcoin (BTC).
"Favoring one technology over another, including proof-of-work versus proof-of-stake, can stifle innovation, erode future economic gains, and limit associated efficiencies," the congressmen noted.
In that sense, assure also understand the ecological impact of bitcoin miningalthough "a substantial part" of the energy used by miners "is based on renewable sources."
While accepting the "potential environmental issues surrounding digital assets," they believe the "critical role that responsible innovation will play" in America's long-term economic future cannot be overlooked.
In this sense, the congressmen give as an example the company JAI Energy in the state of Wyoming, which uses surplus oil and gas to mine Bitcoin. Although this is one case of several that exist in that territory.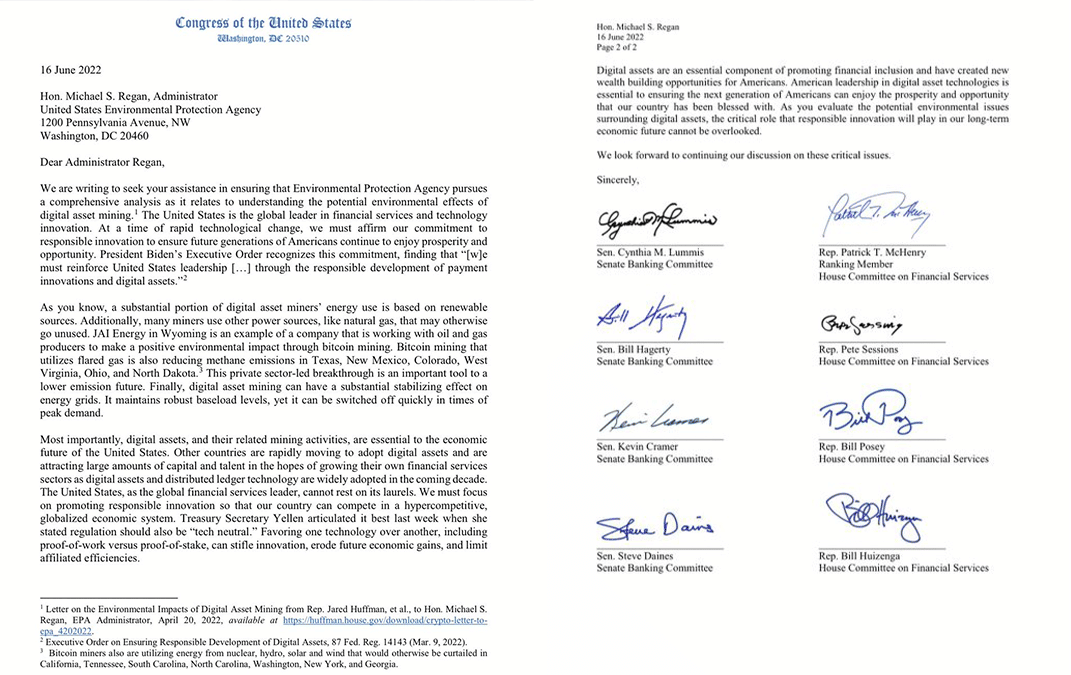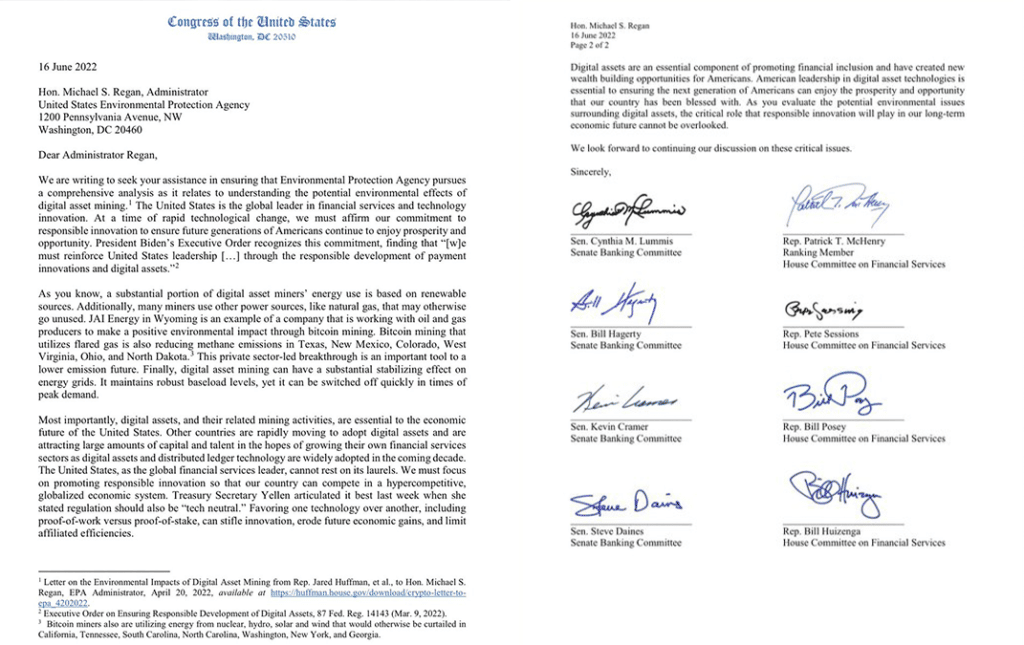 As CriptoNoticias reported before, the company Highwire Energy Partners uses excess gas production for the same purpose, profitably and effectively.
Advertising

"Bitcoin mining using gas is also reducing methane emissions in other states such as: Texas, New Mexico, Colorado, West Virginia, Ohio, and North Dakota," they note.
Bitcoin is essential to the future of the US.
Congressmen make this defense of bitcoin because they believe that digital assets and their related mining activities are essential to their country's economy.
They also acknowledge that other nations are adopting cryptocurrencies, and the United States cannot be left behind. Especially, because they attract large amounts of capital and talent with the intention of "growing their own financial services".
In the opinion of the signatories of the document, sectors such as cryptocurrencies and blockchains will be widely adopted in the next decade.
In the text they explain that "in a time of rapid technological change" the US government to reaffirm its "commitment to responsible innovation to ensure that future generations of Americans continue to enjoy prosperity and opportunity."
They also maintain that their request has the same spirit embodied in the executive order that It was issued by the President of the United States, Joe Bidenlast March.
They fear that what happened in New York will spread
Although the document does not mention it, the call made by the congressmen seems to be related to what happened a few days ago in the state of New York.
Legislators from that state presented a bill that sought to suspend proof-of-work cryptocurrency mining operations for 3 three yearslike Bitcoin, last March.
Recently, the project was approved and now they wait for the approval or veto of Governor Kathy Hochul. To receive the approval, New York would become the first state in the country to ban Bitcoin mining in the United States, something that the congressmen who signed the document, it seems, want to avoid.