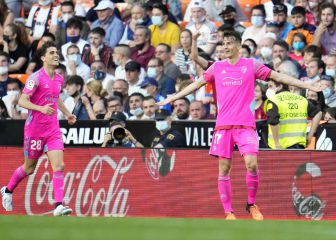 Osasuna sighs with Europe
Between two waters he debated Osasuna before the ball began to roll in Mestalla. A more conformist current: look down, see the enormous distance that there is with the descent and understand that the main objective, permanence, is in a safe place. A more ambitious vision: think big and dream that Europe is possible. And when you have two guys on your roster like Ante Budimir and Ezequiel Avila, the answer is obvious.
Those from Arrasate took advantage of a Valencia with their sights set on La Cartuja and, without being clearly superior, they were more forceful. Foulquier committed a penalty for a handball inside the area and Chimy sent it to save. In minute 73, Budimir sent a header into the cage to make a good cross from Rubén García.
In a showy final stretch, Carlos Soler made the parish dream of the comeback. Penalty for a foul inside the area by Rubén García and the Valencian '10', deceiving Sergio Herrera with class, put the final 1-2. The reaction of those of Bordalás was more and, to make matters worse, Guedes left the field in pain.
Osasuna dreams, Valencia stagnates.
[