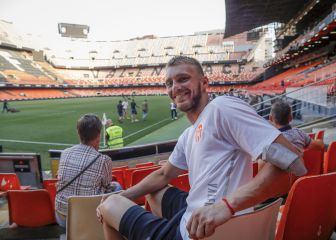 Anil Murthy took a plane this Saturday from Barcelona to Singapore. There, in his country of origin, he will meet Peter Lim in the coming days. From the club there is talk of a conclave focused on planning the sports area for the coming season, regarding renewals, sales and arrivals. The continuity or not of José Bordalás on the Mestalla bench will also be on the table and only Lim knows if the changes in the club could also reach the box, although always with the premise that In Singapore, palace things go slowly.
The list of priority issues to resolve is headed by the sale of Guedes and the departure of Cillessen. The Portuguese will change airs this summer and his representative Jorge Mendes is working on it. Among the best placed candidates, Mourinho's Roma, who already sounded him out in January. Valencia needs to sell before June 30 to have "cash" to be able to meet the payment of the chips in July and also to start balancing the accounts (which show losses of about 70 million).
Guedes has closed one of his best seasons at Valencia, with 13 goals and 6 assists between the League and the Cup
Guedes, who remained in the squad last summer to try to revalue it, in addition to giving performance to the group, has curdled individually one of his best seasons at Valencia, where he has played since 2017, with 13 goals (two of them in the Cup) and 6 assists. Guedes has a contract until 2024 and about 14 million euros remain to be amortized from his signing to PSG for 40 million, a figure that Valencia would like to recover, although such amounts are only paid in the Premier.
Get rid of the 13 million amortization of Cillessen
Another footballer who is in the starting box is Jasper Cillessen. The Dutchman left Mestalla after the match against Celta de Vigo, the one with the demonstration at the gates of the stadium, convinced that this would be his last day there with the Valencia shield. In fact, He wanted to take pictures with his family to immortalize the moment. Cillessen intends to return to his country, unless he has an option in Spain, and, specifically, Cillessen would like to return to the club of his origins, the Nijmegenalthough the PSV loves him too.
The club, in this case, would be satisfied if a third party assumes what remains to be amortized from the transfer of Cillessen and his salary, about 13 million euros per year, although he only has one year left on his contract. In the exit of Cillessen influences the appearance of Mamardashvili. In fact, the Georgian is another of the names that will appear in the meeting with Lim, who has to authorize the contractual improvement that Valencia wants to offer him in order to increase his clause.
[