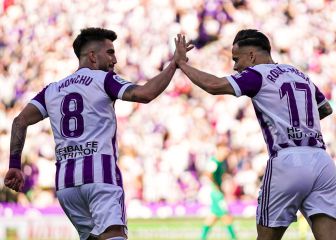 What has to happen for Valladolid to rise directly?
Many accounts, numbers, possibilities and a goal for Almería, Eibar and Valladolid: direct promotion. Any of the three can be promoted, but any can be left out. No one cares about a draw.
– If Almería draws or loses in Leganés and Valladolid winsin the event of a tie on points, Valladolid goes up and Almería stays out in the event that Eibar draws or wins in Alcorcón.
– If Eibar draws or loses in Alcorcón and Valladolid wins, Pucela's men would be first class and Eibar could be left out if Almería wins or draws.
– Finally, the triple draw on points. If Eibar and Almería tie, and Valladolid wins, the top three would tie at 81 points. In that case, Valladolid would go up as leader, Eibar would stay second and Almería would go out.
In short, Valladolid would enter the direct promotion equation only if they win their match. It is not worth the tie to anyone. Last day of heart attack.
[