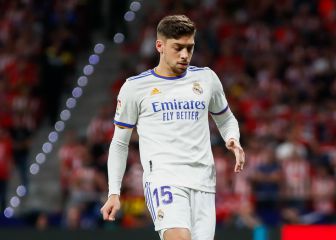 Real Madrid came out scalded from a derby in which they did not put too much effort, because nothing was at stake and Atlético, the possibility of tying the classification for the next Champions League a little more, which for the rojiblanco club is everything. Ancelotti made several changes to the starting eleven after the accumulated beating against Manchester City and only in the second half did he introduce changes to try to at least tie the game. None of those changes worked like Valverde, who has gone through every possible stage this season, from refreshment man to undisputed starter. It is in this last phase now.
Because the Uruguayan did everything and he did everything well in the half hour he had at the Wanda Metropolitano, when he entered the field instead of Casemiro. In that time he had to be brilliant in the pass (20 good movements out of 24), to recover five balls (Camavinga, in triple time, snatched only two more) and to be Madrid's best attacking asset, with three goal attempts from long range: one went wide, just barely; on the other days he forced Oblak to draw two good hands.
El Pajarito mutates faster every day into Falcon; he had already been passing him in his national team, where he has started in ten of the twelve qualifying matches for Qatar 2022, and the two that were lost were due to a physical problem. In the last one, against Chile, he already released a kick that earned him a goal, a virtue that Zidane already encouraged on his day and that Ancelotti also wants to see more often, for the benefit of the team.
In the three fundamental games to finish virtually certifying the League title, against Getafe, Sevilla and OsasunaValverde started and played every minute. He also played the 90′ ​​of the second leg against PSG in the Champions League round of 16, he only missed four minutes of the first leg of the quarter-final against Chelsea, he enjoyed the 120′ of the second leg and also played as much as possible against City in the semi-finals, in Manchester and Madrid. Valverde knows that now he himself is a starter and does not want to give up that status. He himself confesses: "One always learns and improves day by day, and more with the teammates I have and the club I'm in. I started as a starter, everything was positive; then I lost my place in eleven, it was a downturn and I got injured. I carried out my delivery and worked to get my position. I hope I don't lose it anymore."
Valverde, indisputable for Ancelotti
With performances like Wanda's, that goal is closer. With him, Ancelotti has even given in to that idea that he had already formed of not touching the 4-3-3 as the favorite drawing for his Real Madrid. The inclusion of Valverde on the right slightly deforms that arrangement, in a drawing that changes at times: it can be a classic 4-4-2, with Vinicius as the second striker; a 4-3-3 with the Uruguayan as a false winger; and even a 5-3-2, with Valverde acting as a lane to support Carvajal when the youth squad has a hard time.
All this contributes to a Valverde who only needs to let his hair down a little more when it comes to trying his luck in front of the opposing goal. In the Wanda he did it, fortune did not accompany him nor was his aim, but that is the way to improve figures that, at the moment, are somewhat weak: one goal and one assist this season. For now, he knows that Ancelotti's predilection is his; The coach, asked if it could be said that the Uruguayan is indisputable right now, did not beat around the bush too much: "Yes. It can be said that it is."
[