Key facts:
The National Police continues with the investigations to detect miners who operate without permits.

Officials from the country's crypto assets superintendency also acted in the operation.
Officials of the Bolivarian National Police (PNB) of Venezuela, attached to the Directorate of Criminal Investigations, seized 165 graphics cards (GPU) that were used for the digital mining of networks such as Ethereum. The operation took place on Thursday, October 21, in a warehouse in the Guatire parish in Miranda state, 40 kilometers away from the capital, Caracas.
According to a police report, published On the agency's official site, the officials acted in conjunction with the National Superintendency of Crypto Assets and Related Activities (Sunacrip), the body that oversees activities with cryptocurrencies. This, after it was discovered that the site operated without the corresponding permission.
The report does not clarify whether there were any arrests or what kind of cryptocurrencies were mined with the seized GPUs. However, it follows that with them ether (ETH), the cryptocurrency of the Ethereum network, could have been mined and others that are normally mined with graphics cards.
The body adds that Investigations will continue with the aim of locating other locations where digital mining is done illegally.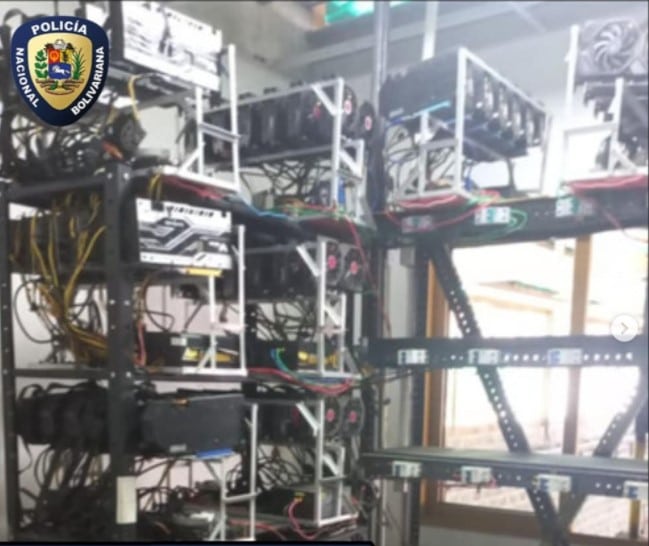 As CriptoNoticias has reported, Bitcoin mining in Venezuela is a legal activity since September last year. Although, the license to exercise these activities is compulsory, which is requested through the Comprehensive Registry of Cryptoactive Services (Risec).
While digital mining is not illegal in Venezuela, there have been irregular episodes against miners of Bitcoin and other cryptocurrencies such as, for example, shutting down licensed farms.
One of these events was reported by this means last July, when officials of the National Electricity Corporation (Corpoelec), for no apparent reason they removed the high voltage fuses of a warehouse in Carabobo state, leaving it inoperative.
Subsequently, the regulatory body for digital mining in Venezuela promised those who carry out the activity that they would not be visited by any authority without the presence of their staff.