The Human Rights Foundation gave a donation of 0.5 bitcoin (BTC) to Venezuelan Francisco Calderón, who designed a bot with which bitcoins can be traded directly from Telegram, without any custody.
The HRF confirmed that Calderón will receive half a bitcoin (0.5 BTC or 50 million sats) to continue working on lnp2pbot, which is a bot through which BTC can be exchanged through the Lightning Network (LN)in a peer-to-peer (P2P) transaction.
The news also shared Alex Gladstein, who is the CSO of HRF, through his Twitter account. There he praised Calderón's work with the aforementioned bot, with which fiat money can also be exchanged.
Overall, HRF opened a donation round totaling 5 BTC, which was allocated through the Bitcoin Development Fund to various individuals and institutions. A) Yes, HRF adds something mmore than USD 1.2 million in scholarships that have been awarded to more from 30 developers and promoters around the world.
They clarify that, in this last round, the day was based on projects related to Bitcoin, in the field of software, monitoring, community development, design and translation.
To know the impressions of Francisco Calderón, CriptoNoticias contacted the scholarship holder today. This article will be updated with your comments.
Advertising

The rest of the HRF scholarships
According to the HRF, the Africa Bitcoin Conference will be the organization that receives the largest scholarship, of 100 million satoshis or 1 bitcoin, with which Bitcoin developers and educators from that continent are expected to advance their projects. The holding of events and talks with African companies is also planned.
Meanwhile, another Lightning-related scholarship was awarded to researcher René Pickhardt, who will receive half a BTC (0.5 BTC) for his work on the Bitcoin micropayment solution, as the Lightning Network is also known.
According to the HRF, this programmer has contributed to the network through Lightning Network education, vulnerability identification, and research. They plan to support their dedication to the Bitcoin ecosystem with the award of these funds.
Paulo Sacramento, another Latino developer, originally from Brazil, will receive 25 million satoshis (0.25 BTC) for his part, to boost his work on the Bitcoin Design Guide, which is a project that makes non-custodial applications more accessible.
As they explained, this programmer will be in charge of updating a segment of the guide and, in addition, will identify and structure a course on how to bring the user experience to these applications.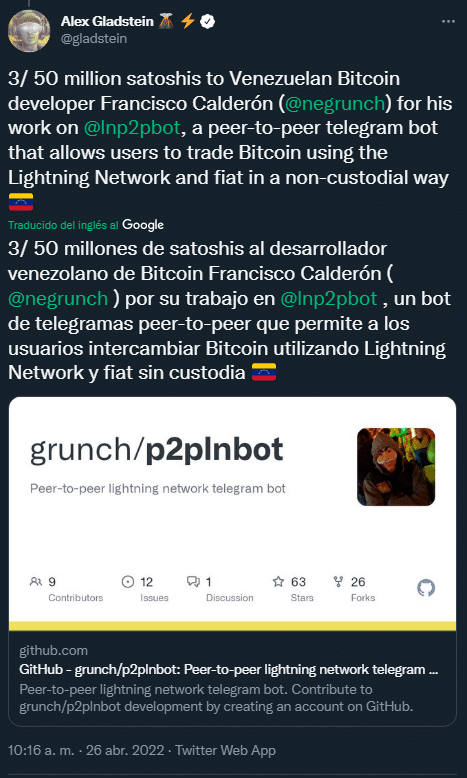 Developers Rubén Somsen and Dhruv Mehta, meanwhile, were awarded another scholarship. They will receive, together, 50 million satoshis (0.5 BTC) for pioneering the so-called space chains of Bitcoin, with which it will be possible -in the future- to create assets in dollars "and improve the privacy of Bitcoin users around the world," in Gladstein's words.
Media also received scholarships
HRF also awarded grants to the media. To do this, the foundation will partner with the Paxful platform, with which they will award three newspapers from around the world.
This, they say, will allow the media to expand their coverage of the adoption of BTC and other cryptocurrencies, the rise of central bank digital currencies (CBDCs), and the militarization and politicization of fiat money.
Among the scholarship recipients are El Toque, from Cuba; Democratic Voice, from Burma and Daily Maverick, from South Africa; who will receive 50 million satoshis or 0.5 BTC.
Netblocks, which is a global internet monitor, will also receive a grant from HRF. In his precise case, he will be worth 0.5 BTC, with which they seek to promote the study and analysis of the impact of government restrictions on the Bitcoin protocol.
In addition, they intend to help Netblock to continue working for digital rights, internet governance, cybersecurity and other aspects that take care of users from the risks that threaten Bitcoin.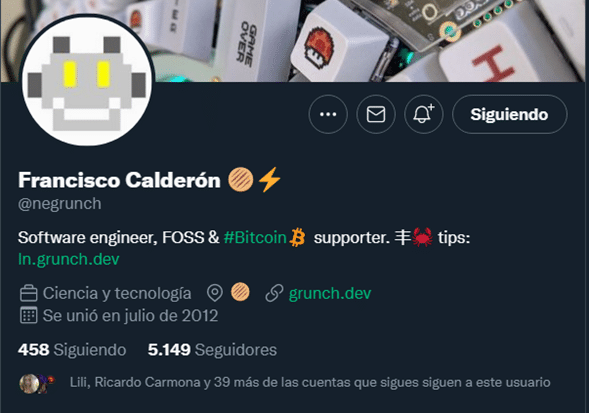 Other Latino Scholars
The grant to Calderón is in addition to the scholarships that Latino developers have received from companies and institutions that are enthusiastic about Bitcoin. An example is Bruno Garcia, a Brazilian programmer who received a grant from Brink.
As reported in CriptoNoticias, García said that he will continue to operate from Brazil, where he began his path in Bitcoin. It will also promote counseling for students interested in the new economy.
As he expressed in an interview with this medium, the scholarship is "very important for the Bitcoin ecosystem", since it recognizes the work that many developers have done.
Garcia, it is worth mentioning, participated in the latest version of Bitcoin Core, the 23. He was part of the hundreds of programmers who brought to light the most recent update of the Bitcoin code, which we talked about in this news.