The new 2021 BMW M5 CS has been conceived as the fastest and most powerful production BMW car of all time, so we did not want to pass up the opportunity to show you what it is capable of on the track when facing its main rivals. Under the hood is the 4.4-liter V8 engine, which raises its power to 635 hp (467 kW) and 750 Nm of maximum torque.
Associated with the eight-speed automatic transmission, it is capable of accelerating from 0 to 100 km / h in just 3.0 seconds and from 0 to 200 km / h in 10.4 seconds. Its top speed is electronically limited to 305 km / h. On a technical level, it incorporates an active M differential and a selectable all-wheel drive system with 4WD and 4WD Sport modes, as well as a 2WD mode.
There are also new features in the system Dynamic Damper Control, in the brake system and in the steering -among other components- to deal with the weight reduction of 70 kilograms compared to the BMW M5 Competition. I can assure you that just to see all the models accelerate enraged, the video is worth watching.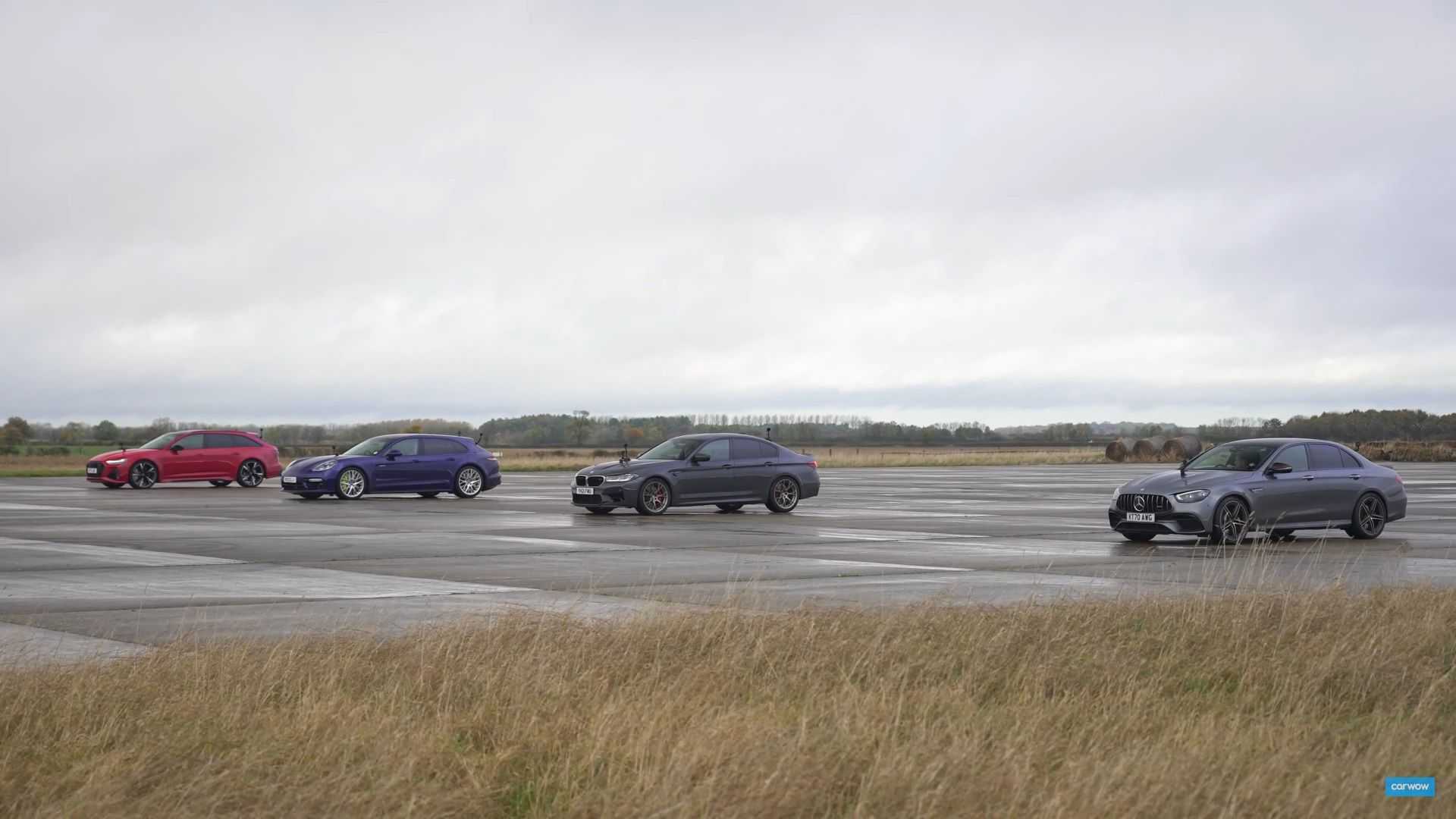 Are you betting on the BMW M5 CS or on one of its rivals?
The first rival is THE FAMILY PARTY par excellence. In the engine compartment and, thanks to technology Mild hybrid Audi (MHEV) with a 48 V main electrical installation, the 4.0 TFSI with 600 hp and 800 Nm of torque of the RS 6 Avant combines maximum performance and high efficiency. Declares a 0 to 100 km / h in just 3.6 seconds and a top speed of up to 305 km / h.
The star's signature V8 biturbo is intimidating, too. A 4.0-liter engine that generates up to 612 hp (450 kW) and 850 Nm of torque, allowing it to accelerate from 0 to 100 km / h in just 3.4 seconds in the case of the Mercedes-AMG E 63 S 4MATIC +. It is associated with the permanent all-wheel drive AMG Performance 4MATIC + with variable torque distribution and dynamic 'Drift Mode'.
More efficient is the Porsche Panamera Turbo S E-Hybrid. It is positioned as the most powerful option in the family by combining the 4.0-liter 571 hp V8 block with another 136 hp electric. This results in 700 hp (514 kW) and a staggering 870 Nm of maximum torque. It reaches 310 km / h of maximum speed and accelerates from 0 to 100 km / h in 3.4 seconds.