By
Hannah perez
Bad day for doggy cryptocurrencies: Many have plummeted in price after the Buterin sell-off. Between them, Dogey-Inu collapsed 100%.
***
The co-founder and leading creator of Ethereum, Vitalik Buterin, has been cleaning his wallet and has sold a handful of tokens doggy meme sent to you without your consent, generating more than $ 1 million in revenue.
This Tuesday, Buterin went to decentralized exchanges to liquidate several of the canine-themed cryptocurrencies that people have sent to his wallet. As reported by various media, the developer sold hundreds of billions of tokens Shih Tzu (SHIH), Dogey-Inu (DINU), Kishu Inu (KISHU), Baby Shiba (BHIBA), Aidi Inu (AIDI), Small Doge (SDOG), Jejudoge (JEJUDOGE), among others.
Data of Etherscan confirm that several of these sales were made through platforms such as Uniswap and Gnosis, from where Buterin changed the funds of said tokens by Ethereum wrapped (WETH).
Most of those cryptocurrencies crashed after the massive sell-offs, some even with double-digit percentage losses. For example, him token Shih Tzu has dropped 55% in the last 24 hours, while Baby Shiba's price has dropped 76% in the same time period. This is shown by data from CoinGecko.
However, of all those mentioned, the one that seems to register the worst fall is Dogey-Inu, who collapsed 100% losing all its value.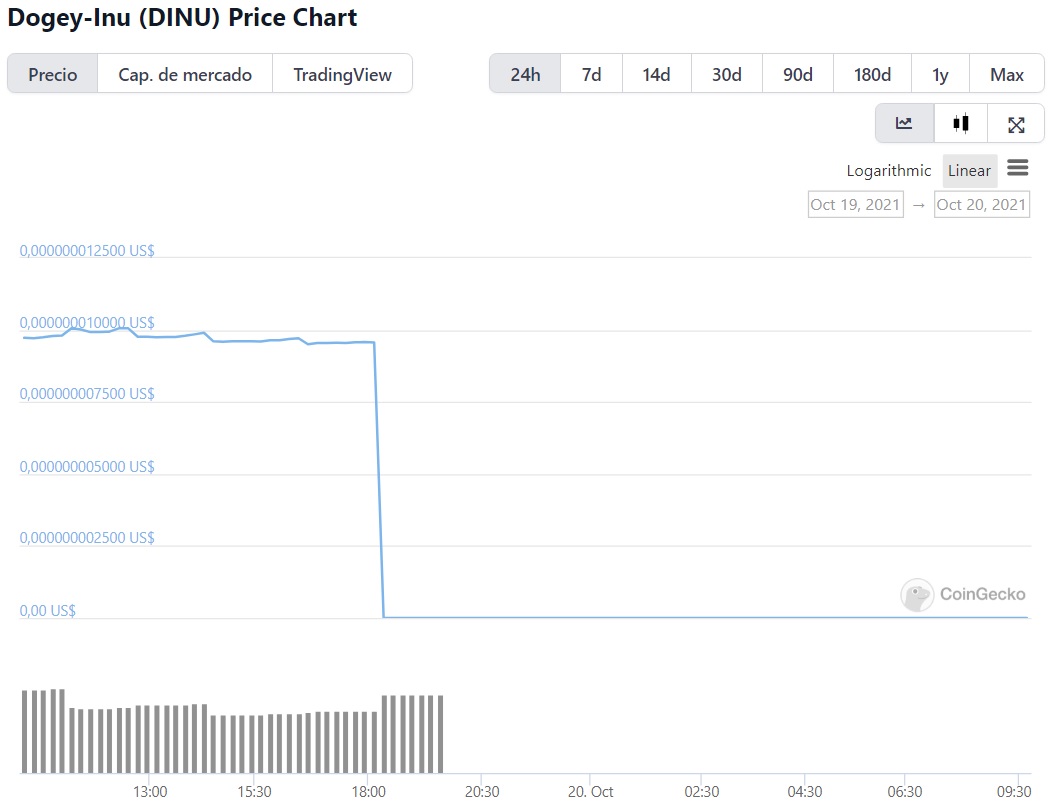 Almost $ 2 million in puppy tokens
According to the medium CryptoBriefing, the sell-off of puppy coins would be valued at over US $ 4 million. However, due to the lack of liquidity for those currencies, the total amount the co-founder received from Ethereum after the sale it was closer to USD $ 1.8 million.
The sudden growth it experienced Dogecoin (DOGE), the top doggie coin by market cap, this year sparked the boom of many similar projects that leveraged the Shiba Inu canine image to try to replicate DOGE's commercial success.
Many of these projects "clones", Which were launched on the network Ethereum, they sent large amounts of tokens to Buterin's wallet in hopes of burning them – or taking them out of circulation. Remove tokens It can lead to an eventual price increase, since the total supply is reduced, reducing the supply.
However, this peculiar burning tactic doesn't seem to be working very well, especially with Buterin being critical of many of these projects. In fact, this is not the first time something similar has happened. In May of this year, the developer sold large amounts of other meme coins worth more than $ 65 million, including the token "assassin" from Dogecoin, Shiba Inu (SHIB).
The project team Shiba Inu had sent 50% of the total supply of the coin to an address in Buterin as a way to get half of the coins out of circulation. tokens, a strategy to decrease the supply and boost the price of SHIB. But Buterin was not pleased that projects used his address for such purposes without first consulting him. He wrote at the time:
PLEASE DO NOT GIVE ME COINS OR POWER ON YOUR PROJECT WITHOUT MY CONSENT.
Buterin backs a legitimate project
On that occasion, the developer also turned to decentralized exchanges to get rid of the tokens, which also included Akita Inu and Dogelon mars. However, in the absence of liquidity, Buterin chose to send a large part of the fortune to various charitable projects, including a donation of one billion dollars in tokens. Shiba Inu to the Covid Relief Fund of India.
This Tuesday, Buterin has also chosen to use part of the proceeds from the latest token sale to help good causes. Transaction data from Etherscan show that spent almost $ 200,000 buying and burning 8% of the supply of UBI tokens from Proof of Humanity, a project that aims to verify human identities in a decentralized way.
Proof of Humanity has been associated with Democracy Earth to launch a Universal Basic Income initiative, distributing UBI tokens to all verified humans. By burning the UBI tokens, Buterin reduces the total supply, thus increasing its value. The move also indicates Buterin's support for the project, with some on Twitter even describing the action as "the highest form of validation anyone can get in the crypto space".
It should be noted that, beyond the tokens as a puppy, the founder of Ethereum it also sold Curve DAO and Fantom (FTM) tokens.
Given Buterin's previous comments, this may not be the last cleaning you do to your wallet. In any case, although this might not be very beneficial for some meme tokens, it may end up favoring projects with a collaborative approach.
---
Recommended reading
---
Sources: CryptoNews, CryptoBriefing, CoinGecko, file
Hannah Estefanía Pérez's version / DailyBitcoin
Image from Unsplash