Key facts:
Raising the default maximum fees would prevent delays in Ethereum, according to Vitalik Buterin.

The developer expressed himself on social networks but did not officially propose anything, yet.
Vitalik Buterin, co-founder of Ethereum and the main reference of its ecosystem today, assured that wallets should increase the default value for maximum commissions. The current model, which he called "horrible," creates delays in transactions, he assured him.
Buterin's critique On twitter points to default commission options that Ethereum wallets show by default to their users. To cite an example, MetaMask offers three levels of fees to be paid at the time of making a trade: low, market or aggressive. Each of them has a different cost and, based on what is paid, allows a transaction to be confirmed faster on the network.
Buterin has questioned this last value, the one that in MetaMask they call an "aggressive" rate and that in other wallets is directly classified as "high". For the Russian-Canadian developer, setting the maximum base rate to a point just above the current base rate is horrible because it causes delays when the base rate increases right at the time of making a transaction.
To avoid such problem, the developer asked to increase the value of this default maximum commission to more than 1.3x compared to the base rate. "Although I would prefer more than 2x," he doubled down. As an additional argument to her position, showed the changes that Brave Wallet introduced in its Ethereum transaction fee policy.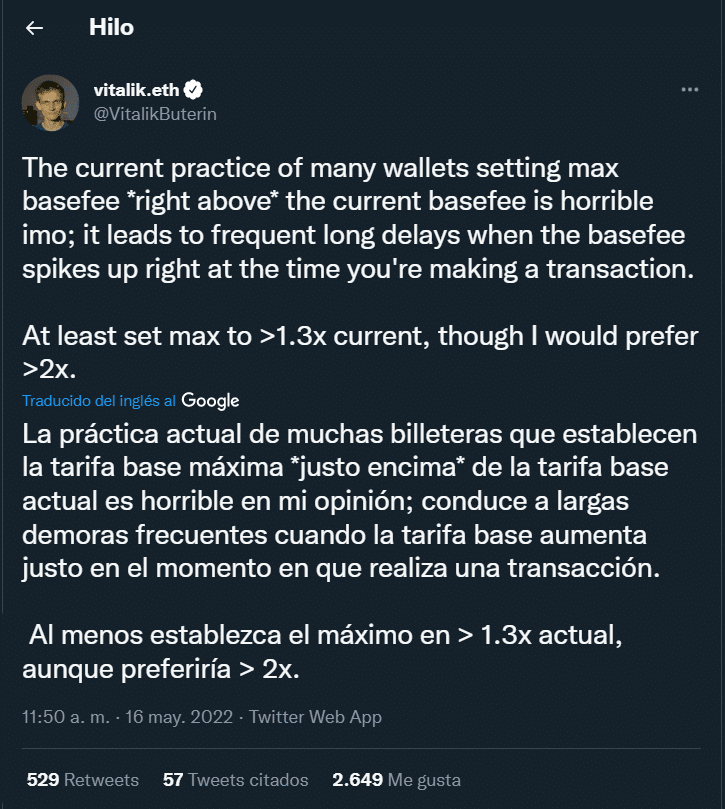 About the rationale for Ethereum wallet developers to choose the current values, Buterin assured that it is because "it looks bad in the user interface to show a higher fee". However, he opined that "there must be better ways to deal with this problem." For example, he said, present the fee not as $4.25 but as $3-6. That is, using a range to "cover" the payment of higher fees.
In the responses to his proposal (which is not official, but he barely commented on it on Twitter), several users criticized Buterin's idea. For example, one of them he opined that "people don't want to spend $40 to send $400" and that "it's not an 'excuse,' but rather a problem with their product," referring to Ethereum.
On the other hand, another user criticized the move to "camouflage" the payment of higher commissions to Ethereum miners by showing ranges instead of concrete values. "People are avoiding Ethereum transactions due to these programmed attitudes," she maintained.
This is how Ethereum wallets handle fees
When using MetaMask to make a transaction at the time of writing this article, the wallet set a default maximum fee of 0.00051925 ETH for transactions with high or "aggressive" fees. This is equivalent, according to the CriptoNoticias price index, to USD 0.85.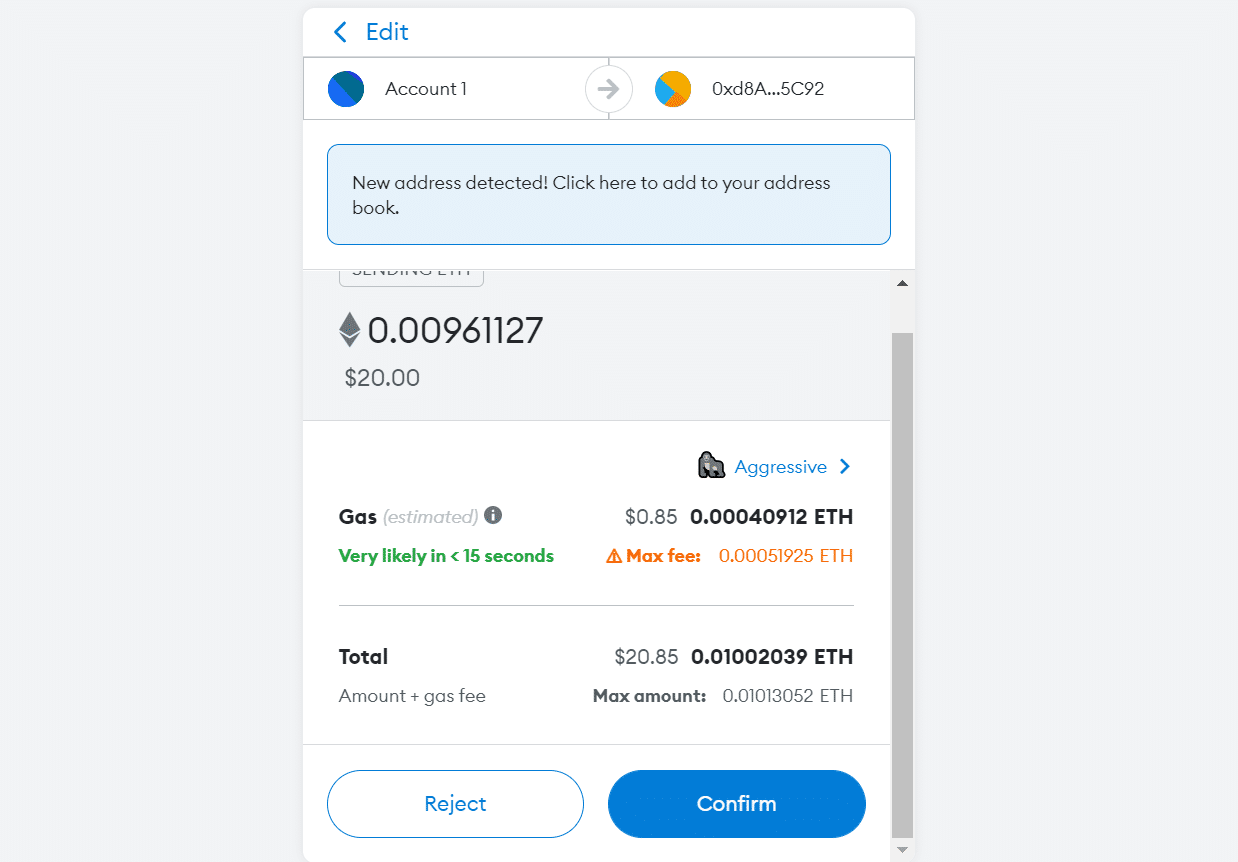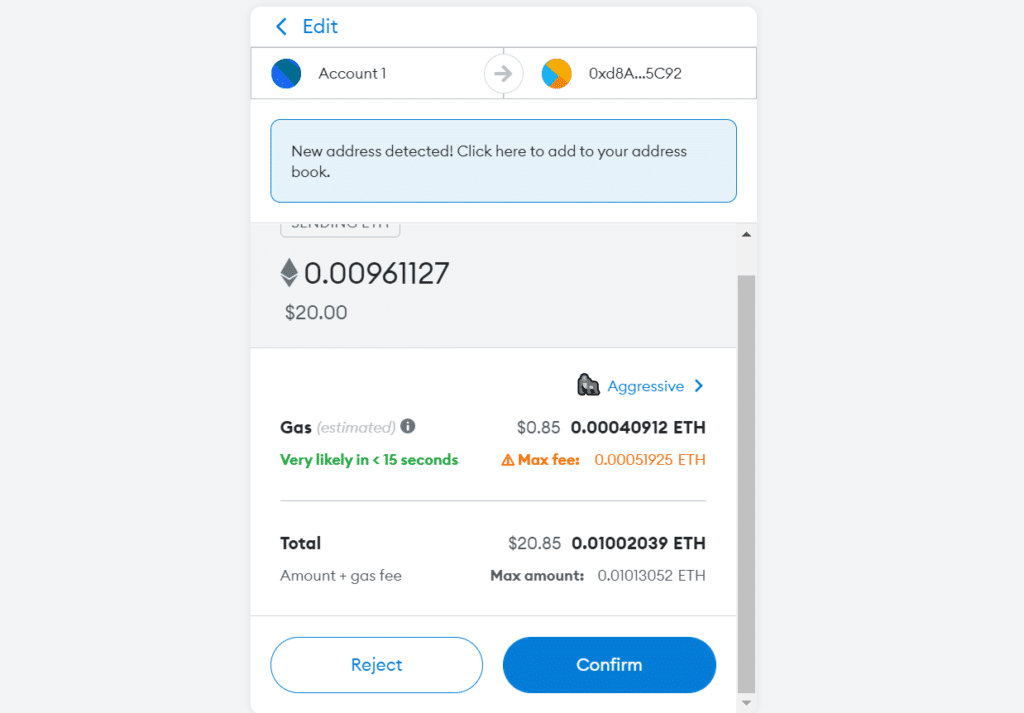 On the other hand, making a transaction with lower commissions using the "low" or "market" commission options (which would mean a greater delay in its confirmation), cost a little less (between USD 0.79 and 0.82). . These values ​​are constantly changing and can be much further apart when the network is more congested, as this newspaper has reported on previous occasions.
In summary, What Buterin proposes is to increase the "ceiling" of the first value, that of the "aggressive" rate. That way, if a user wants to pay more to get their transaction confirmed faster, they'll already have a default option to do so. In addition, if the network conditions change just when making the transaction, paying a higher commission will prevent it from being delayed and unconfirmed.