The German giant's electric offensive is taking shape and this week we have seen live and direct the Volkswagen ID.4, the first fully electric SUV of the car manufacturer and the first international electric vehicle of the brand. It is launched in the largest market segment in the world, the compact SUV segment.
Developed on the MEB platform, the ID.4 measures 4.58 meters in length and boasts a strong and confident character on the road. Its design is clear, fluid and powerful. It combines a robust SUV character with highly developed aerodynamics, as its drag coefficient is only 0.28.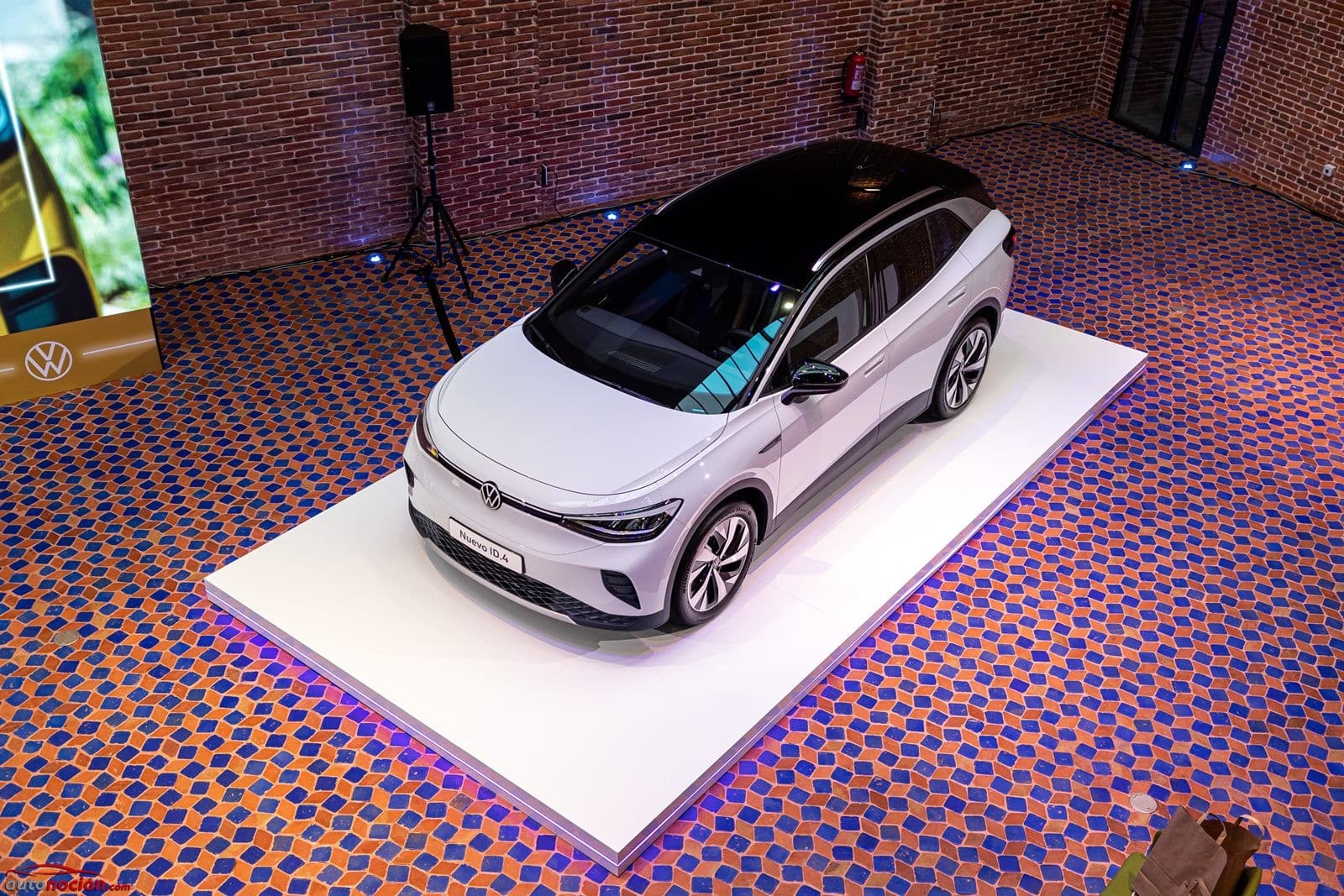 On an aesthetic level it is as simple as the Volkswagen ID.3, with some characteristic elements like the fully enclosed grille, new technology IQ.Light LED headlights, prominent air intakes, a generous windshield, aerodynamic door handles and full-width 3D LED taillights.
At the rear, there is no lack of coupé features and a subtle spoiler mounted on the rear window. The aerodynamic wheels are 20 and 21 inches.
Inside we can appreciate a touch screen in central position (10 or 12 inch) with the MIB3 system to control the various elements of the vehicle and the multimedia system, and another behind the wheel fully digital. If the customer wishes, a Head Up Display with augmented reality.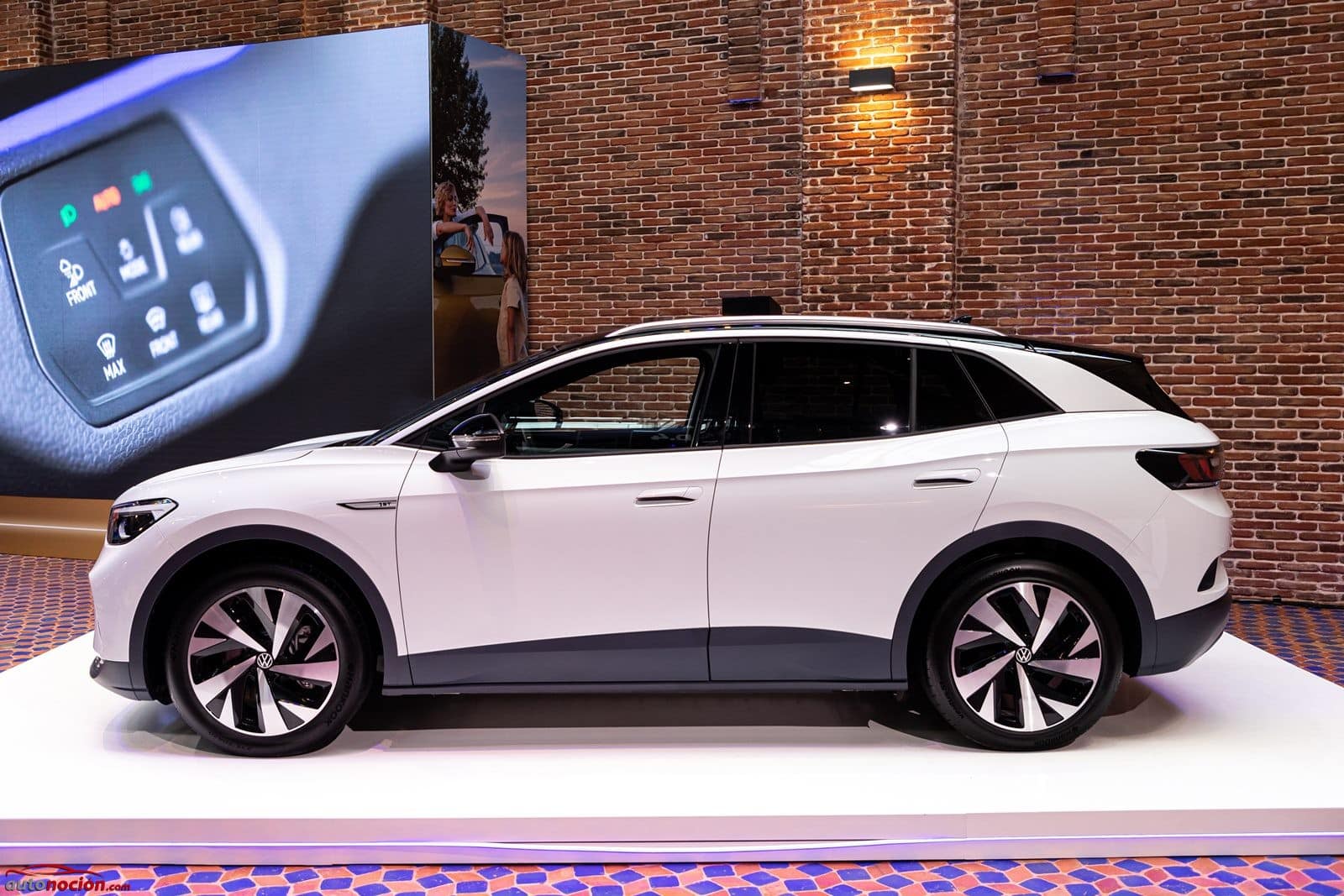 What has surprised me the most about ID.4 is its amazing interior space, as well as the feeling of spaciousness that it offers us. The driver and passengers sit comfortably in an elevated position, access is comfortable and the overall view is good. For example, the second row of seats will fit three child restraint seats (SRI).
As in its internal combustion brothers, the feeling of quality and adjustments is good, although it is true that you can see an excess of hard and little worked plastics. They appear durable, but are hard to the touch and inconspicuous. They may influence this aspect the materials used (none is of animal origin), which we are not used to.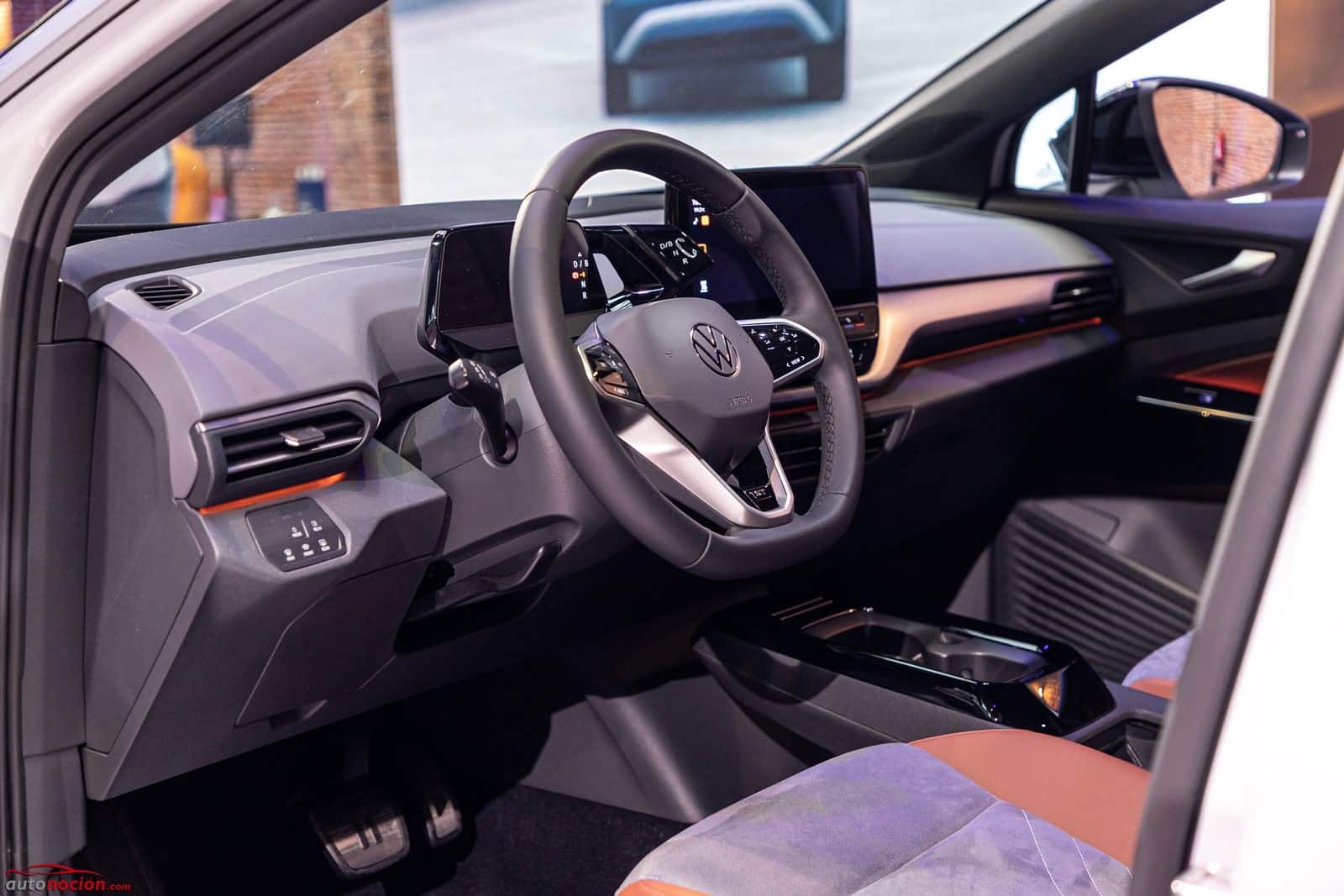 The lights and visibility functions are controlled via a keyboard. The new roof console has also been digitized and everything is tactile, including the moonroof slider. Another negative point is the abundant use of surfaces in dirty and sensitive glossy black.
As a good current product the ID.4 may have many items of equipment both in safety and in comfort. Among the most interesting are the blind spot detector, traffic jam assistant, lane assistant, Travel Assist, hands-free gate, parking sensors, adaptive cruise control, pedestrian detector …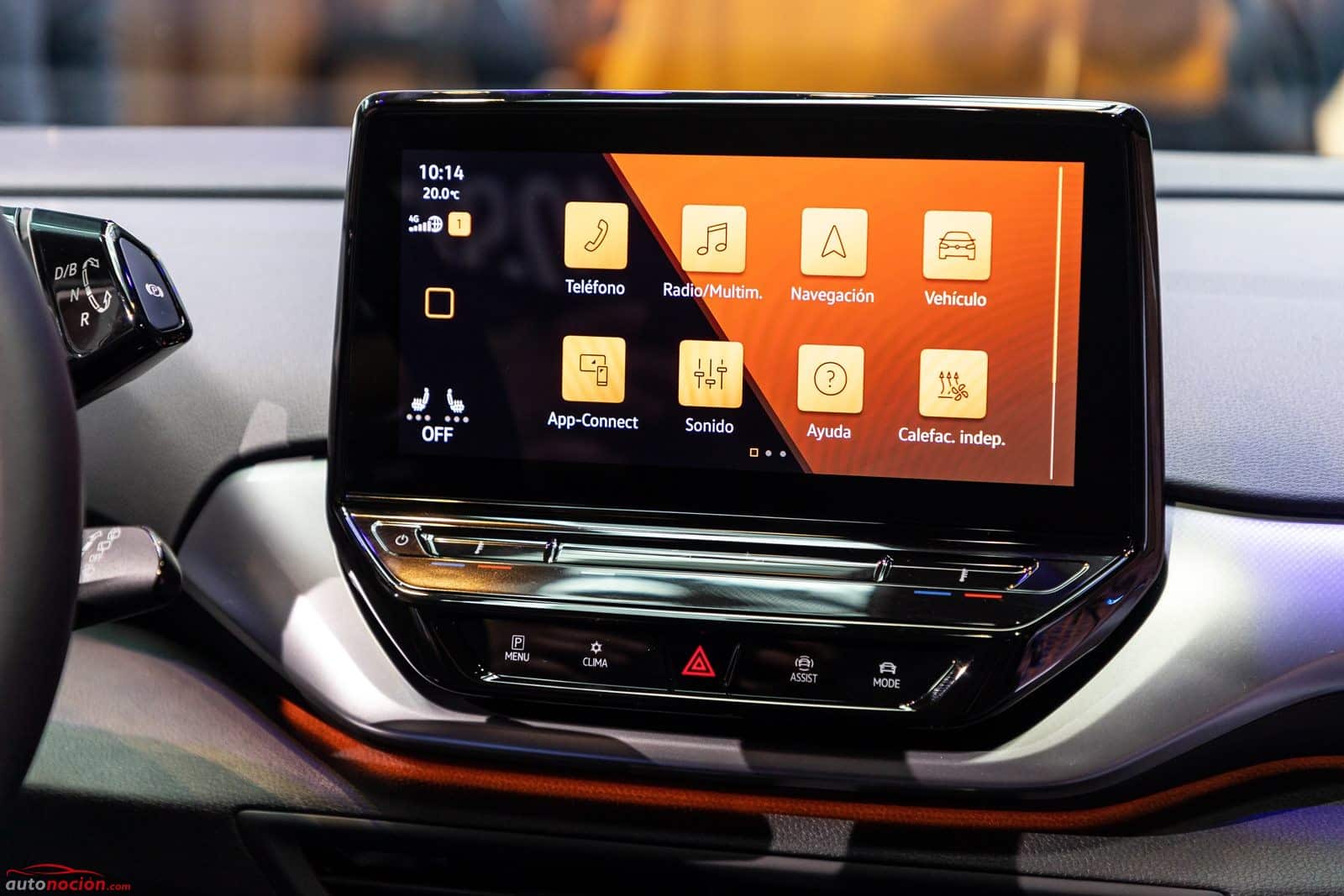 Multimedia systems have connectivity with Android Auto, Apple CarPlay Y Mirror Link. There is also no lack of natural voice control and online services of We Connect Start.
The interior space is its strong point
Returning to the subject of habitability, stands out for the feeling of space and comfort thanks to a 2.77 meter wheelbase, AGR certified seats located in a raised position, a large panoramic tilting glass sliding roof and ambient lighting with 30 colors to choose from, among others.
A particular highlight is a strip of light under the windscreen with intuitive lighting effects in different colors. For his part, airbag center between the front seats, which unfolds in the event of a side collision, further enhances the already high level of passive safety.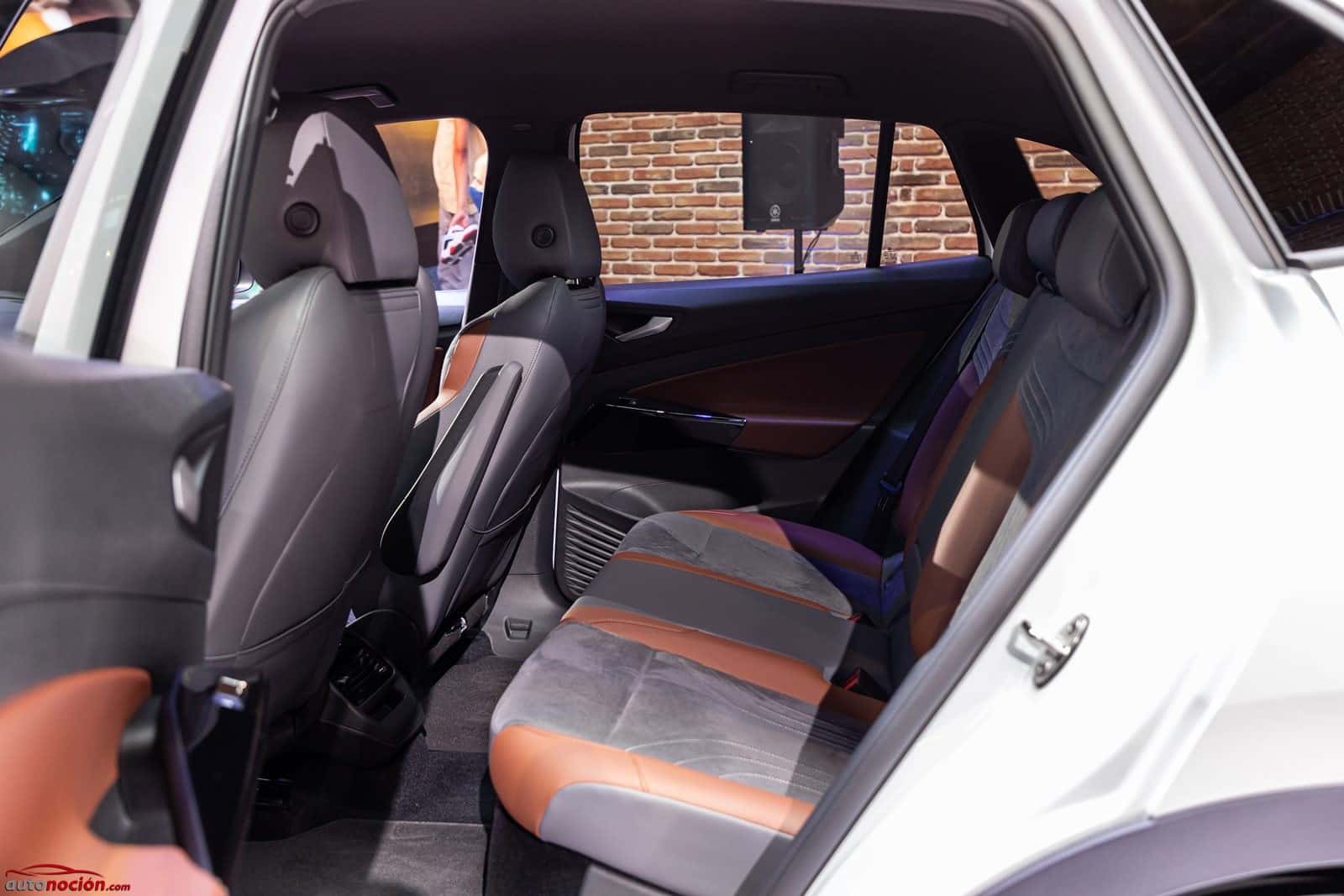 The trunk has a capacity of 543 liters and can be extended to 1,575 liters if the rear seats are folded (with roof load). With the optional clutch, the Volkswagen ID.4 can tow trailers of up to 1,000 kilos (braking, with a slope of 12%).
Immediately in front of the rear axle of the ID.4 we find an electric motor that drives the rear wheels via a single gear gearbox. It is a compact, lightweight and highly efficient permanent magnet activated synchronous motor (PSM).
A complex mechanical range
The new ID.4 offers different power levels depending on the finishes and various charging options. I think the simplest thing is to see it in a table:
MASHED POTATOES
GTX
Mashed potatoes
Pure Performance
Pro
Pro Performance
Power
109 kW (149 hp)
125 kW (170 hp)
128 kW (174 hp)
150 kW (204 hp)
225 kW (306 hp)
Drums
52 kWh (340 km)
77 kWh (520 km)
77 kWh
0-100 km / h
10.9 seconds
9 seconds
ND
8.5 seconds
ND
Recharge
7.2 kW AC – 50 kW DC – 100 kW DC (City and Style)
11 kW AC – 100 kW DC – 125 kW DC (1st Edition)
ND
Available finishes
Pure, City and Style
Pro, Life, Business, Max, 1sr and 1st Max
ND
All versions except the GTX are rear wheel drive.
As usual in these models, we find a energy recovery system. In position D (Drive) the electric motor rotates freely, while in position B (Brake) the electric motor, as a generator, recharges the battery. Additionally, the We Connect ID app. provides easy access to the sustainable charging system.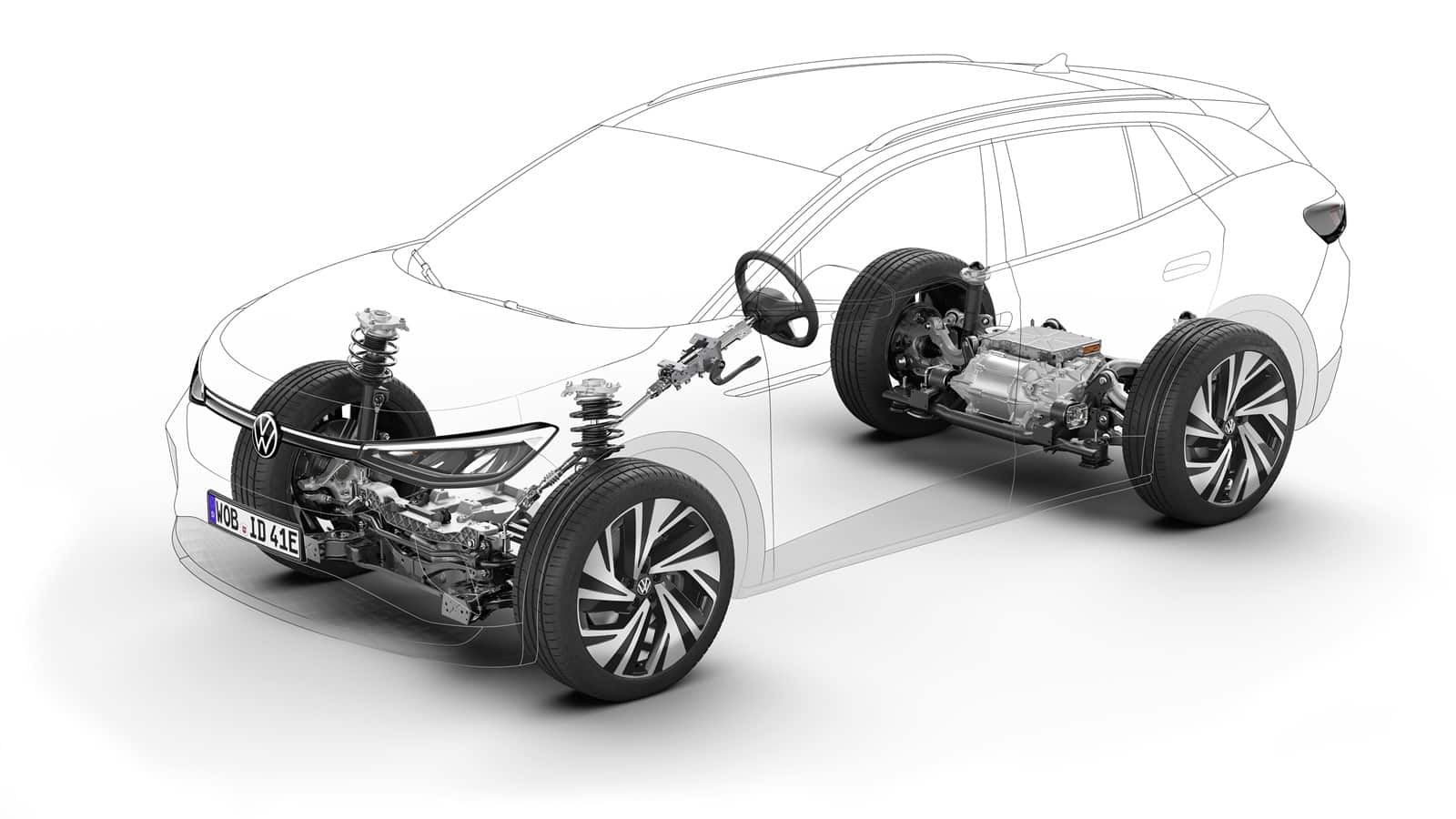 Volkswagen guarantees that, after eight years or 160,000 km of distance traveled, the battery will still have at least 70% of its original capacity.
In a direct current (DC) fast charging station, the ID.4 can recharge in about 30 minutes to drive the next 320 km (according to WLTP), with a charging power of up to 125 kW. At public charging points we can charge with alternating current (AC) and the mode 3 cable through We Charge.
Owners of an ID.4 can also charge it in their own home garage with natural electricity from Volkswagen from certified sources. To do this, they can use the ID. Charger, Volkswagen's new charging unit. There are three versions and all of them offer up to 11 kW of power.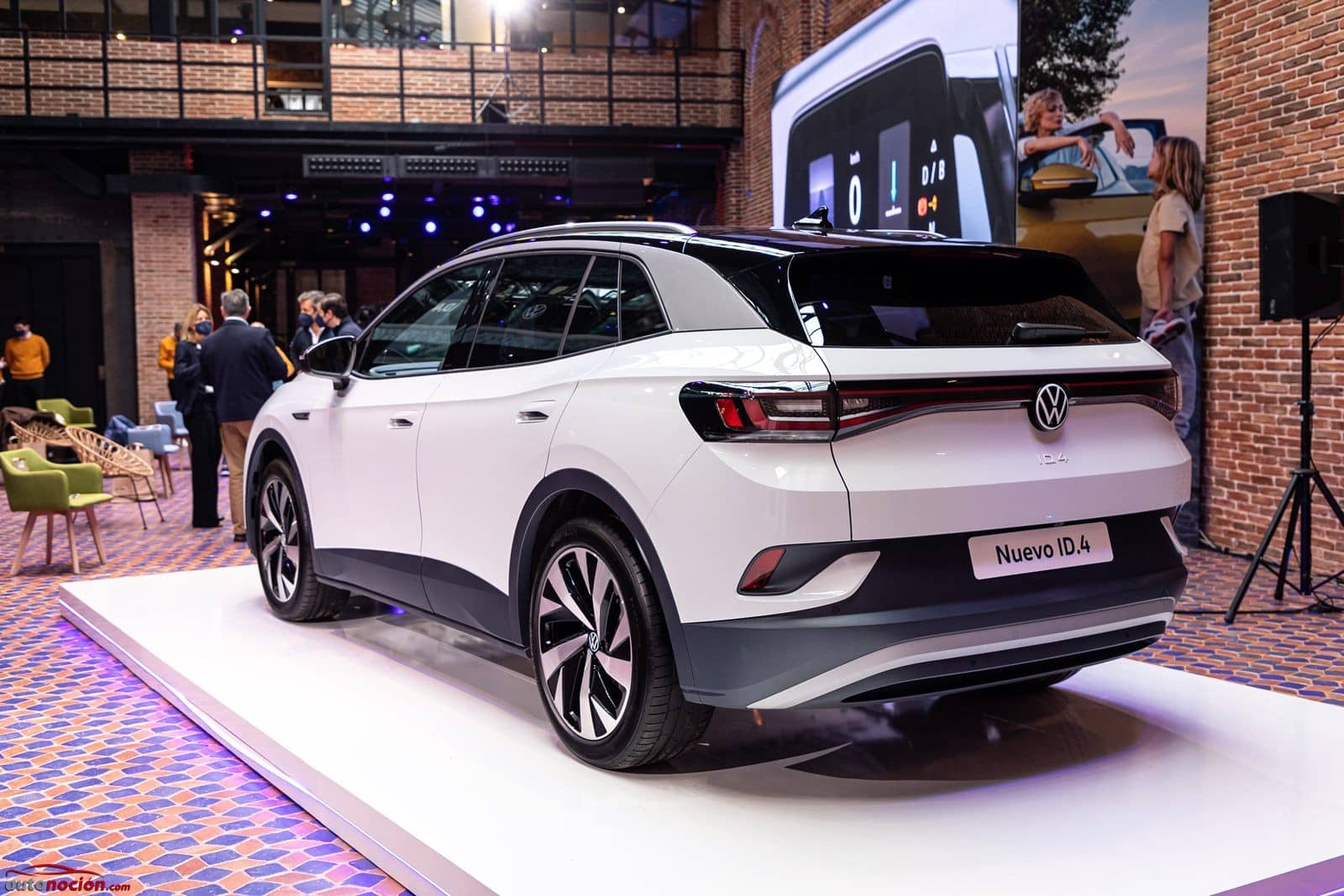 The Volkswagen ID.4 engine is so compact in size that it fits in a sports bag.
More complexity in the finishes
The trim levels again are pretty messy and should be revised to make things easier for those interested. They are called Pure, City, Style, Pro, Life, Business and Max. All have LED headlights, cruise control and speed limiter, trip computer, alloy wheels, lane departure warning and electric parking brake.
Also standard in all are automatic climate control, multimedia system with 10-inch touchscreen, navigator, Apple CarPlay, Android Auto, parking sensors, heated mirrors, multifunction leather steering wheel, hill start assistant, folding rear seat, etc.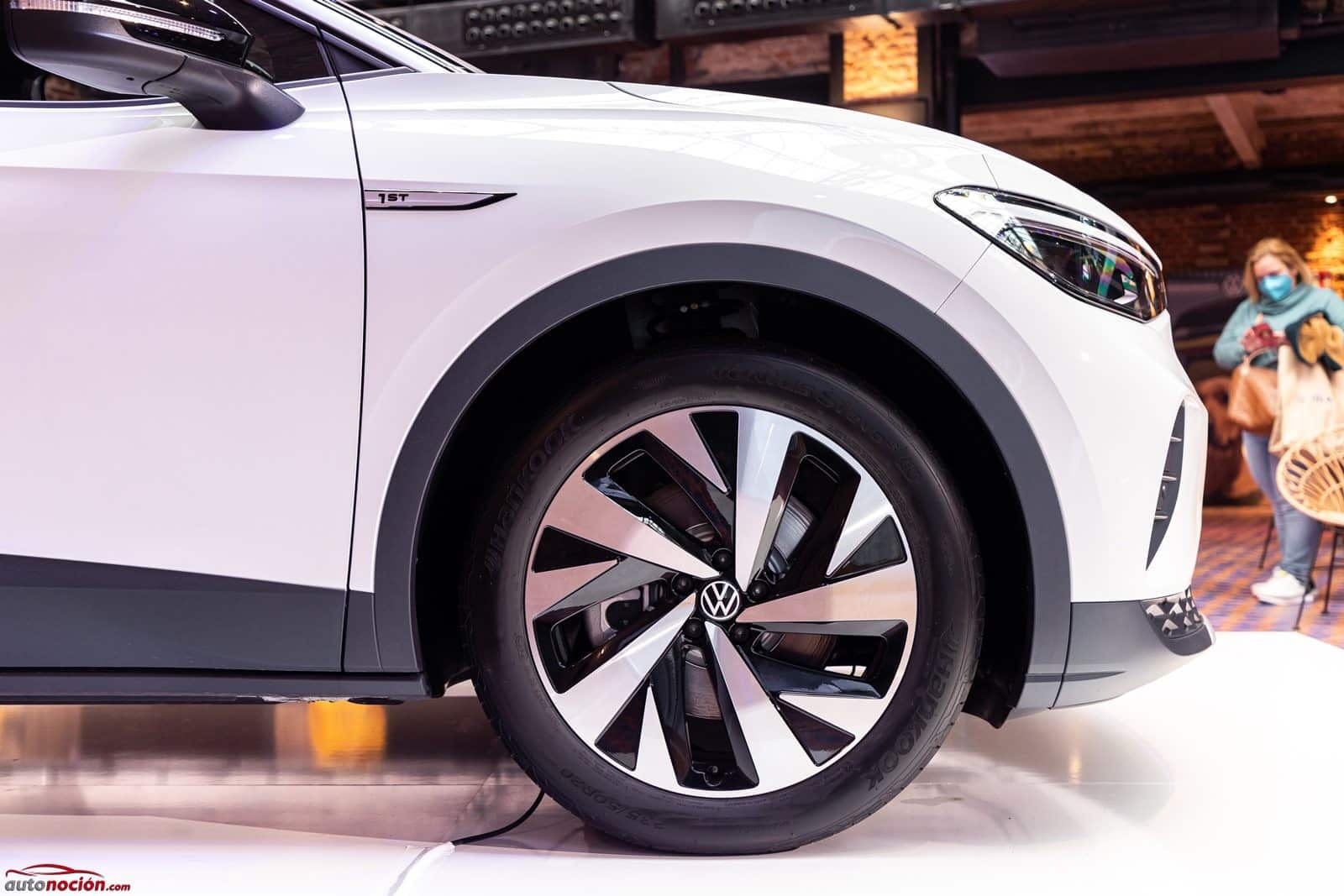 The first units are called «1st Edition» and «1st Edition Max». As standard, both have LED headlights, two-zone automatic climate control, adaptive cruise control and speed limiter, trip computer, four power windows, push-button start, heat pump, keyless access and a folding rear seat.
Also standard are heated seats, heated steering wheel, lane departure warning, multimedia system with Apple CarPlay, Android Auto, bluetooth, USB (4), rear camera, integrated navigator, 20-inch alloy wheels, heated windscreen, tinted windows, metal pedals, LED interior lighting pack …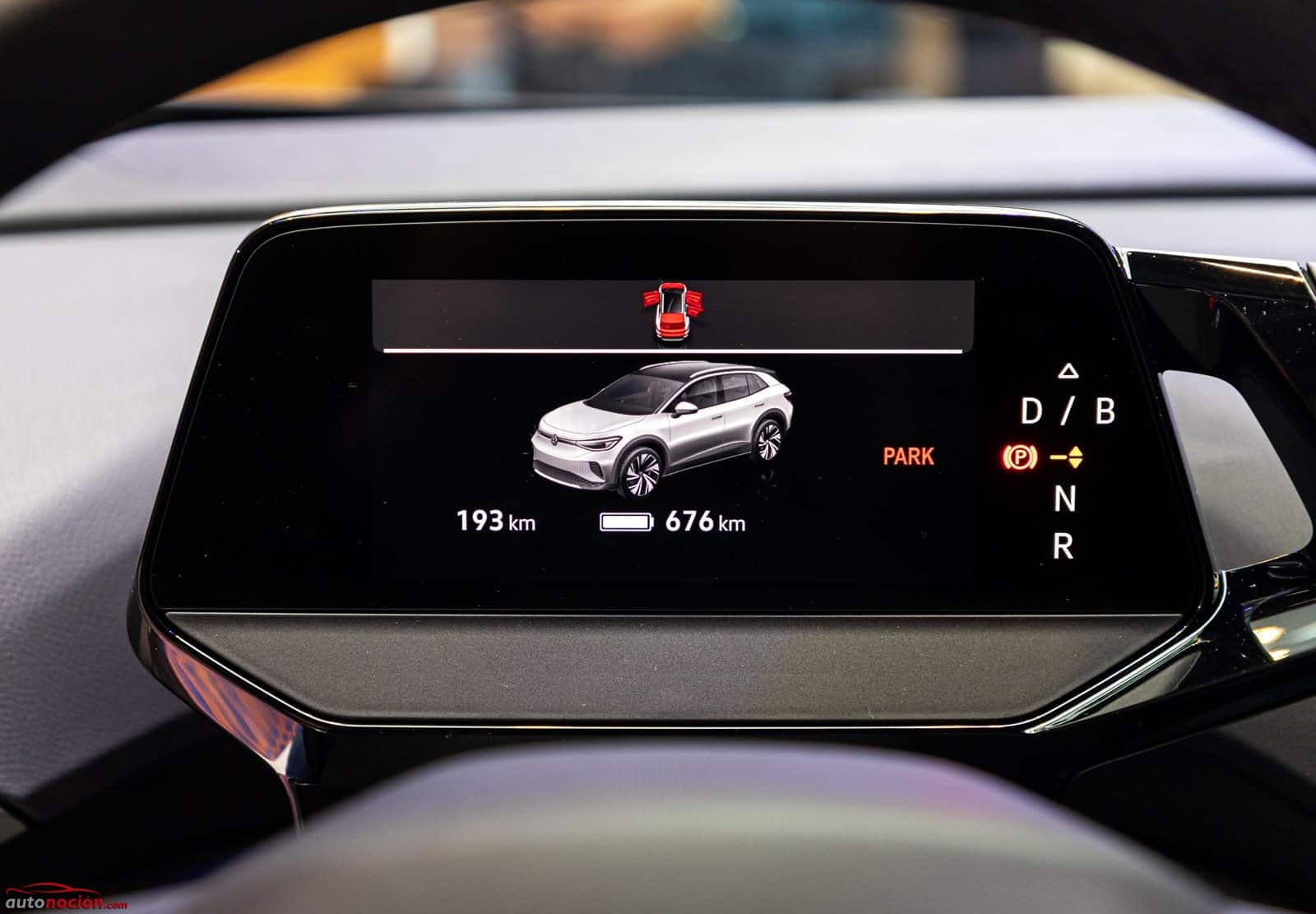 The «1st Edition Max» add to the above the Matrix LED headlights, Head Up Display, fixed panoramic roof, three-zone automatic climate control, multimedia system with 12-inch screen, 21-inch alloy wheels, adaptive suspension, power seats, automatic tailgate, Travel Assist, 3D LED taillights and specific upholstery, among others.
In Spain, prices of the range of the Volkswagen ID.4 2021 without discounts or promotions are the following:
Mashed potatoes
Pure Performance
City
Style
Pro
Pro Performance
Life
Business
Max
1st
1st Max
Battery 52 kWh
Battery 77 kWH
ND
€ 38,085
€ 40,935
€ 45,315
ND
€ 43,595
€ 45,785
€ 49,775
€ 58,925
€ 45,485
€ 55,145
Image gallery
Official Image Gallery