Since its appearance a few years ago, the Instagram carousel has established itself as one of the most successful formats on the social network. With its very good results in terms of engagement rate, it is also an easy-to-use format. The Instagram carousel makes it possible to integrate several photos or videos within the same publication. Brands and professionals in all sectors have increasingly used this type of format to engage their audience. Creating an Instagram carousel is relatively simple: just follow the steps for designing the carousel and then adding it to the Instagram feed presented below.
> Download: The 2022 Instagram Trends Report"/>
What is an Instagram carousel?
An Instagram carousel is a series of images or videos that a user can scroll through within a single Instagram post. The carousel is displayed in the feed of its author and in the newsfeed of its subscribers like any other standard post.
What is the advantage of an Instagram carousel?
Beyond being aesthetic, the "carousel" format of Instagram presents excellent performances, in particular with regard to the rate of engagement of the audience. On this subject, a Social Insider study conducted in 2020 showed that the average engagement rate for an Instagram carousel is around 1.92% while it is around 1.74% for posts with only an image and 1.45% for video posts.
Choosing the carousel format for your Instagram post also means inviting your audience to spend more time on the post and therefore increasing their engagement with the content, by adding a "like" or leaving a comment. Consequently, increasing the time spent on the publication mechanically increases the time spent on the social network in general. This notion is taken into account by the Instagram algorithm, which then tends to value publications in the "carousel" format compared to more traditional publications, by making them more visible in the users' news feed.
The Instagram carousel appears directly in users' feed. This makes it possible to reach people who are "scrolling »unlike stories, which appear in their dedicated section.
Finally, the Instagram carousel is a format that leaves more room for creativity than many other types of posts. First of all, it includes several panes, so more potential space to integrate graphic or textual content. The Instagram carousel allows the creator to form a logical sequence between the different slides to create a storytelling adapted to the objectives of his content creation strategy on social networks.
Examples of Instagram carousels
To take full advantage of the potential of the carousel format on Instagram, companies and brands must rely on a precise strategy, which allows them to publish in a logical way directed towards a particular objective, whether it is to be known, to sell their products, increase their community, convert prospects into customers, etc.
There are many examples of companies having strategically used the carousel format. They can represent a source of inspiration to bet effectively on this high-performance format.
For example, going behind the scenes of your business and brand is a perfect fit for Instagram's carousel feature. The Disney giant used it on its Instagram account during the filming of one of its films in 2018. For a brand that markets products and/or services, sharing the work of its employees is a good way to earn the trust of its customers. The numbers speak for themselves!
Another possible strategy: encourage the audience to share their opinion on a particular subject. This is a very common methodology on social media for all post formats. Concretely inviting users to leave a comment can significantly increase the engagement rate on the publication. With a carousel, it is even easier to ask your community to choose between several possibilities. This is what the MTV label wanted to do by sharing on its Instagram account a carousel reflecting all the albums of a music group in order to ask its audience what their favorite opus was.
Finally, Instagram's carousel format can also represent a very good opportunity to build a "tutorial" format, which is very popular on all social networks. Through a video in several steps or a series of images indicating a procedure to follow, companies and brands that communicate on Instagram can invite their audience to "do it yourself". The Art.tips.tutorials Instagram account provides a great example for building a carousel format tutorial on Instagram.
To go further in this type of strategy, companies have every interest in presenting tutorials that integrate their own products and to add a hypertext link in the publication to the sheets of these products, on their website, for example.
How to make an Instagram carousel?
On Canva
Canva is an online graphic design tool. Very easy to use, it does not require the more specialized knowledge necessary for Photoshop or Illustrator. The main benefit of using Canva to design an Instagram carousel is that the tool has a pre-made template for this type of post.
So, to start creating an Instagram carousel, the creator just needs to select "Instagram Carousel Post" from the list of formats offered by Canva. By default, a design space with a dimension of 1080 x 1080 pixels is displayed. To the left of the design interface, Canva displays pre-designed templates to help the creator in formatting their carousel, but it's also possible to format the carousel from a blank page.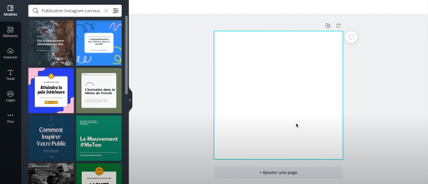 (image source: https://youtu.be/ea1r0bL7mbA)
Depending on the number of slides desired for the future Instagram carousel (within the limit of 10 windows maximum), you must add as many pages to the Canva design space by clicking on "Add a page". The pages are numbered and placed one after the other. Preferably, it is better to choose the same background color for all the pages in order to create a common thread between the different parts of the carousel.
However, to link all the slides together and go further in the transition effects, it is possible to place a graphic element at the edge of a page and have it continue on the next page. For example, to encourage users to use the "Swipe" gesture, an arrow can start on page 1 and end on page 2, and so on.


(image source: https://youtu.be/ea1r0bL7mbA)
To define the background color of the carousel, you must first click on the multicolored square located at the top left of the design space, then select a color from those proposed or paste a color code in the area provided. this effect.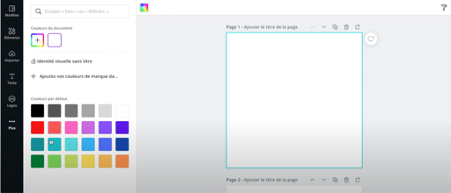 (image source: https://youtu.be/ea1r0bL7mbA)
The process for adding text to Instagram carousel slides is much the same. To embed a text field, simply click on the "Text" icon in the left sidebar of Canva's interface.

Once the Instagram carousel creator gets the desired graphic rendering, all he has to do is export it so that he can share it on Instagram afterwards. The PNG format is the most recommended for this use.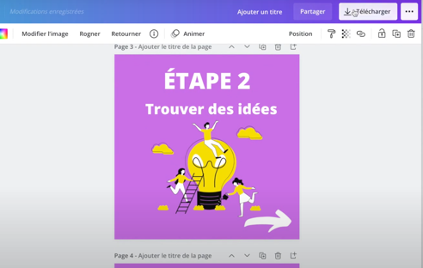 (image source: https://youtu.be/ea1r0bL7mbA)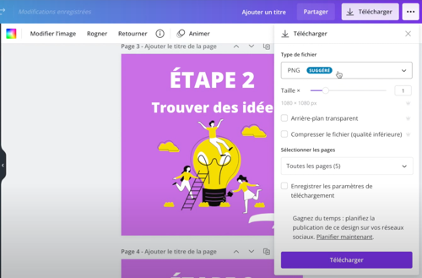 (image source: https://youtu.be/ea1r0bL7mbA)
On Photoshop
Photoshop is more advanced graphic design software than Canva. It requires a license, payable annually or monthly. Overall, Photoshop is more suitable for professionals who have in-house graphics skills and want to deliver a more distinctive visual style on Instagram.
To create an Instagram carousel on Photoshop, you must therefore first master the basics of the software and follow the few steps developed below.
First, you need to create a Photoshop document with a template of 6080 x 1080 pixels. The dimension is the same as on Canva, except that the slides of the future carousel are arranged horizontally on Photoshop and vertically on Canva.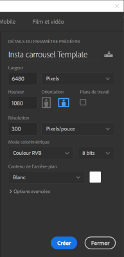 (image source: https://bpt-agency.com/comment-creer-un-carrousel-pour-instagram-avec-photoshop/)
Then, the creator places markers to distinguish the future slides of the carousel. In the example below, 6 slides will be created. If the goal is to build an Instagram carousel with 10 windows, you will need to add 10 "Column" markers and increase the width of the white square by as many markers. For a carousel of 10 slides, for example, the size of the document will be 1080 x 1080 pixels. In all cases, you have to go to the "View" tab of Photoshop, then click on "New marker layout". The window shown below is then displayed.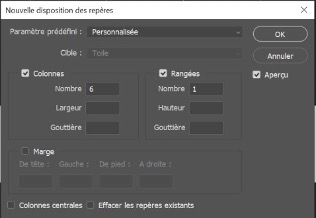 (image source: https://bpt-agency.com/comment-creer-un-carrousel-pour-instagram-avec-photoshop/)
Once the markers are placed, the template, i.e. the Instagram carousel template, is ready! It is then possible to place the different graphic elements to design a unique Instagram carousel.
To add images, text or icons, just go to the main Photoshop menu bar. The mouse cursor allows you to place these elements relative to each other in space.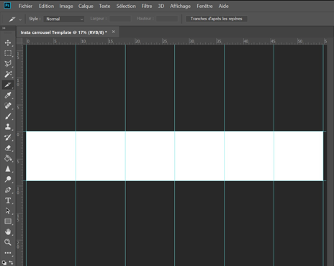 (image source: https://bpt-agency.com/comment-creer-un-carrousel-pour-instagram-avec-photoshop/)
Finally, at the end of the creation phase, it is time to export the graphic document in the format most suitable for sharing on Instagram. To do this, the Photoshop user goes to the "Files" tab, then to "Export" and finally to "Save for the web". A pop-up window is then displayed, allowing you to define the export format as well as the level of graphic quality (standard or higher). For Instagram, it is advisable to choose either PNG or JPEG format in higher quality.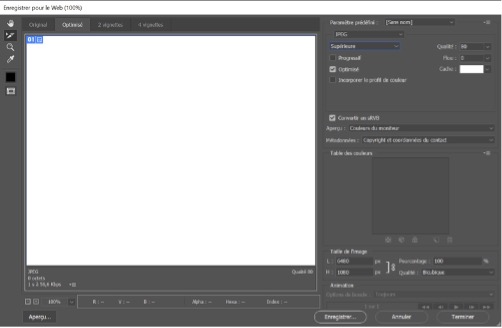 (image source: https://bpt-agency.com/comment-creer-un-carrousel-pour-instagram-avec-photoshop/)
This layout method on the Photoshop tool makes it possible to obtain as many independent visuals for export as there are number of columns defined during graphic design. Using Photoshop is therefore very advantageous to design your Instagram carousel in a continuous way, without any placement shift between the different elements from one slide to another. Companies that have, internally or externally, sufficient graphic skills to adopt this method therefore have every interest in doing so!
To dig deeper, download this free report on Instagram data you need to know in 2022.