In recent years, cybercrime and online attacks have multiplied as much as they have become more complex. With the generalization of teleworking in 2020, then in 2021, connections are more numerous and hackers now have a greater field of action. To browse safely and protect your data, it is essential to protect yourself against attacks with an antivirus.
> Download this guide and learn the basics of HTML and CSS "/>
However, finding a computer antivirus that performs well against common attacks in 2021 can be difficult. This selection aims to highlight the best antivirus solutions on the market in 2021.
What criteria should you take into account when choosing your antivirus?
The selection below has been tailored to present only the most relevant antivirus solutions today. However, several criteria can help users (professionals and individuals) to sort through these different tools in order to find the most suitable antivirus program for their needs.
First of all, the security level is probably the most important criterion in choosing an antivirus. This is analyzed regularly by independent organizations, whose job is to compare the different antiviruses on the market.
Then the pricing has its importance. To find the best security / price ratio in the search for an antivirus, it is advisable to consult independent comparators.
Finally, the ease of use software may be a criterion. It must, in all cases, correspond to the level of mastery of this type of tool by the user. Likewise, the quality of customer support is an important feature, especially for novice users.
The 10 best antiviruses of 2021
This selection highlights antivirus software on the French market. It lists several characteristics so that all types of users can find their way around.
Bitdefender Total Security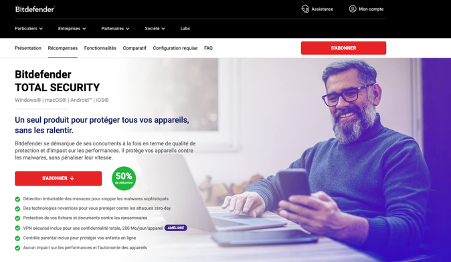 Bitdefender Total Security software version 2021 is both stable and easy to use. It offers a relevant offer, based on an analysis of the cloud and the different behaviors of a network to fight against all types of threats. In addition to operating efficiently on all forms of malicious interactions, Bitdefender Total Security does not slow down Windows performance during its scans.
On the side of its drawbacks, we can cite the relative complexity of its interface for users unaccustomed to handling this type of tool or its VPN function limited to 200 MB per day.
Price wise, Bitdefender Total Security is offered at 32 € per year for 5 devices and at 90 € for 10 devices maximum.
Norton 360 Premium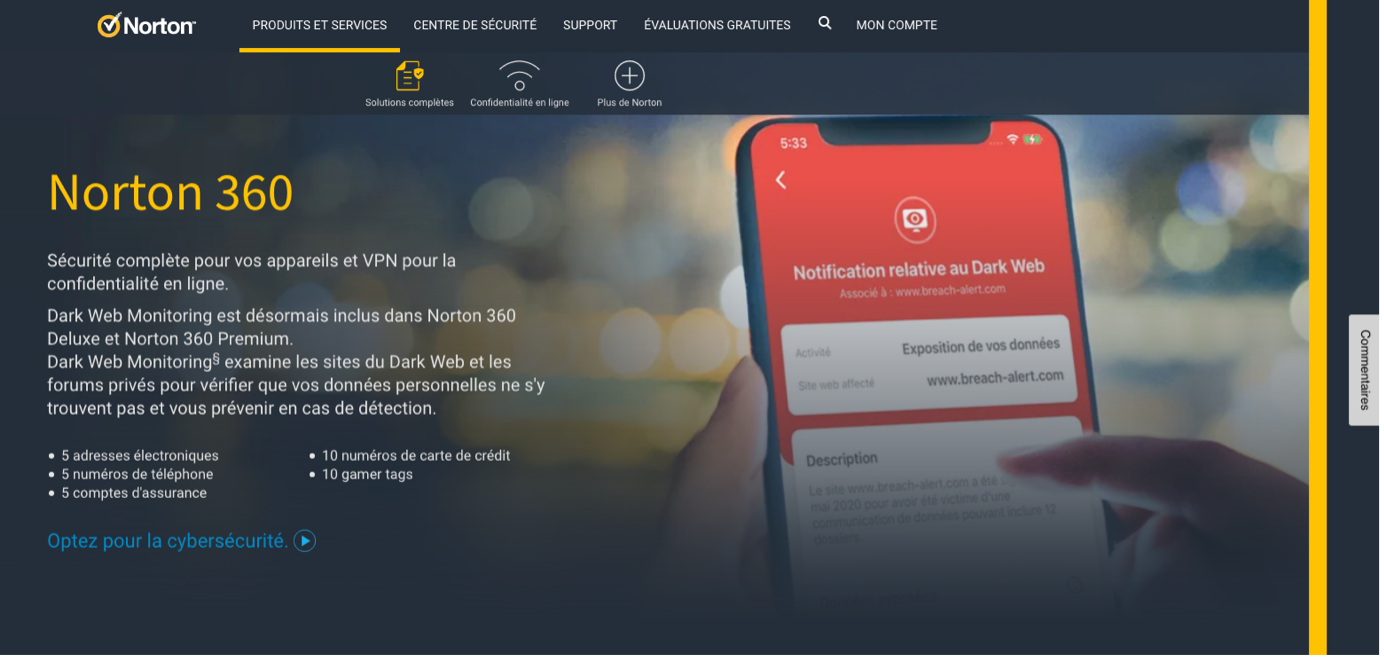 Norton 360 Premium 2021 is consumer antivirus software. It offers effective protection and can cover up to 10 devices. The solution includes an unlimited VPN (new for 2021), cloud storage with a capacity of 75 GB and a password manager. It is a complete suite, the features of which are accessible through a simple interface, suitable for both advanced users and beginners.
Therefore, its only drawback may apply to professionals for whom the functionality of Norton 360 Premium may be too limited.
Regarding its price offer, Norton 360 Premium is offered at € 49.99 the first year, then at € 104.99 per year of renewal.
Kaspersky Total Security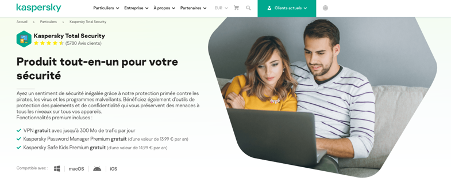 Kaspersky Total Security is benchmark anti-virus software. Efficient and comprehensive, it offers a wide range of features (parental control, firewall, password management, etc.) as well as a low impact on computer performance. Its advantage compared to other antiviruses: the possibility of managing several devices remotely via an interface accessible on the web or via an application for Mac owners.
The downside to remember for Kaspersky Total Security? Its high price offer compared to average market prices. You have to pay € 69.99 per year for a single device and € 79.99 for 2 devices.
F-Secure TOTAL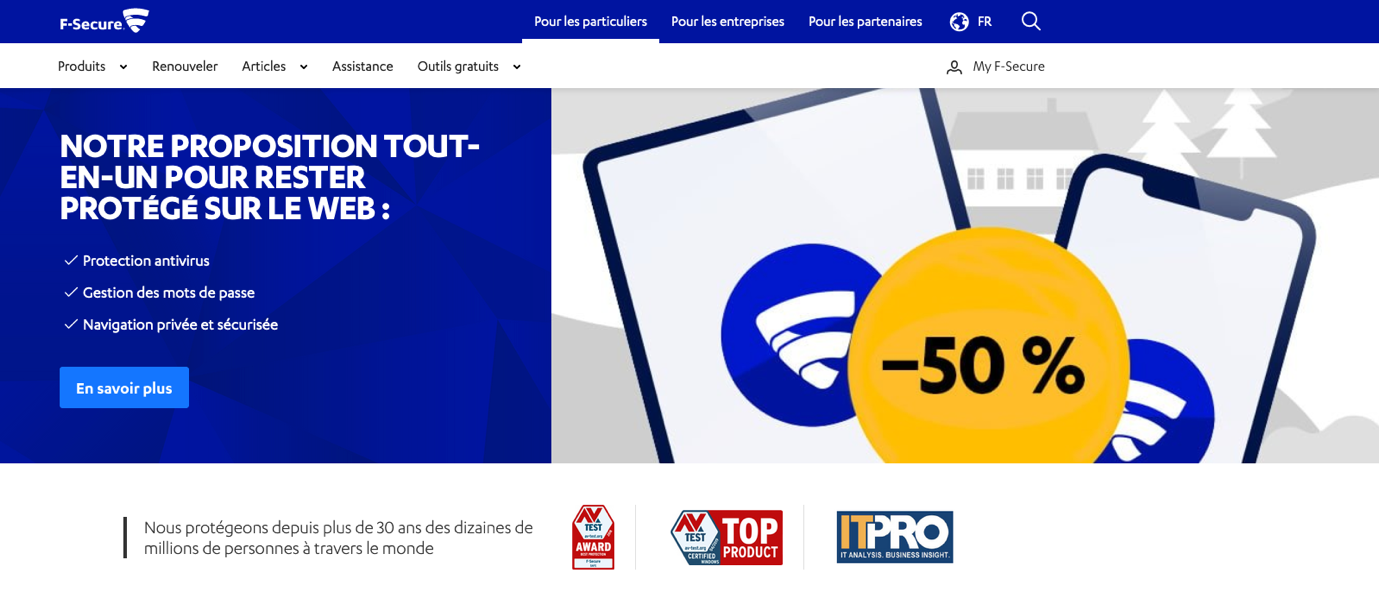 F-Secure TOTAL is a very easy-to-use antivirus with an original positioning: that of allowing users to protect their private data using only a few functions. To do this, the software offers an extremely simple interface with few customization options, which can be a disadvantage for experts and professionals.
In terms of functionality, F-Secure TOTAL focuses on effective protection against most online and offline threats as well as unlimited VPN.
On the price side, F-Secure TOTAL offers a competitive offer at € 29.99 per year for a device.
ESET Smart Security Premium

ESET Smart Security Premium is the antivirus solution chosen by Google to protect its Chrome browser and its Google Play Store platform. This is a suite that focuses on efficiency, with a limited range of features, but sufficient for everyday use. Compared to other offers on the market, ESET Smart Security Premium scores points thanks to its highly efficient banking protection system and its behavioral analysis module supported by machine learning technology.
On the other hand, ESET Smart Security Premium can present a drawback for the most seasoned users: the relative simplicity of its interface. Conversely, certain additional options, such as the social network scanner or webcam protection, may prove to be ancillary for certain categories of users.
In terms of pricing, ESET Smart Security Premium Edition 2021 is available at € 49.96 per year for one device and € 64.96 per year for 3 devices, for example.
G DATA Total Security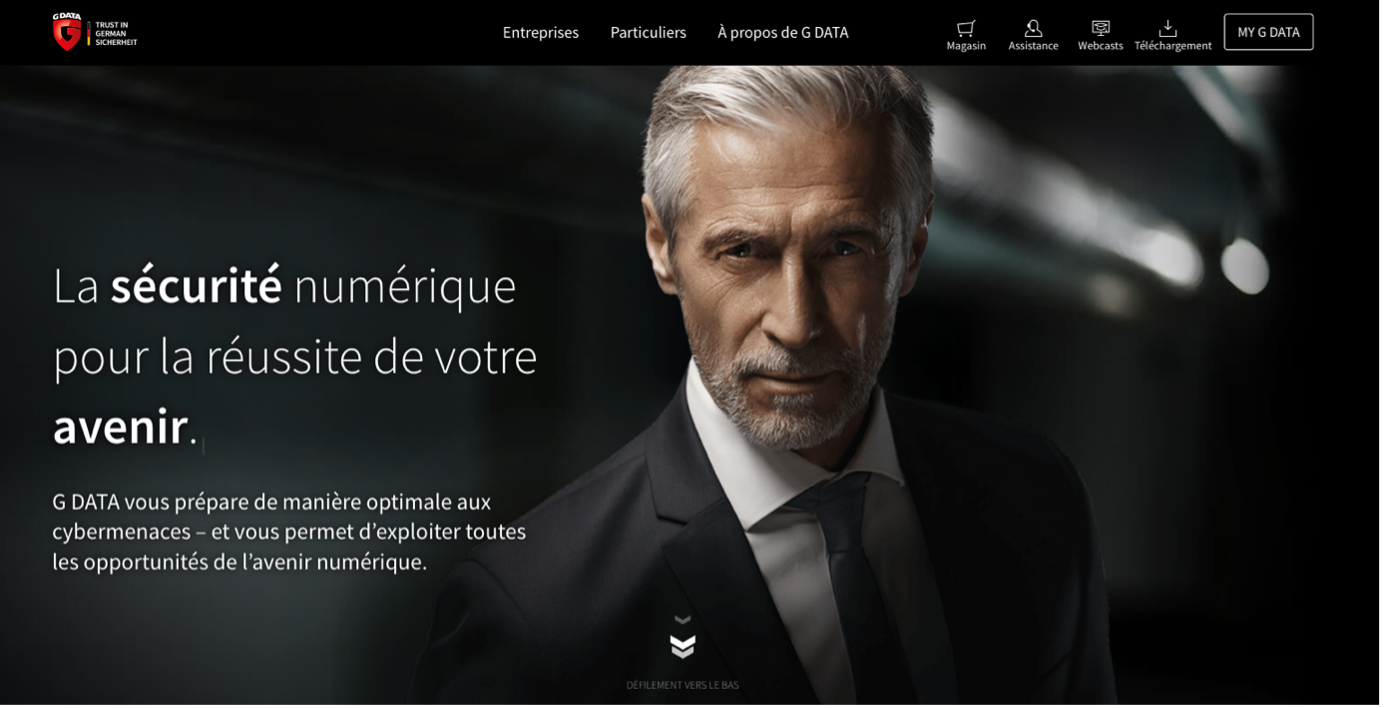 G DATA Total Security is a solution resolutely oriented towards the most informed users. It offers many customization possibilities and a rich range of features: parental control, data backup, encryption of confidential data such as passwords and identifiers, user system optimization module, etc.
On the other hand, the suite suffers from an interface that some will consider aging, busy and quite poorly organized, while its competition is only progressing on this point.
G DATA Total Security presents an offer at $ 49.95 (approximately € 42) per year for a device.
McAfee Total Protection

For this year 2021, McAfee Total Protection has taken the plunge and integrated a VPN in its suite. In terms of ergonomics and handling of the tool, they are still aimed at the general public. Like other antivirus software that has adopted this positioning, a drawback may appear among more experienced users. These can indeed be hampered by an overly simplistic interface that does not offer them many possibilities for customization.
Among its advantages, McAfee Total Protection has been able to adapt to the changes of 2021, in particular the massive use of teleworking. It now offers interesting protection against after-sales service scams or attacks on the web, especially on social networks.
Currently, McAfee Total Protection offers an offer at € 44.97 per year, provided you subscribe to an offer for a period of 2 years. Ten items of equipment are included in this pricing.
Avira Prime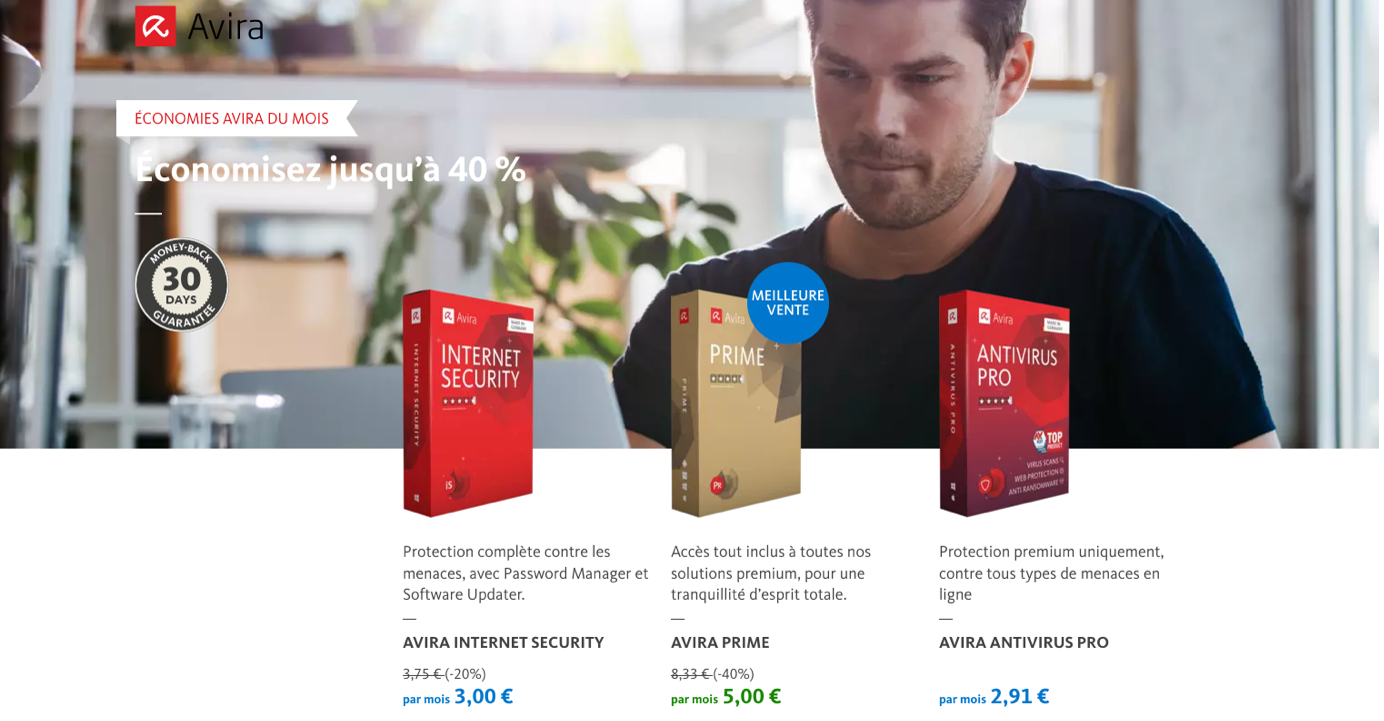 Avira Prime 2021 is a powerful solution for all types of users, although its interface has been redesigned to better meet the expectations of the less experienced. Among its advantages, the presence of a VPN is a real plus. It propels Avira Prime into an environment that better meets the challenges of 2021, without reducing system performance.
On the other hand, certain basic functionalities remain absent from this new version. For example, the suite does not offer a firewall. In summary, Avira Prime is a good option for customers who want to enjoy standard features through a simple interface, but still place a lot of importance on the presence of a VPN.
As for its prices, Avira Prime is positioned quite high compared to its competition, with an offer of 60 € for one year and 5 devices included.
Trend Micro Maximum Security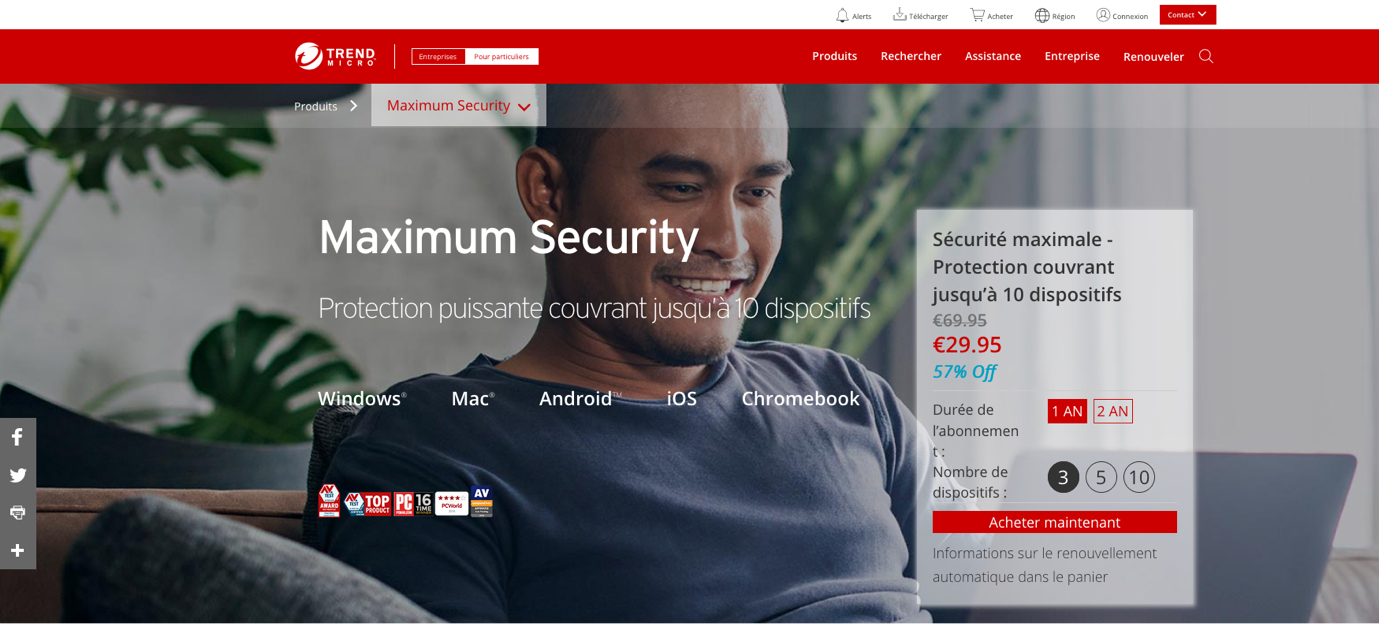 Trend Micro Maximum Security is a lesser-known suite that offers excellent value for money. Offered at € 49.90 for one year, it has a simple and intuitive interface, perfect for beginner users. It has essential features and a traditional method of detecting threats, whether for email, financial transactions or social media.
On the other hand, Trend Micro can be addressed the following criticisms: the absence of a VPN software or a more robust password manager, as proposed by its competitors.
BullGuard Premium Protection
BullGuard Premium Protection is antivirus software that keeps its promises: effective protection, associated with a limited impact on machine performance. Adapted to expert users as well as beginners, BullGuard Premium Protection has changed little to produce its 2021 version, but continues to offer interesting performance. Among its flagship features, its game booster, its Anti-Malware Next Generation technology and its secure browser set it apart.
On the other hand, the BullGuard Premium Protection suite does not have any VPN function, even though the BullGuard brand does market one.
Finally, on the price side, BullGuard Premium Protection has an interesting positioning, with an offer of € 36 per year for 10 integrated devices.
To go further, download this free guide to HTML and CSS languages ​​and learn the definitions, differences, and basic code elements of these two programming languages ​​to run your website.