The IDB has estimated that, in less than 10 years (by 2030), Latin America and the Caribbean will need more than 577 billion dollars to close the electricity gap. Of that total, the region will need $397 billion to build new generation, transmission and distribution infrastructure, and more than $180 billion to replace and maintain existing assets. Private investment, which represented 75% of the total investment in the energy sector in the region between 2016 and 2020, will continue to be a fundamental source of capital. The private sector can also bring much-needed innovation to modernize electrical power systems and, in some cases, make them more efficient.
Where could the private sector participate?
Ownership, assets, and operation of the electricity sector vary widely across Latin America and the Caribbean; some countries are more open to private sector participation, while others prefer tighter government control.
The electricity sector has traditionally been divided into four main segments:
1) Generation (where the electricity is produced, for example, a hydroelectric plant).
2) Transmission (the process of bringing electricity from the power plant to a place closer to consumers, usually over long distances and with high voltages).
3) Distribution (lines that carry electricity to users, usually over shorter distances and with lower voltages).
4) Retailing (process of providing/selling electricity to customers).
In Latin America and the Caribbean, most retailing is done by distribution companies, although there have been attempts to separate these functions. The diversification and innovation associated with the energy transition have recently made the separation of functions more important.
Various agents are involved in the electricity supply process; depending on the country, these agents can be public, private or a combination of both. Some countries encourage private participation, while others are less welcoming or have market conditions that have made certain providers more involved.
With the support of IDB Group energy specialists, we identify the segments in which only public agents, only private agents, or both public and private agents participate. As shown below, the public and private sectors participate in the three main segments in five countries of the region (Argentina, Brazil, Colombia, Guatemala and Haiti). In some countries (Paraguay, Suriname and Venezuela) the public sector predominates. The opposite occurs in Barbados and Chile, where the public sector does not participate in these three segments.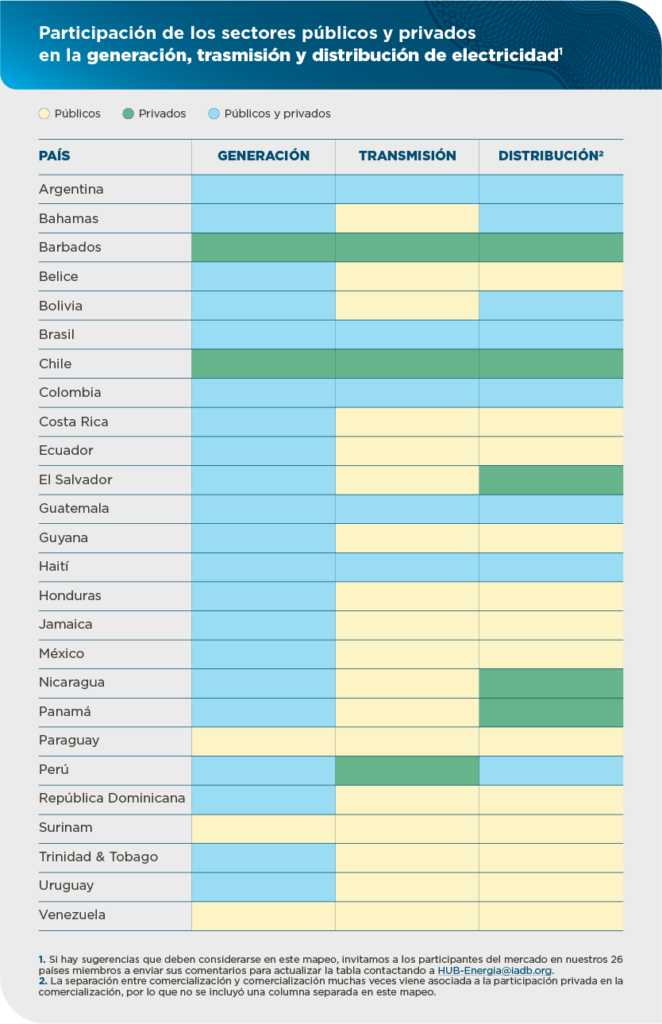 As evidenced in the table, in most countries both the public and private sectors are involved in power generation, while transmission tends to be publicly owned.
In addition, we observe some particularities, for example: in Bolivia, most of the energy is generated by the national electricity company (ENDE), but the private sector participates in this segment. In the transmission segment, 87% of the transmission lines (5,105 km) were owned by ENDE in 2021, and the other assets were controlled by ISA Bolivia and San Cristóbal (Enerdata, 2021). ENDE has a 51% share of the distribution market, while other nationalized companies and the private sector have the rest (Enerdata, 2021). The private sector can also participate in modernizing networks and improving metering.
In the case of Jamaica, part of the energy is generated by the Jamaica Public Service Company Limited (JPS). Independent power producers also participate in generation and sell to JPS. JPS owns the transmission and distribution networks (about 14,000 kilometers). Japan's Marubeni Corporation and Korea East-West Power own an 80% stake in JPS. The Government of Jamaica holds less than 20% of the remaining shares, with minority shareholders owning the rest.
In the Dominican Republic, 51% of the installed power generation capacity is owned by private companies, 29% by public companies and 20% by public-private partnerships (with participation distributed equally between public and private partners). .
In Haiti, although the private sector can participate in all three segments, currently independent power producers have a high participation in electricity generation; the national electricity company (Electricité d'Haïti) is responsible for transmission and distribution, covering the main population centers. Private companies are also involved in generation, sub-transmission and distribution in less populated areas.
In Peru, 88% of generation is billed by the private sector and the rest by state companies. In transmission, since 2002 the private sector has participated through a 30-year operation and maintenance concession scheme, in exchange for a fixed annual payment. Approximately 18 companies participate in this segment, representing 100% of the market. Both sectors participate almost equally in distribution, according to billing (MINEM, 2020).
All the models have their historical reasons for being so, and it is not that one is better than the other, the important thing is that the three sectors coordinate effectively to offer a safe, continuous, affordable and quality service. Complementary functions and collaboration are critical to the clean energy transition, for example: Increasingly, access to transmission lines is open to private companies, so they can plug in their renewable electricity generation. On the other hand, several distribution companies are collaborating with small-scale private renewable energy companies to serve customers through distributed generation systems.
Additionally, as we have learned from recent crises such as extreme weather events and the COVID-19 pandemic, resilience is increasingly important. Both the public and private sectors must use state-of-the-art smart energy systems to increase resilience against a range of natural and human-induced disturbances, in order to reduce the impact on assets and users. The public and private sectors must coordinate and communicate with each other to be prepared to resist these potential threats. For example: private companies can use publicly funded hurricane or storm early warning systems to protect their assets. On the other hand, companies specialized in cybersecurity can provide services to protect public companies from cyberattacks that, in this era of continuous digitalization, Internet of things and mobile devices, can also affect the electricity supply (Deloitte, 2020) .
In turn, private companies can play an important role in modernizing the sector and can be essential to cover the financing gap that could otherwise prevent the expansion of service in all segments of the electricity market.