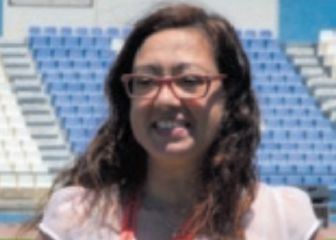 Manuela Romero Landa arrived at Sporting Huelva in 2004 to reactivate it and start an ambitious project. The club from Huelva, in fact, has already been in the elite for 17 years and has managed to lift a Copa de la Reina. The president is her alma mater along with Antonio Toledo, vice president and coach. Between the two they form a perfect tandem to consolidate the club among the best in Spain. Independent, she always fights for the rights of those who started in women's football and do not have an LFP structure. Before the semifinal of the Copa de la Reina, Manuela spoke with Diario AS.

How is Sporting Huelva after reaching the semi-finals?
Very happy because getting here is not easy. We have had a hard road. It is a dream to be there, we are very excited. We have finished the season very well, in tenth place, and finishing the League with victory.
They have had the least bad rival a priori…
We didn't want Barcelona, ​​as I think nobody wanted him. You have to wait for the rival, Granadilla has had a great season and has spent almost the entire campaign fighting for the Champions League. In the league we won both games. Avoiding Barcelona is what gives you morale. We are in a different state of form than when we faced each other in the league. They are a great club and I am sure they will be very excited. May the best win. I'm happy because there will be an independent in the final.
It is clear that for independent clubs (they are not part of the structure of a professional men's club) everything becomes more complicated.
It's more complicated for independents. The LFP clubs that allocate money to the women's sections are to be praised, of course. The independents have less possibilities of infrastructures, trips and many other things. We have to fight, it is clear that there is a lot of inequality on this issue and we are fighting. It is to assess that two independents are in the semifinals of the Cup.
Do you like this new format with more teams and a single game?
I like a single game, it's more open. Any team can win, in one round two Challenge teams eliminated two First. When we won the Cup in Melilla we were the only independents who qualified (they were the first eight) and in the semifinals it was also a single match. It's nice for football.
Already in 2015 they gave the surprise and won the Cup. Why not repeat?
You always think why not. In Melilla we were not favorites, on the contrary, and look. But first you have to go through a tie against Granadilla, which is very tough, and then Real Madrid or Barcelona. No one escapes the level of Barcelona, ​​that if they have won all the league games for a reason it is. Reaching the final is already fulfilling a dream as the competition is.
A Sporting Huelva that has experienced a difficult season at the beginning, did not win until Christmas, and then with an incredible ending that saved them one day from the league final.
You have to analyze many factors. Every summer we reinvent ourselves. You have to adapt to many things when you arrive at a new club. Everything requires a process. When we already have the most united team is from Christmas. Our season endings are very different from our beginnings. I think we should have more points because I think a draw could have gone our way. It is a team that always competes and scored in San Sebastián or Lezama. From the first victory, the team in the second round has made 22 points and we are the sixth least scored in the category and that says a lot about the team.
How much of the blame for all this is the eternal Antonio Toledo?
It does not charge anything. He and his coaching staff have worked hard. He is watching football all day, he is a great connoisseur of the category. I wish I could keep the same block for a few years so I could come up with more stuff. You can't doubt him. If they are 'tiresome' the coaching staff. He deserves the utmost respect and has shown it again.
This summer he came back after retiring during the pandemic and Jenny Benítez, his replacement, did a great job. However, this season, due to regulations, he could not continue and Antonio returned. What will they do when Jenny (who is second) has the title?
Antonio leaves him and his full trust is in Jenni. They are an impressive team. With the degree I could no longer continue. Antonio was not going to continue, neither was Jenni without Antonio, I spoke with both of them and look. When Jenni has her degree, we'll see what happens. It is the future that we have bet for years.
They are 17 years in First that is said soon…
It is a dream to be 17 years in the first. The only thing is that I'm 17 years older… (laughs). Antonio should be eternal, because I have not seen anyone who likes football and learning more. He loves it. He trains since he was 16 years old. He has a lot of value. When you see the team there against powerhouses like Barcelona, ​​Atlético, Real Madrid, Levante… I respect everyone, we all have a lot of relationships. It is a pride.
How do you see professionalization?
We independents request that it be gradual and we can comply with everything and I think it will be so. We will provide the vision of the independent. When I talk about romantic football I mean that, that Levante Las Planas, Cacereño can be in the first division… that we all have a place in this league, all of us. The LFP clubs commented that they agreed with this and work is going to be done so that we are all there.
[