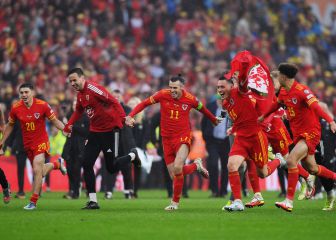 The classification of Wales, with a half-goal by Bale, closes one of the groups still to be completed, specifically Group B of the 2022 World Cup. The match between Ukraine and Wales decided the last place for Europe facing the world championship. Wales will face England, Iran and the United States. The Welsh will make their debut in Qatar against the American team in what marks their return to a World Cup since 1958.
With Wales already qualified, only two places remain to be decided from the 32 teams. One of them is of vital importance since it will be Spain's rival in the first match of the tournament.
His rival will be the last known and will come out of the clash that will measure Costa Rica and New Zealand on June 14. The winner will integrate group E together with the aforementioned Spain, Germany and Japan.
The other place will be played between the winner of the clash between UAE and Australia (It takes place on Tuesday, June 7 in Qatar). The winner will play with Peru on June 13 a hole in group D of the World Cup, along with France, Denmark and Tunisia.
These are the World Cup groups:
Group A:
-Qatar
-Netherlands
-Senegal
– Ecuador
B Group
– England
– USA
– Iran
-Welsh
Group C
– Argentina
– Mexico
– Poland
– Saudi Arabia
Group D
– France
– Denmark
– Tunisia
– United Arab Emirates, Australia or Peru
Group E
– Spain
– Germany
– Japan
– Costa Rica or New Zealand
Group F
– Belgium
– Croatia
– Morocco
– Canada
Group G
– Brazil
– Swiss
– Serbian
– Cameroon
Group H
– Portugal
– Uruguay
– South Korea
-Ghanaian
[