In IT, most equipment or systems operate using a central component. The latter usually contains the configuration items. Content management systems (CMS, for Content Management System in English) are no exception to this rule. Thus, the WordPress CMS is also practical because the wp-config.php file is located in its inshttps: //www.anthedesign.fr/developpement-web/grav-cms/tallation folders. This file provides the basic configuration details of your WordPress website.. We take you to the discovery of this essential file for WP!
What is wp-config.php file?
The wp-config.php file is one of the core WordPress system files. Among other things, it contains information relating to the database:
the domain name
the host (or localhost)
username
the password
With this information, WordPress communicates with the database to store and retrieve data (articles, users, settings, etc.). They also define advanced options for WordPress, during a server migration for example.
The root folder of your WordPress site contains many files that are not always useful to you. On the other hand, the wp-config configuration file is of such importance that your site cannot function without it.
From a technical point of view, the file integrates multiple parameter lines. These lines imply the use of a specific syntax, including the definition of various variables. These then allow you to tell WordPress how to behave in different scenarios.
The wp-config.php file is not preinstalled in WordPress, but it is created, specifically for you, during the installation process.
Where can we find it?
In most cases, the wp-config.php file is located in the root directory of your website. You can find it directly in this folder, without having to open a subdirectory, unless you are using a custom shared hosting solution. In this case, you will therefore connect to your site using a secure FTP client. You will need to navigate to the public_html folder to find the configuration file.
Having said that, when you have just installed WordPress or when you are just starting to work on your WordPress server, you will notice that this file cannot be found. Rest assured, this is not a "bug". Initially, the file is simply named wp-config-sample.php.
During the initial installation of your WordPress CMS, this example file (sample) is included. It gives you an idea of ​​what information the wp-config file should contain. Apart from this point, it tells you how to connect to a "MySQL" database to feed your WordPress site.
In fact, creating a database is far from straightforward. The wp-config-sample.php file then contains the basic security settings, which must be in place during the creation process. You need to rename the wp-config-sample.php file to wp-config.php.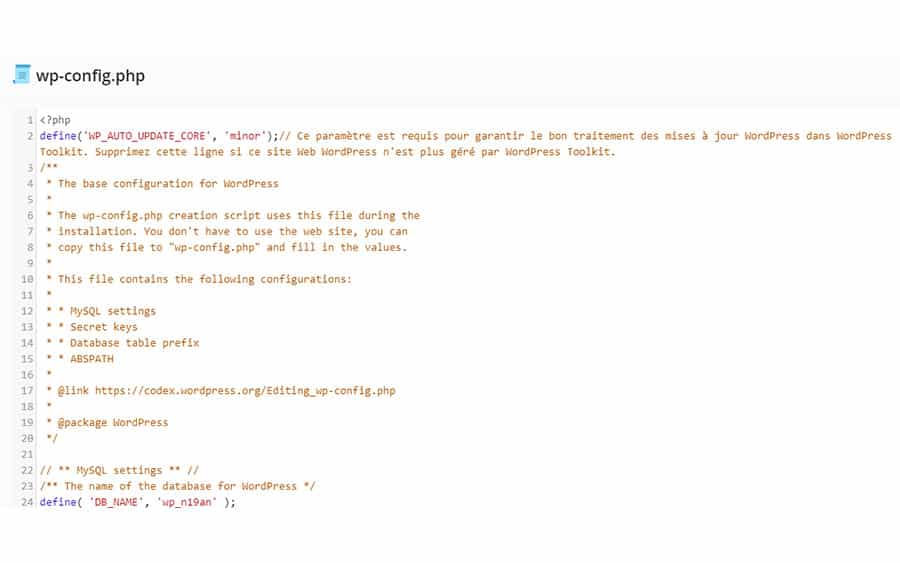 What does the WordPress wp-config.php file contain?
The wp-config file looks like a long series of commands aimed at call WordPress functions. Its content is crawled each time a page on your site that is not cached is loaded.
In other words, content is reloaded the first time a user connects to your site. The wp-config file must be kept up to date. The lines it contains appear in a certain order, which must be avoided. Among others, we find:
your WordPress database information
MySQL connection parameters
WordPress salts and security keys
the prefix of the WordPress database table
WordPress language
ABSPATH (the absolute path to the WordPress directory)
WordPress debugging mode (incidentally)
Why is this file so important?
This configuration file is also important because it is delicate. It contains all the data that characterize the operation of your site. Thus, it allows you, when you have the necessary expertise, to modify and control certain behaviors of the database. Likewise, it is used to block any hacking attempt by hackers.
Indeed, as mentioned above, in its basic configuration, wp-config.php is located in the root directory of your site. This is where hackers wanting to attack your site will go. Modifying the site's architecture will then be a good way to avoid attacks.
Therefore, this configuration file also has a say in security. By properly customizing the configurations, you will be able to optimize the performance of your website.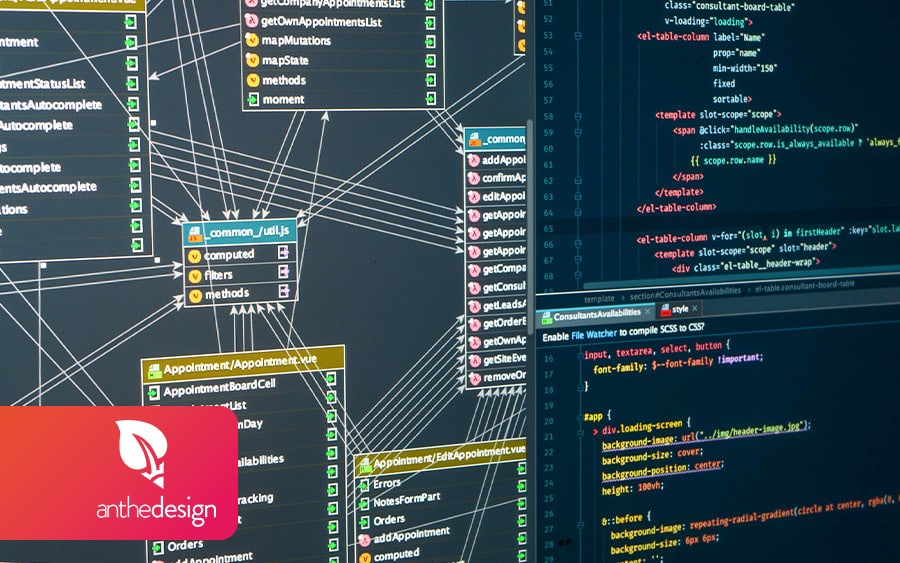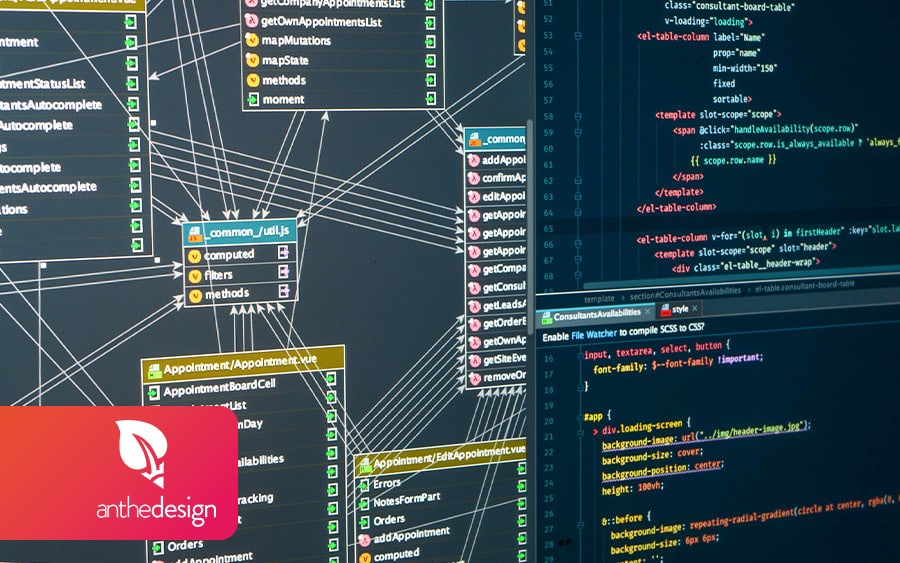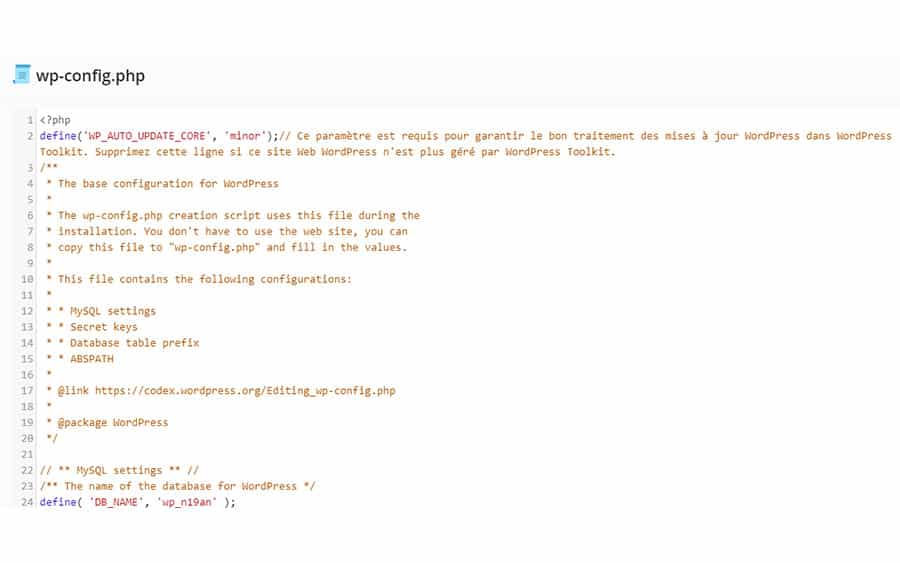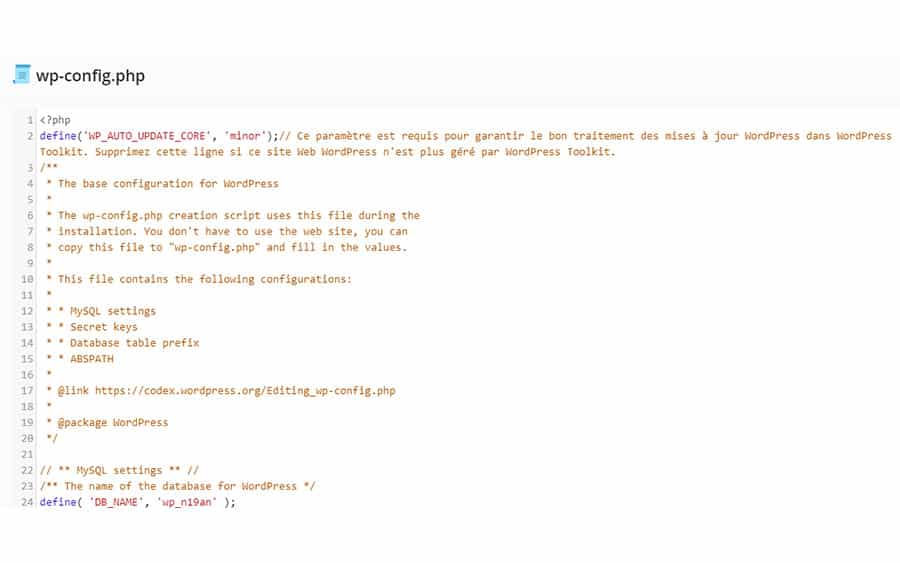 Some tips to secure the wp-config.php file
Since this file is originally located at the root of your site's installation folder, doing so place elsewhere helps protect your site from attacks. Thus, modifying the standard configuration very often constitutes a safety reflex. Your file becomes unreadable to third parties.
WordPress, for its part, will find its way there; you don't have to worry about this. When it searches the root of the installation in vain, it then automatically searches for the file in the folder one level above. One way to do this is to use the FileZilla tool to move wp-config file to parent folder, by doing a simple drag and drop.
Also think about modify the table prefix. To attack your site, a hacker will send the code of a virus to attack the tables. By default, these are prefixed with wp_. When you change this prefix during the installation of WordPress, the virus does nothing because the identification of the tables has been changed.
Of course, computer skills, as well as good documentation, are necessary to try these various manipulations.
For the proper functioning of your WordPress site, the wp-config.php file is an essential file. Its importance is such that certain situations will certainly lead you to manipulate it. It will then be necessary to inform yourself well about the operations to be carried out, to avoid bugs at the level of the site.
If the context does not require it, be careful not to modify this WP configuration file. And in any case, don't forget to regularly create backups.