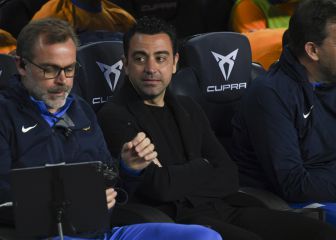 Xavi spoke at a press conference after the victory against Mallorca.
How did you see the match?
It was a 3-0 match and to finish more satisfied. And yet, we have committed an unnecessary foul and they have scored the goal. It is a game to win comfortably. I think we understood the game well. We had worked on the play for the first goal. The central jumped with Gavi, Alba saw Memphis and he chopped the space well and made it 1-0. The three points give us peace of mind. Now we have a League of five teams to enter the Champions League that we have to win. I congratulate Madrid, I think they are fair winners.
How do you rate the performance of Memphis in terms of the future?
There is no talk of the future. We play next season. And Memphis has played because he trains very well. And maybe another player had lowered his arms. And he has played because he has trained well. We want players with his attitude. I'm happy for him because it's possible that he was unfair at times with him. But if he trains like this, he has to participate.
At times, it seemed that the team was taken aback.
The psychological aspect with VAR is important. We had seen the game doomed and Mallorca, when they didn't concede 3-0, believed it a bit. We have made an unnecessary foul and we have put them in the game. We have to improve these things, but I am satisfied with the three points.
Do you expect Gavi to renew already?
He tells us that he prefers to play without the laces. He gives us a lot of intensity and rhythm. He has to improve but he is 17 years old. He surprises the maturity that he has. He has a lot of soul. I am very happy for him. And hopefully he renews. Let's see if he is done soon. We have already had the great news of the renewal of Araújo. Let's hope he's next.
What happened to Pique?
In the 25th minute he told me that it was not going well. He has started well but has had a problem. You have to thank him for his involvement.
Does Ferran worry you? He is not scoring goals.
It does not worry me. It didn't bother me anymore in the first two or three games. He will end up scoring goals.
[