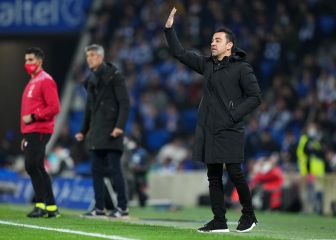 Xavi I speak in Movistar Plus+ LaLiga just after the match. These were his impressions.
hard-suffering victory
It is the game that I have suffered the most along with Villarreal. In many moments they have dominated us and have had the ball more than us. In the first minutes of the second part they were in a rush. They are a great team, physically strong. And we have noticed a lot of fatigue. But it is a vital and golden victory. At this point, it really is a golden victory for us.
Do you have the feeling that they did not deserve to win?
In many phases the Real has deserved more. We have been able to make it 0-2 several times and we have dominated more in the first half. But in the second, no. They deserved the draw more but we leave with a very important victory and it allows us to continue in the fight.
How far has Piqué pushed?
Also Ronald and Jordi. Yes, we are suffering. People are making an extraordinary effort. The commitment is extraordinary.
And are you worried?
Now there is the game on Sunday, but then we have a long week and that will be good for us to rest. So to rest and recover well.
Alves says that Madird was lucky that they arrived late.
Today we can't get our chests out, it's evidence. Today's is a very important victory. But it's three gold points.
And emotionally, how are they doing?
When you lose there are situations of sadness and moods. And there are doubts in the environment. But we have no doubt. It is a golden victory and it is also news that without playing well we can compete. I am satisfied with the commitment of the players, who are giving everything.
[