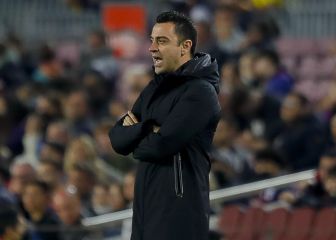 What happened?
That the ball did not enter. We have created chances. They have raised a slow game, well placed. We have not been effective and, when they have advanced, they have slowed down the game. More interruptions… You have to regroup and you have to think about Thursday. We must continue and there is no other. It's a very bad week and we have to change as soon as possible because we still have the goal of the Champions League
Are the losses in defense affecting them?
They have had three clear but we have had many. It has not been like that and you have to do self-criticism. We must change this negative dynamic as it is and we must continue.
Is Pedri noticeable?
Of course, the casualties of Pedri, Piqué, Araújo, Ansu are noticeable. But they are not excuses. We have lacked effectiveness. We have to follow.
The fans gave the callus
It was a shame about the Grada D'Animació because we need them. The public has given the stature and that is important. Now we'll try to get the next three Lightning points to stay here.
The Barcelona coach spent minutes later in the press room.
Condition: "We are angry, we have lost a golden opportunity to distance ourselves from the rest of the teams fighting for the Champions League and even to fight for the League, to which we almost said goodbye. I am disappointed and angry, we have to play with more determination, there are to be self-critical because this is Barça and more things have to be done".
Defeat: "Today was a victory of faith, of hope, and the team lacked it and I consider myself to be the most responsible. We are playing for qualification for the Champions League and we have to be aware, that's why I'm angry, the team should have shown more faith , desire and illusion".
team situation: "We have to continue, we are not in the situation we were in when we took on the team in November, but we wanted to fight for a title. We have to keep betting on this model and for having more desire, we cannot lose 0-1 to Cádiz. There are still seven finals and we have to play them, today we haven't played a final".
Changes: "Nothing has been done yet, there has been a change of system, idea and game, but we have to improve, to play in the next Champions League we have to play with more faith, determination and drive, we cannot concede three such clear chances and we have to put the ones we generate in. We have to grit our teeth because we're risking it".
self-criticism: "When you win 0-4 at the Bernabéu it is logical that you say that (that they had returned), but you have to be self-critical. On Thursday against Real we have to compete in another way to cover the main objective, which is to be in the Champions League. There is We have to work for the great Barça to come back because it's the same one that won 0-4 at the Bernabéu with a great match and the same one that lost against Eintracht. We have to work so that the results come back again".
Public against Eintracht: "The president will explain it to you. We need the people, the other day it affected us a lot. Today the people have been extraordinary even without the animation tier, I hope they can be with us because we need them, Barcelona must be united now more than ever".
[