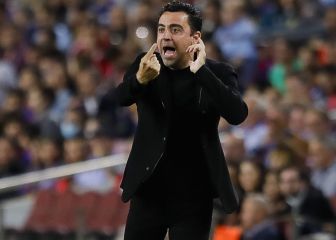 Xavi I speak in Movistar Plus+ LaLiga After the match. These were his impressions
What analysis do you make of the match?
We haven't played a good game but we still got the three points. The feeling is not good, it is not to play well. You have to understand what the match requires. You have to have more of the ball in the opposite field. It was hard for us to understand the free man. We have lacked that neatness that we ask for so much. But we have been effective and we continue in the fight to be second.
Did you like the team with the system change?
Change the system. They played with two strikers and we tried to go out with a line of three and Alves and Jordi getting inside. And I have decided to change the system and put Memphis inside and then put Riqui. Things have not been smooth.
Is the team missing something else?
We had very important casualties. Pique, Pedri, Busquets. And the team notices. Even so, you have to play easier and be more neat in the game. Don't have so many losses.
Is this version of Dembélé worth it?
Sometimes making a difference is not just scoring goals, but generating goals. Dembélé has made it 1-0 almost practically him. In football not only does the goal make the difference and he marks it in assists.
How do you experience a moment like Araújo's?
The doctor told us that he was conscious. At first you get scared and spend the night in the hospital, but it will be fine.
Haland
It's what I said yesterday. I wish Haaland the best. We have not been able to compete for him. Impossible to compete economically. Wish you the best.
[