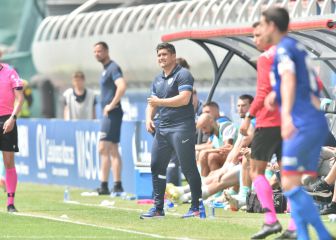 Finish stage in El Alcoraz. How do you rate your time at Huesca?
I apologize to the people if I have made a mistake, I have sought the good of the group and of Huesca. I know what I have lived, what I have found and what I have improved, I promise that I have worked from eight to eight and that we have tried to improve many things. We have also done things very badly". "Much more could have been obtained? Of course, I like to be self-critical, I will have time to reflect.
Are you having a hard time motivating your players?
The players have to be professionals. I'm tired of hearing how a player has to mentalize. I don't have to mentalize anyone, you have to be professionals. We have to have pride, passion, love and respect our fans. I don't have to convince anyone, and if I have to convince them we have a problem. The lucky ones who can play on Saturday and go out on the field have to offer their 200% in everything, in every action, and that the people who come see themselves reflected in what they see, and if not we have a problem.
How is the team?
We have quite a few casualties. In addition to Pulido's, who will play until next season, Darío I imagine that we won't be able to deal with him either this year, Gerard Valentín has discomfort in his soleus, Enzo had a problem in his shoulder and is missing the season… We got Lago back, although it's early, maybe he can have a few minutes. We will try to get the most competitive eleven possible against a very competitive team. We will have to fight a lot and not lower the level because otherwise it has already been seen that it is not us.
What did you think of Rubén García's departure?
The only thing I can say to Rubén is thank you. I may or may not agree with how things have been done, but it's not up to me to assess it. The only thing I can say about Rubén is that I think he is a successful guy, a guy who likes to work, a guy who during these 8 months that he has been with me understands that he is a born worker and a great person. I am convinced that, from where he took Huesca to where he has left it, he has done very good things that at a certain moment we have all forgotten, people forget.
What match are you waiting for?
I'm worried about the game, it's a game where we have to come on very, very strong because, what we're talking about, they have people at the top who are the team that hit the most sprints in the entire championship. It is a team that is very attractive forward. From there we have to play our game, not neglect ourselves, not have those mental moments that have affected us in other games and we have to play a very serious game in attitude. You have to try to get people to give a very good level and contribute things to improve. I hope it will be a match that the people who come into the match have the ability to win. The ones we put in are going to do their best.
What advice do you give to footballers who are going to close their time in Huesca?
Enjoy it, but they are doing it. I believe that life is stages and you have to live them and understand them. Tomorrow I would like people to value Mikel all the effort he has made for this club, it would be something wonderful. I would love for everyone to support Mikel tomorrow and that is something I like. I would like people to see him tomorrow, give him love and show him everything that Mikel deserves and has offered to this club.
[