I remember this promise I made to myself when I was a child. A kind of pact with myself.
You will be a great mom! Available, attentive, understanding, your children's confidante, always smiling and reassuring. And obviously, a super woman, independent and pleasant with her spouse.
And then one day, I had children.
I then fully invested myself in my mission: make them happy, fulfilled, at all times and at all costs.
I have made considerable efforts.
I read everything, I trained, I applied everything.
10 years ago, in addition to having to fulfill my role as a flawless mother, I became the parental role model for more than 100,000 parents, readers of our blog.
So I, more than anyone, HAD to react in the right way in all circumstances.
Result ?
My life as a flawless mother has long been disastrous.
I was deeply dissatisfied and unhappy.
My children's behaviors had a huge influence on the way I felt and reacted.
With each opposition on their part, with each "wrong" word, with each dispute between my children… it was stronger than me.
I was exploding.
The dragon in me was taking over.
I poured out an incomprehensible anger on them. And it took me 3 days to recover.
And I realized the obvious: I was becoming the complete opposite of the mother I had sworn to be.
I was haunted by the image of this violent, stressed mother who was going to traumatize her children for life.
One morning, I was inevitably going to find myself disarmed, faced with an ill-at-ease, distant teenager who would no longer trust me.
I had the terrible feeling of not having lived up to the most important mission of my life.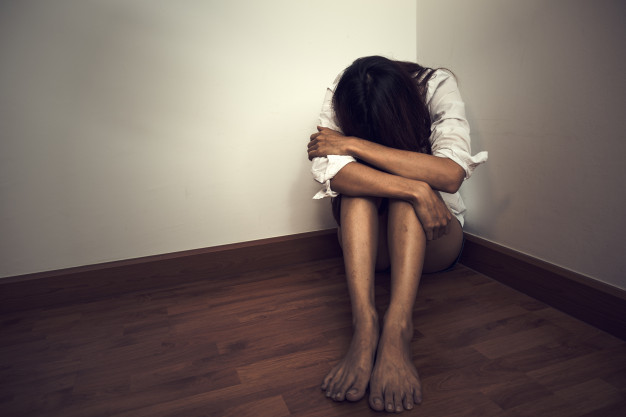 And the worst thing is that I saw light, happy parents around me.
Not perfect, but everything looked simpler.
What did they have more than me?
It took me years to understand…
It was my desire to do well that made me terribly unhappy, this famous pact that I had made with myself:
I wanted at all costs to have the right reaction to each behavior of my children,
I did not accept being tired or stressed,
I took it upon myself to suppress my reactions, without trying to understand the causes,
I felt guilty at the slightest wrong word, at the slightest moment taken for myself… without trying to understand what made me feel so guilty.
Besides, the parents who "let go", continued to spend time with their children, without turning their brains, and without ruining their lives with permanent guilt.
This is the secret of less stressed parents!
Here is the (unpleasant) truth:
If you accept yourself as you are (even when you slip up), you will probably be peaceful all your life… and by extension, your children too.
If you make considerable efforts to improve yourself, if you have this incredible will to always have the right reactions, to be "good"… then you condemn yourself to disappointment all your life…
… and one day see your children lose their worth, too.
It's not easy to let go when you've "controlled" your whole life.
Fortunately…. Letting go is learned.
Being serene, mastering your moments of "explosion", fully accepting yourself, having the certainty that you are a super mom (even in the event of a slip-up)… is a matter of habit, a new way of thinking to adopt.
Just because you're in control today doesn't mean you'll operate like that all your life.
Your functioning, your ways of thinking, your reactions… nothing is set in stone.
Life is movement, everything changes.
And sometimes, things change quickly, "all alone", without there being anything to "do"!
On a scale of 1 to 10, how happy are you as a mom?
This question reflects your current ability to let go.
If you have the will to learn how to appease yourself, or if you feel the urgent need…
So I invite you to join "Imperfect… and proud of it".
The program will close its doors tomorrow evening at midnight and will not reopen, at this week's promotional rate (-50%), for at least 6 months…
Le time for me to devote myself to the new participants registered this week (and particularly those who have chosen the formula with "personalized coaching)
As of today, you will receive Module 1: "Inventory of the situation: understanding what is going on inside me… and calming me down in the event of a crisis".
You will be able to immediately download your Follow-up book… which will become your "lifeline" for all your difficult moments (in connection with your child or any other human being, for today and all the other moments of your life!).
At the end of module 1 (in a week), you will have a clearer vision of stressful situations and new solutions to appease what is trying to explode in you.
Then, every week for 4 weeks, you will receive a new module:
the

Module 2 "The impact of my personal history on my way of being a parent"

will help you detach yourself from everything that dictates and imprisons you in your current behaviors.
the

Module 3 "I welcome and I take care of what I live"

will teach you to identify and meet your REAL needs, so you can choose the behaviors that really make you feel good.
the

Module 4 "I say STOP Guilt!"

will accompany you to see yourself as a fantastic person (with its talents and its limits) and to become (finally) indulgent and benevolent towards yourself.
the

Module 5 "Towards more serenity in everyday life"

will teach you how to concretely put into perspective the stormy passages in family and take full advantage of the good times.
Getting to know myself, understanding my way of reacting, of thinking, recognizing my limits, strengthening my self-esteem, fully accepting myself…
It changed my life.
I did not become the super mom of my pact.
I am and I finally accept to be ME.
And it's even better!!!
Doing this work on yourself is soothing, relieving guilt.
I recommend it… even if you don't want to join our program.
Besides, you can very well take a notebook and a pen and do your own work on yourself, right now.
Become YOU, too.
Become aware of all that you are!
But if you decide to join the program, you will get:
personalized exercises to teach you to think differently (and stop constantly blaming yourself),
meditations to soothe you as soon as you feel the need,
a tracking book to get back to you in difficult times,
explanatory videos to understand your operation,
A 100% "Satisfied or 100% refunded" guarantee of 14 days.
Click here to choose your formula and benefit from our "spring and renewal" rate (-50%) before tomorrow evening Sunday at midnight
(Please note – there are only 8 places left in the "Coaching" formula)
Here are some testimonials from moms who have taken the plunge: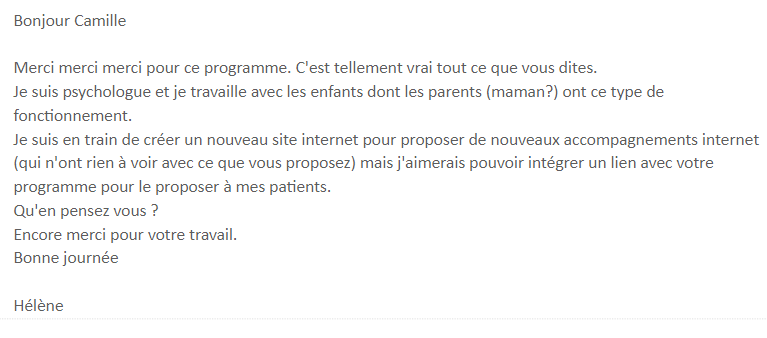 ---

---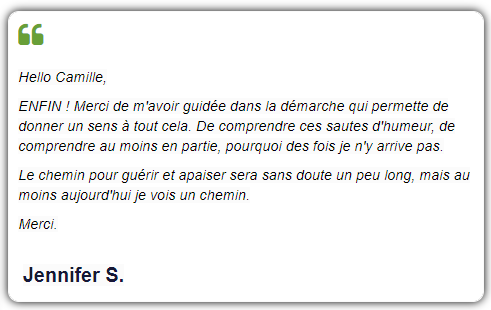 ---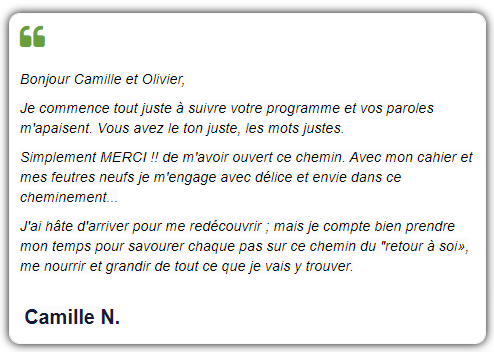 Take care of yourself,
Camille