The mining pool for Bitcoin (BTC) and other cryptocurrencies Poolin announced this week the compatibility of Ethereum Classic (ETC) in its systems, so now transactions can be processed in the network of this currency based on that group, which is one of the best known in the ecosystem.
In a notethe company announced the integration of the cryptocurrency, offering "another option" to those who operate with video cards (GPU) and are within the group.
According to Poolin, ETC mining revenues – boosted by its price – have helped ease growing stress among traders for the change that will take place in Ethereum (ETH), which will mean stopping using graphics or video cards to process transactions on the network. In accordance with CoinMarketCapan ETC is trading above $47, having risen from $29 on March 19.
Poolin hits a competitive field where there are several mining pools already working with Ethereum Classic, such as Ethermine, 2Miners, and F2Pool. In fact, according to MiningPoolStats, the group currently ranks at number 12 on their chart.
Even so, it is an interesting move and expansion for this group, which has had a marked presence when it comes to mining cryptocurrencies like Bitcoin.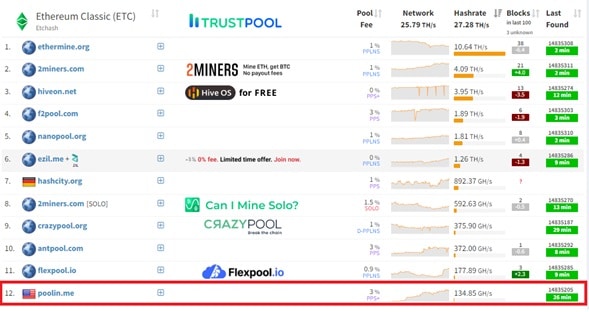 Two mining modes
In detail, Poolin offers two mining modes so operators can get their work done the way they want. In addition, it will have three pool addresses for ETC miners to sign up for.
The first mode of mining is sub-accounts, where miners have to register and create a profile to perform the activity. The other is anonymous mining, where the miner's wallet address can be directly used to receive the funds.
"Poolin officially supports the ETC, which we believe will provide a new option for miners who are unable to continue mining ETH after it switches to PoS," they say in the press release.
This would be good for the ETC network by remembering that because of its low hash rate, it has come to suffer attacks of 51% by entities that have momentarily had great computing power. This has never happened on Ethereum, where competition is high.
ETC will be the refuge when The Merge arrives
Poolin's announcement comes after Ethereum Classic's proposal for miners to start mining its blockchain became known. This network works with the Proof of Work (PoW) mechanism and they will always remain in it, as they say. Because of this, mining equipment that becomes obsolete with changes in Ethereum may be used on this network.
As reported by CriptoNoticias, the developers of Ethereum Classic, which is a cryptocurrency created in 2016 from a hard fork in Ethereum and which is mined under the Etchash algorithm, showed their interest in attracting ETH miners, through the commitment to continue folding the PoW, offering confidence and stability to the miners.
The proposal highlights the differences that exist between both currency projects. Although one originates from another, they have key disparities. For example, Ethereum Classic sticks to the principle of code like lawso its blockchain is immutable, unlike Ethereum, whose transaction history was changed once in the wake of a massive hack that led to the creation of Ethereum Classic.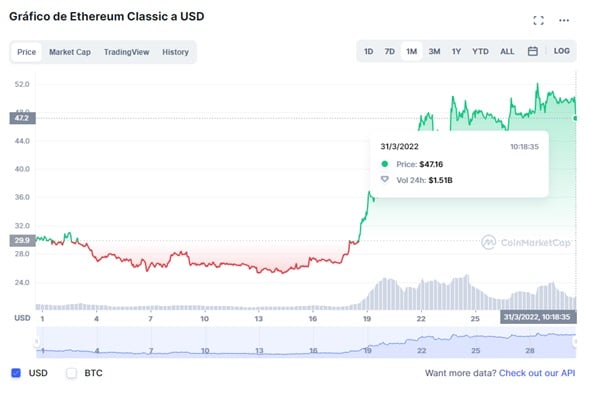 ETC has a finite supply of 210.7 million ETC, of ​​which there are at least 134 million circulating. ETH, in contrast, does not have a cap, with the understanding that the supply is infinite.
And not satisfied, Ethereum Classic worships decentralization, with a development managed by several programmers, that contribute to each other to improve the project. Ethereum, meanwhile, is owned by a company, the Ethereum Foundation, where the core developers answer to the organization. However, it is true that there are other programmers who are responsible for the development of second layer solutions, DeFi protocols and decentralized applications, to mention examples.
ETC, a profitable currency
Although the migration of ETH is just around the corner, Ethereum Classic is one of the most profitable cryptocurrencies when mined with a video card (GPU).
As we saw in this CriptoNoticias article, this coin can offer earnings of up to USD 170 per month on average (at current prices of the asset), mining against devices offered by Nvidia, AMD, and other competing brands.
Thus, the fact that Poolin joins the mining pools for Ethereum Classic only reinforces the idea that, even with Ethereum leaving, there will still be a future for the PoW consensus mechanism, devised long before the first cryptocurrencies were born.